According to the report published by data.ai, the daily time spent on mobile apps between the first quarter of 2019 and the first quarter of 2022 hit a new record with a growth of up to 35%. Per the report, consumers in 12 mobile-first markets spend over 4 hours per day in mobile apps. In the top 4 markets, it's more than 5 hours. 
Breaking the 5-hour barrier for daily app use in 2021, Indonesia has increased that figure to 5.7 hours in Q1 2022, making it home to the world's most enthusiastic app user population. Singapore, Russia, Canada, Australia grew 35%, 35%, 30%, and 35% respectively from Q1 2019 to Q1 2022.
The top apps by downloads worldwide in Q1 2022 were Instagram, TikTok, Facebook and WhatsApp Messenger, as in the past quarter. Unlike the previous quarter, Snapchat ranked 5th in this quarter.
China's popular short video app TikTok is also projected to surpass Snapchat and Twitter in global ad revenues, with more than $11 billion by 2022. 
In the United States, TikTok, YouTube, Facebook and Instagram were the top apps by downloads. HBO Max jumped +9 places to take the #5 spot by downloads.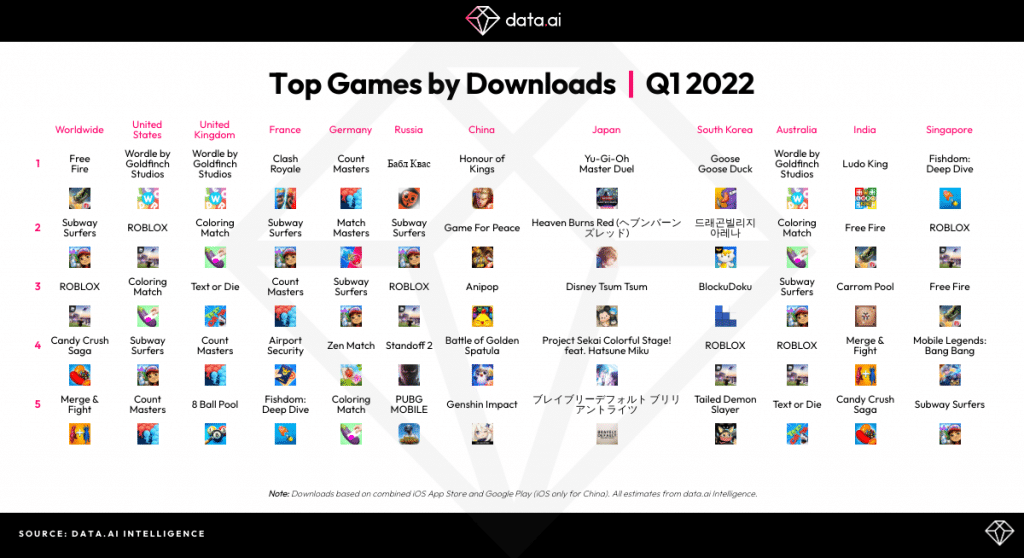 The most downloaded game of Q1 2022 was Garena Free Fire, followed by Subway Surfers, Roblox, and Candy Crush Saga. Garena Free Fire was the highest grossing mobile battle royale game for four consecutive quarters for the Q4 2021 and full year of 2021. 
In Q1 2022, Tencent's Honor of Kings and PUBG Mobile was the highest grossing mobile games with $735.4 million and $643 million generated across the App Store and Google Play. 
Global consumer spending on mobile apps reached $32.5 billion in the first quarter of 2022, up 0.6 percent from $32.3 billion in Q1 2021.
Per the analysis, App Store revenue was more than double that of Google Play, growing 5.8 percent YoY from $20.6 billion to $21.8 billion. Google Play reached approximately $10.7 billion in global consumer spending, down 8.5% YoY from $11.7 billion in Q1 2021.