Per a new report from data.ai (formerly known as App Annie), consumer spending on mobile games is forecasted to reach $22 billion for Q1 2022, accounting for 73% of total spend on Google Play, and 60% on the App Store.
The data reveals that global consumer spending on mobile apps is expected to hit $33 billion for the first quarter of 2022. Apple users still spend the most, with 65% of the quarter's total spending.
According to the report, 65 cents of every $1 spent in app stores goes to games. However, the rate is higher in Google Play, with Android users spending 73 cents of every $1 on gameplay.
The US, China (iOS only), and Japan are still the largest markets for consumer spending on games across iOS and Google Play. However, in terms of growth, the biggest gains from Q4 2021 are set to ve Taiwan, Turkey, and South Korea (for Google Play) and China, Taiwan and Hong Kong (iOS).
Genshin Impact is set to be the #1 game with the highest consumer spending worldwide in Q1 2022, followed by ROBLOX and Honor of Kings.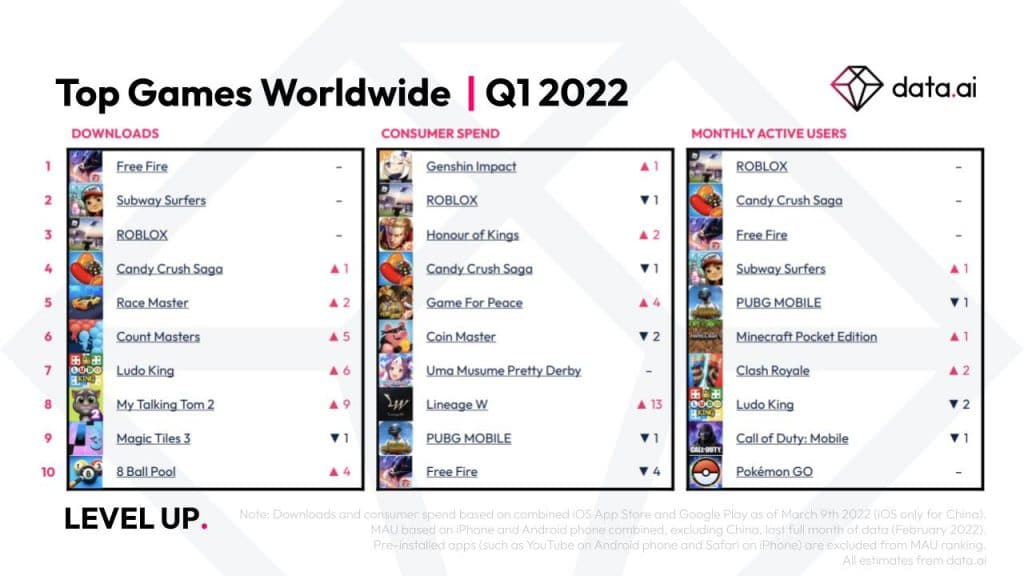 When it comes to downloads, gaming doesn't dominate the overall download space quite as emphatically as it does consumer spend. Games accounted for 44% of Google Play downloads, and 28% of iOS. However, demand is still growing prodigiously. Gamers are forecast to download 14 billion games in Q1 2022 – with Google Play downloads set to grow 15% year over year.
Garena's Free Fire was the most downloaded game of the quarter. It was also the top downloaded game for all of 2021. ROBLOX, on the other hand, retained its top spot in the monthly active user chart, followed by Wordle by Steven Crovotta, and Airport Security. 
Global consumer spending on mobile apps had reached $170 billion in 2021, up 19% year-over-year. Consumer had also set a new record with 230 billion downloads last year, up 5% year-over-year. 
Last year, over 230 apps and games surpassed $100 million in annual consumer spend, with 13 of them surpassing $1 billion, up 20% from 2020.