According to Data.ai, consumer spending on mobile apps in India continued to rise in 2021, up 12 percent since 2019 to nearly $420 million annually.
27 billion apps downloaded last year in the region – or 800 thousand apps downloaded per minute – as app categories such as Social, Finance, and Shopping apps saw remarkable growth.
Notable app categories driving growth across both downloads and consumer spend in 2021 include Finance (+27% YoY growth in downloads; +46% YoY increase in spend), Books & Reference (+13% downloads; +15% spend) and Medical (+38% downloads; +36% spend).
Finance app downloads in India surpassed 1 billion in 2021, fueling the 28% YoY increase in global finance app downloads to 5.9 billion.
Time spent on mobile apps in India last year also increased by 27% compared to 2019, exceeding 4.7 hours per day. The average person in the region watched an estimated 3 hours 17 minutes of TV a day, whereas they spent 4 hours 42 minutes on their mobile device in 2021.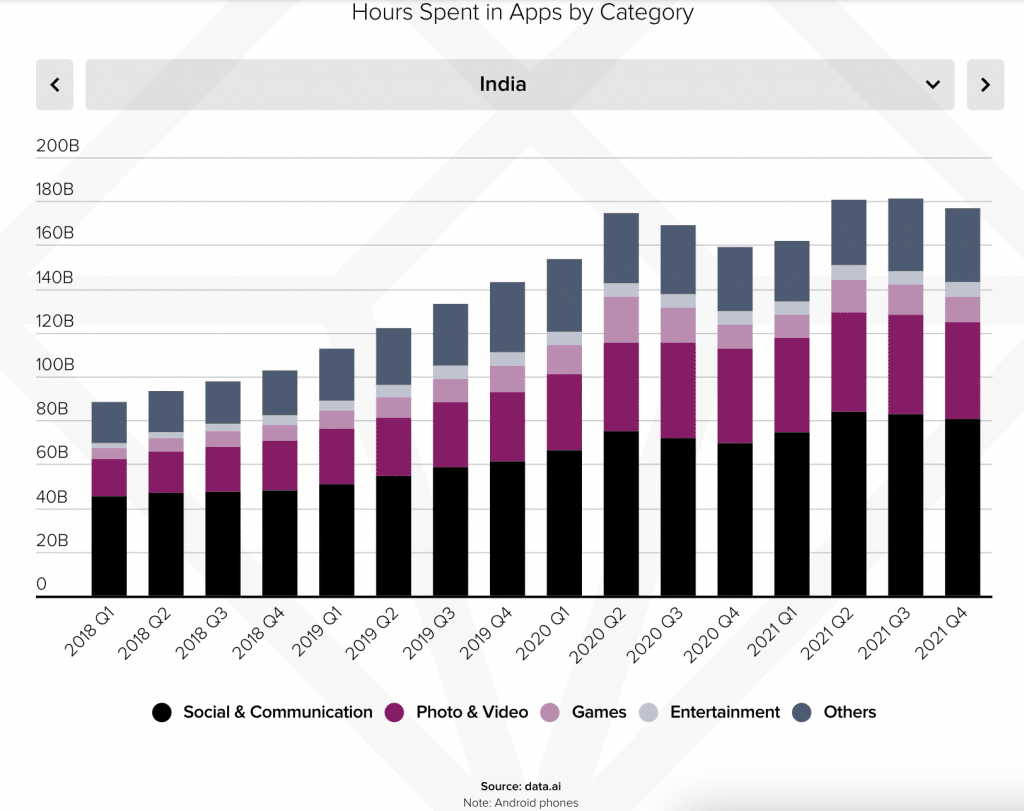 Time in shopping apps reached Over 7.57 billion hours spent in the region. India's mobile shopping market was dominated by non-domestic brands, with 58% of downloads coming from Overseas-HQ'd apps. However, India was one of the few countries to see growth among domestic-based brands — IN-based shopping apps reached 42% share of downloads in 2021, up 8% compared to 2020.
When it comes to gaming, consumer spending reached $165 million in 2021, up 11% since 2019 and equals to more than 40% of total consumer spend in India in 2021. Gaming app downloads in the region hit 9.3 billion last year, up 65% compared to 2019. Hypercasual games like Bridge Race and Hair Challenge were key downloads driver in 2021.