Popular dating app Bumble has joined the Billion Dollar Club, a milestone that only 15 other non-gaming apps have achieved, according to App Annie. With this milestone, Bumble has become the #2 dating app by lifetime spend, behind Tinder. 
Going public in February 2021, Bumble offers in-app subscription and in-app purchase options, including Bumble Premium and Boost. The largest markets contributing to lifetime consumer spending include western markets such as the US, UK, Canada and Australia. Also among Bumble's top markets are India and Mexico, which are high-growth markets in mobile in general and represent strong future potential for user acquisition growth.
Badoo, Pairs and Grindr are the dating apps with the highest lifetime consumer spend after Tinder and Bumble.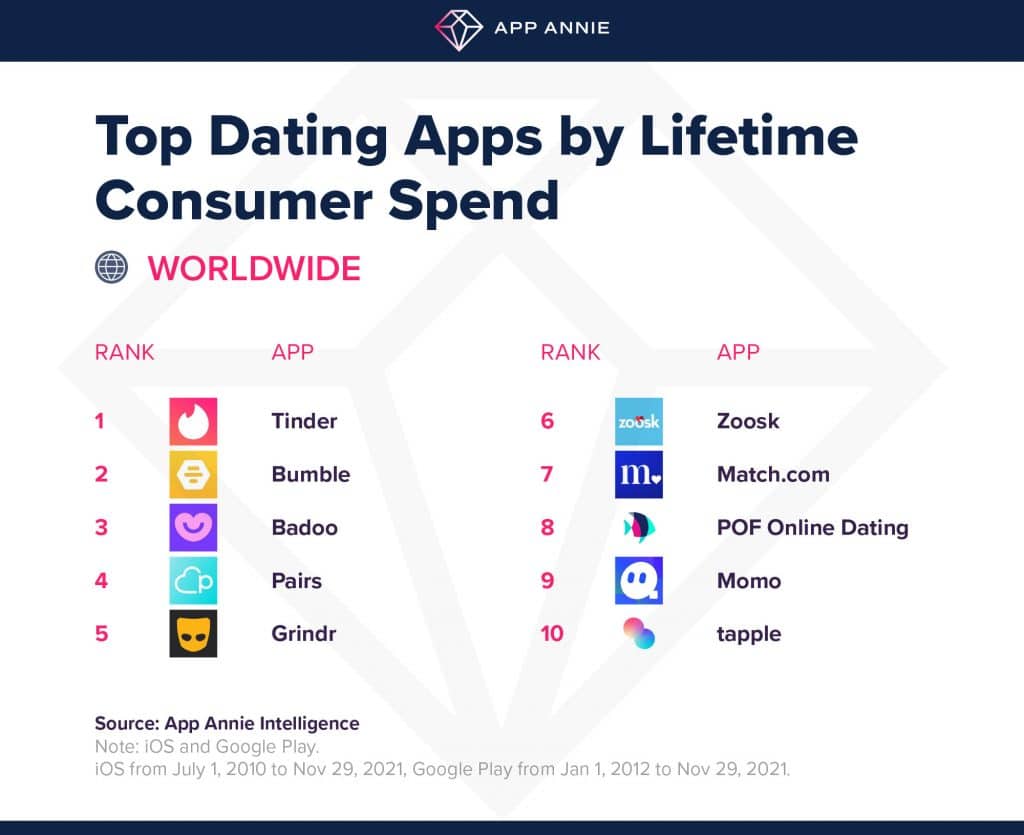 Dating apps saw an increase in downloads in the first half of 2021 alongside consumer spending. According to a recent report from Adjust, global dating app downloads increased by 13% in the first half of 2021 compared to the last quarter of 2020.
Adjust's report found that the average user had 3.81 sessions on day 1, 3.58 on day 7, 3.46 on week two, and 3.45 on day 30 in Q2 2021. Session lengths, meanwhile, sit at 13.26 minutes per user, per day.
Tinder is currently the #1 ranking non-gaming app by consumer spend as of November 30, 2021. According to App Annie, the full list of apps in the billion dollar club include: Tinder, YouTube, Netflix, Tencent Video, TikTok, iQIYI, Pandora Music, LINE, Disney+, HBO Max, BIGO LIVE, Google One, LINE Manga, piccoma and Youku.