Dating apps have continued to maintain their popularity during the pandemic period, as it has been in every period for a long time. Especially as of the beginning of 2021, both the downloads of these apps and the money spent by the users in these apps have increased.
In this article, we will include the best dating apps of 2021, along with the download and revenue statistics of dating apps post and pre-pandemic.
The Best Dating Apps of 2022
Currently, Tinder is the most popular dating app in terms of downloads and in-app purchases. The app generated nearly $1.7 billion in direct revenue in 2021, up 22% over 2020.
---
Also Read: The 8 Best Gay Dating Apps for iPhone and Android
---
Tinder
Tinder, which is the most popular dating app, unfortunately may also be the app with the most fake profiles. Tinder, which offers the closest person around you as a match by using the location services of smartphones, continues to increase the number of users from year to year.
Liked users are selected by filtering on Tinder and the other party is expected to like it. Otherwise, if your profile is not liked by a profile you like, a match cannot be achieved with this person and therefore a chat cannot be started. However, if the user you like also likes your profile, a match is achieved and a chat can be started in this way.
---
Tinder Revenue and Usage Statistics
---
Google Play: Store Link
App Store: Store Link
Bumble
We can say that Bumble, which is among the most used dating app, is the female version of Tinder. In Bumble, women choose first and they start the conversation. If the guy doesn't text within 24 hours, he forfeits potential dates. If you're a procrastinator, Bumble might not be for you.
Bumble works based on your location. So you are not connecting with someone who is far away, you are connecting with someone closer to where you are in order to establish a relationship. The difference of Bumble is that it also has a "BFF" feature that allows you to search for friends instead of relationships.
Google Play: Store Link
App Store: Store Link
Hinge
Hinge seeks to attract individuals' attention by highlighting more people's photos, interests, and ways of answering questions. The popular dating app, which claims that currently 3 out of 4 times Hinge members want to go on a second date, wants users to reveal themselves as much as possible with their profiles.
Using photos, general information and answers to the questions asked, Hinge does not use the formula to start messaging with mutual admiration. Instead, users are expected to interact with content on each other's profiles.
Google Play: Store Link
App Store: Store Link
Dating App Download and Usage Statistics (2022)
+ Dating and social discovery apps generated 112 million downloads in 2021. (Sensor Tower)
+ Global dating app downloads increased by 13% in the first half of 2021 compared to the last quarter of 2020.
+The average user had 3.81 sessions on day 1, 3.58 on day 7, 3.46 on week two, and 3.45 on day 30 in Q2 2021.
+The total number of users in the online dating market is expected to amount to 441.8m users by 2024, with an expected user penetration of 5.7%.
+In Google Play, dating apps saw 35% increase in downloads in the first quarter of 2021.
+Dating app downloads reached 560 million worldwide in 2020.
+With over 6.5 million monthly downloads in May 2021, Tinder is the most downloaded dating application in the world, followed by Badoo with 3.9 million downloads, and Bumble with 1.69 million downloads. (Statista)
+Tinder was the #1 grossing app overall worldwide in the last twelve months through March 31, 2021 across all apps, excluding games. (Match)
+Tinder, with 66 million average MAUs, dominated the dating market worldwide with 53.8% of the market share during the last quarter 2020, according to analytics firm Apptopia. (Reuters)
+As of August 2020, Tinder is the number one dating app worldwide preferred by adults (SKYN)
+As of May 2020, Tinder is the most popular dating app in Google Play with 3.24 million global monthly downloads. (Priori Data)
+In March 2020, Tinder recorded its highest number of swipes on a single day: 3 billion. From March to May 2020, OkCupid saw a 700% increase in dates.
+Aggregate weekly time spent in dating apps in the US stay consistent throughout 2020, and even see a slight uptick in September, despite COVID-induced social distancing. (App Annie)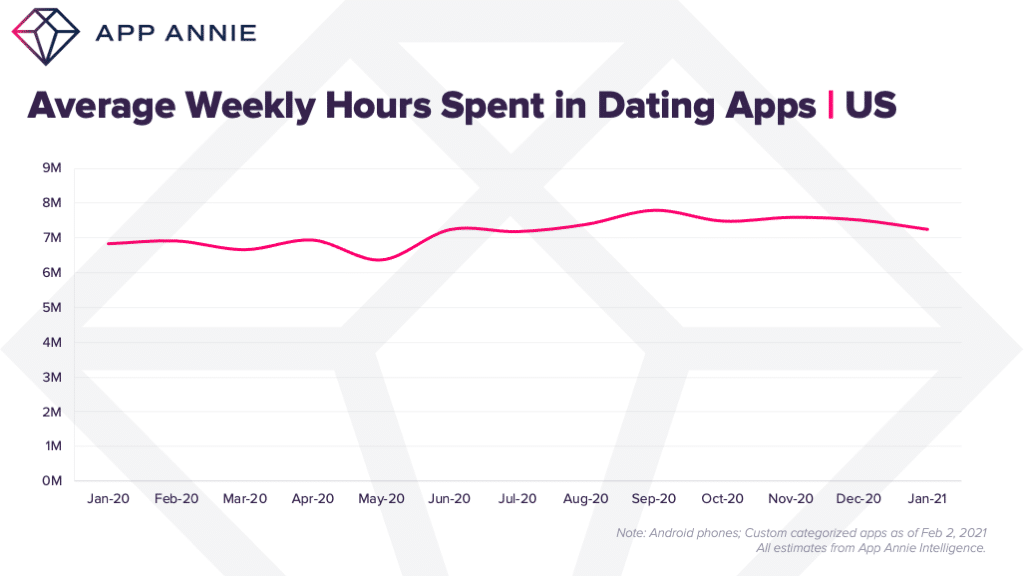 Dating App Revenue Statistics (2022)
+ Global consumer spending on dating apps reached $4.2 billion in 2021, up 30% since 2020 and 95% since 2018.
+ As of 2022, cost-per-install (CPI) for dating apps averaged $2.65 across all regions.
+ Consumers spent more than $ 3 billion on dating apps in 2020, up 15% annually worldwide.
+ The average revenue per user (ARPU) is expected to amount to 8.76.
Online Dating Statistics
+ 20% of current, committed relationships began online and 7% of marriages in 2015 were between couples that met on a dating website. (eharmony)
+ Online dating and finding a partner through dating platforms are more common among adults who are younger, lesbian, gay, or bisexual. (Pew Research Center)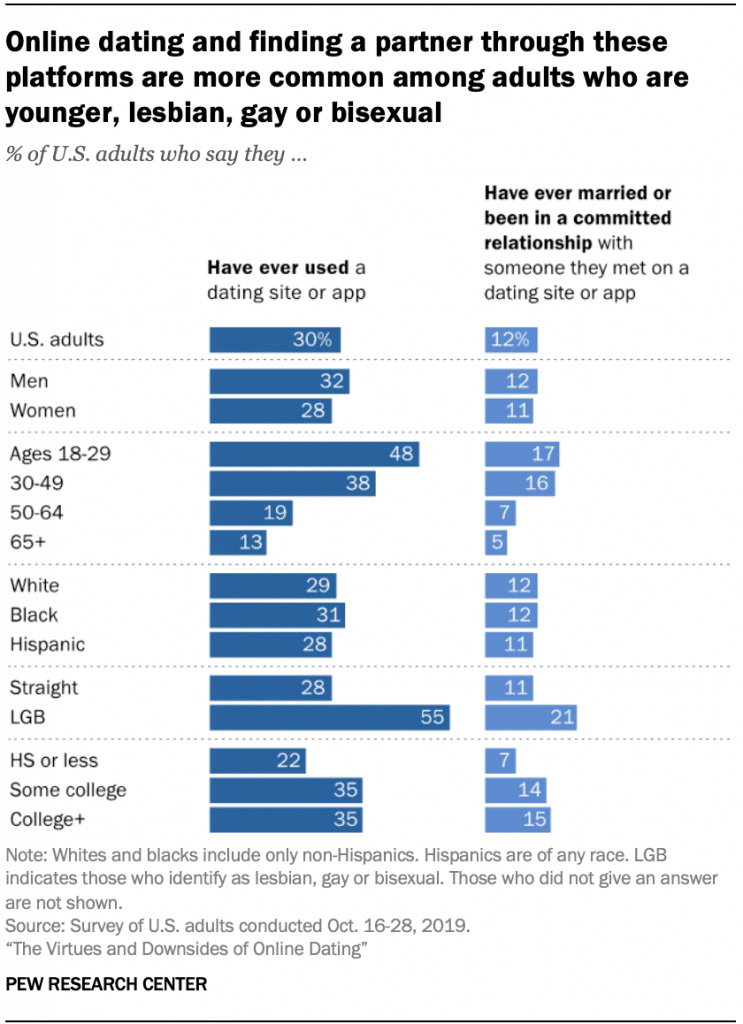 Dating App News
White House teams up with dating apps to encourage vaccination
Dating app Hinge gives couples £100 for their second date
Dating apps are banning Capitol rioters' accounts
Dating App Bumble preparing for an IPO above $6 Billion
Facebook Dating expands to Europe after 9-month+ delay