Cost-per-install (CPI) for dating apps averaged $2.65 across all regions, according to a new report published today by Liftoff + Vungle. At $2.06, it's almost 2x cheaper to acquire users for dating apps on Android, while the cost per install is $3.70 on iOS.
Although iOS users cost more to acquire, they are 2 times more likely to make a purchase than Android users.
The cost for Registration is roughly the same for both iOS ($5.26) and Android ($5.29). iOS users are more likely to sign up. Android users also cost more per purchase ($52.17 vs. $47.19).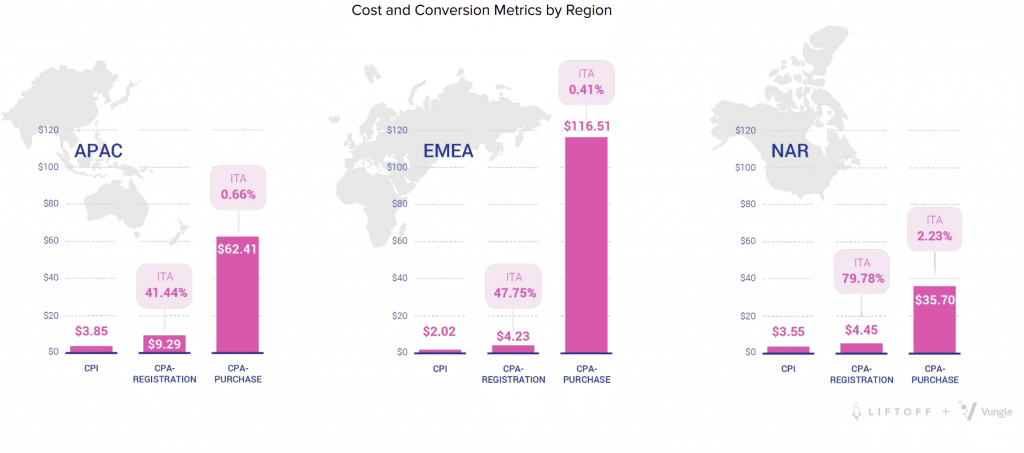 Across EMEA, NAR, and APAC, European users cost the least per install with $2.02, but the most per purchase ($116.51). US users purchase at higher rates (2.17%) and lower costs ($35.93).
Dating apps continue to grow with the increase in consumer spending all over the world last year. Worldwide consumer spend on dating apps surged past $4 billion in 2021, up 95% from 2018. 
Global dating app downloads also increased by 13% in the first half of 2021 compared to the last quarter of 2020. Sessions per user, session lengths, and retention rates of dating apps were also high in 2021.