Despite the cost per install for mobile games hits an all-time low with $1.47 (66% decrease compared to 2019), Liftoff's latest study says that install-to-IAP costs are up from $35.42 to $43.88, up 24%, and conversion rates have decreased by 22% as compared to 2019.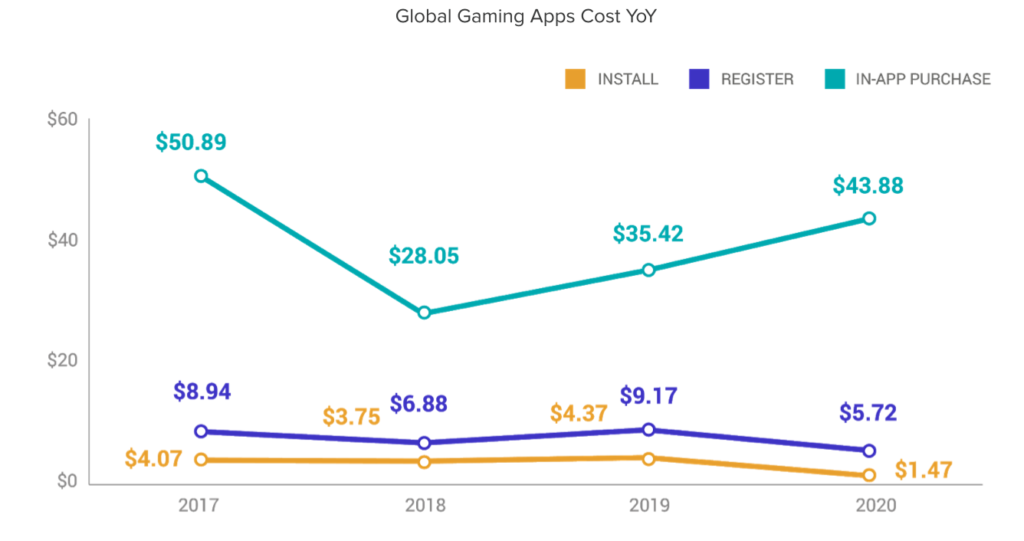 Mobile games see better results on Android than on iOS in terms of CPI and Return on Ad Spend. The CPI for Android devices is $0.89, as compared to $3.91 for iOS. CPIs are 4x higher on iOS as compared to Google Play's cost per install. When it comes to ROAS, mobile games on iOS see better results on 30D return on ad spend with 36.1%, whereas mobile games on Google Play reports a 35.6% 30D ROAS.
The report reveals that APAC combines the highest ROAS (39.2% for 30D ROAS and 14.6% for 7D ROAS) with the highest CPI ($3.14 per install). EMEA promises the second-best ROAS, followed by North America and LATAM.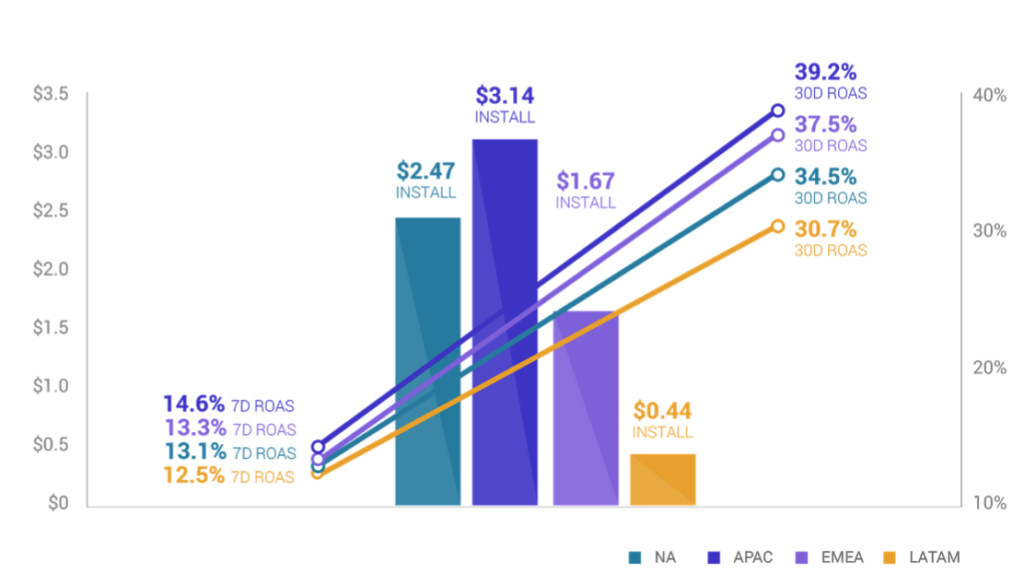 The United States has the most expensive CPI rates with $5.41, followed by Japan with $4.85, and Canada with $3.66. The CPI rates in the U.S. for mobile games have increased by 14.9% compared to the previous year. Brazil has the lowest CPI rate with $0.15.
The findings say that North America is home to loyal gamers with a retention rate of 33.5%, followed by Europe with a rate of 32.3%. Globally, average retention rate of gaming apps for Day1 is 31.9% and it has dropped down to 3.1% for Day30.

Social casino games have the strongest retention curve, finishing on Day 30 with 2x the retention of Hardcore and nearly 3x of Midcore and Hyper Casual. On iOS, social casino apps see a 34.7% 30D ROAS while it is 30% for Android.
Android is a hit with Casual gamers, offering 37.5% 30D ROAS, whereas iOS offers 36.6%. In casual gaming, users coming from non-organic channels retain 16% higher longer than organic. For hyper casual games, non-organic pays off, outperforming organics by 17% on Day1 and 15% on Day30. In hardcore games, organic users outperform non-organic ones by 0.7%, in terms of user retention, whereas midcore games' non-organic player's retention rate is 15% higher than organics.
Liftoff analyzed over 300 million installs, 314 million first-time ad engagements, 27.9 million customer revenue, and 6.5 million in-app purchases from 697 mobile gaming apps from June 1 2019 to May 21 2020. You can download the full report here.