A new study commissioned by Facebook shows that the most-used apps on Android and iPhones are pre-installed apps by Apple or Google.
The study, the results of which were shared with The Verge, was commissioned by Facebook to Comscore, and Comscore made the report by asking 4,000 people about the default apps they used during the month of November.
According to the results, Apple pre-installed apps account for 75% of the top 20 apps on iOS in the USA, while Google's pre-installed apps account for 60% of the most-used apps on Android. The four top apps on both platforms were owned by the respective parent company.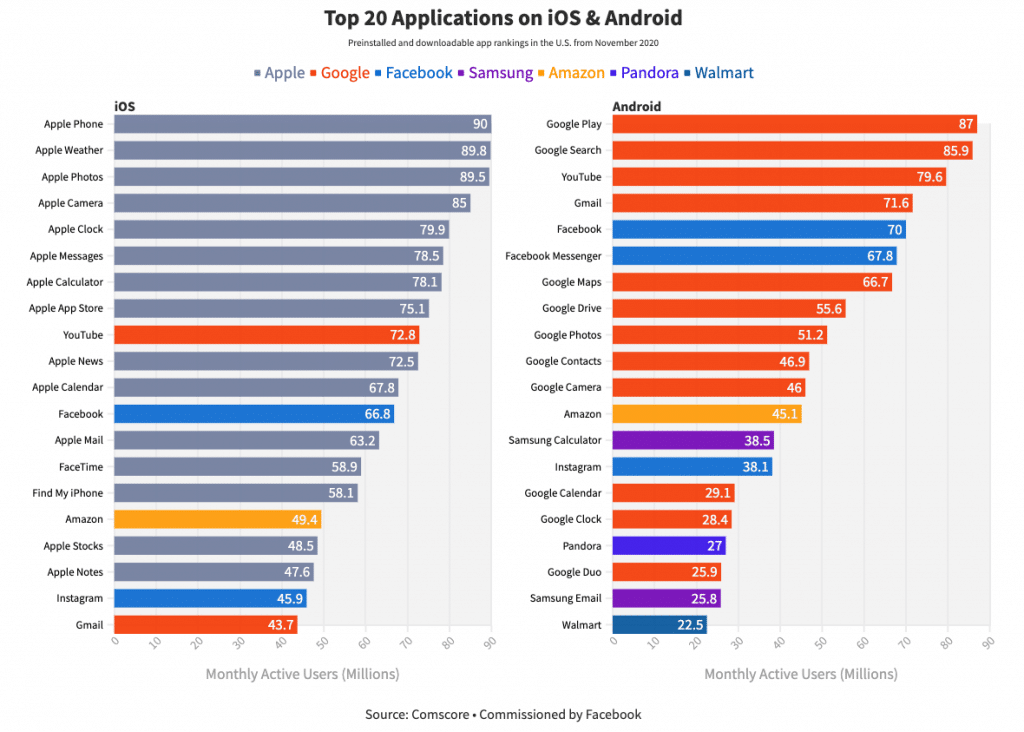 The five third-party apps on the iOS list were YouTube (9th), Facebook (12th), Amazon (16th), Instagram (19th), and Gmail (20th). Facebook is the only third-party developer with multiple apps on the iOS list, and the only developer with three apps on the list for Android.
Company spokesman Joe Osborne said that Facebook commissioned the study in order to show the "impact of preinstalled apps on the competitive app ecosystem."
---
Also Read: Apple publishes a new report explaining how allowing sideloading would expose iOS users to security risks
---
Google did not respond to The Verge's requests for comment, while Apple rejected the results of the report.
"This Facebook-financed survey from December 2020 was narrowly tailored to give the false impression that there's little competition on the App Store," an Apple spokesperson told The Verge. "In truth, third-party apps compete with Apple's apps across every category and enjoy large scale success."
Apple is already under pressure from legislators in the US and Europe about its pre-installed apps. Russia forced Apple to offer third-party apps on install as of April.