App Tracking Transparency opt-in rates could be much higher than previous expectations, according to AppsFlyer's recent study for which the mobile marketing analytics and attribution company analyzed 300 apps and over 13 million ATT prompts.
Apple's controversial App Tracking Transparency framework is coming in early spring with an iOS 14.5 update. Since it was first announced last year, the privacy change has been under fire in the mobile ecosystem as it will require developers to get user consent to track their data for ad targeting, attribution etc.
While companies like Facebook are exploring ways to encourage users to allow ad tracking by showing them prompts with customized texts explaining why ad tracking matters and how it will affect their experience, some companies like LinkedIn announced they'll stop collecting user data ahead of Apple's IDFA change.
Many previous estimations predict that ATT opt-in rates which developers deeply worry about will be as low as 2% and as high as 20%. However, AppsFlyer's new study found that they could be as high as 45% in some categories.
On average, 41% of users across all the apps that were analyzed opted in. However, it saw 28% on a per-app basis.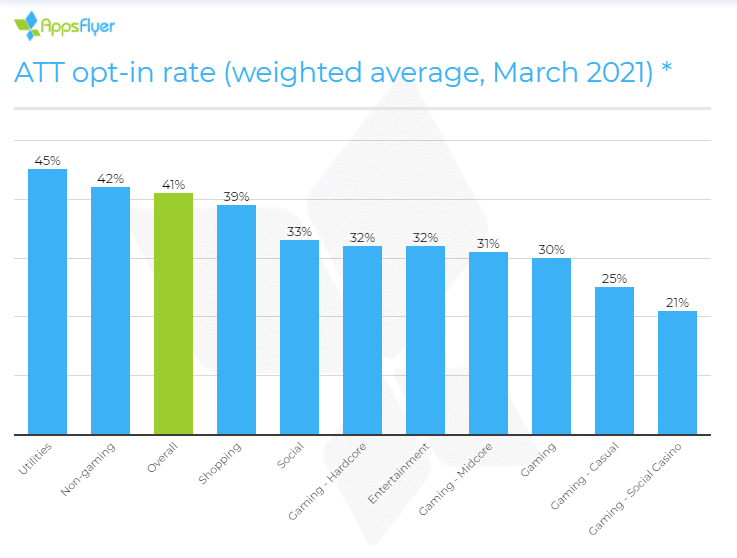 Some categories saw higher opt-in rates compared to others. For example, Utilities topped the list with 45% on a per-user basis and 39% on a per-app basis. It was followed by Shopping apps with 39% and 37% respectively.
In addition, while non-gaming apps had a 42% per-user opt-in rate, gaming apps were the least-likeliest apps to get user consent with 30%.