According to a new report from Liftoff, playable ads offer the most affordable CPI at $1.98, making them an attractive format for game marketers. It is followed by banner ads with a CPI of $2.82, while video and interstitial ads fall in the middle with similar CPIs of at $4.26 and $4.67, respectively.
Android devices are less expensive across all ad formats. For banner, interstitial, and playable ads, costs on iOS are over 2x their costs on Android. The average CPI of the playable ad format in Android games is $1.41, while it's $3.66 in iOS games.
Although playables have the most affordable CPI out of all five ad formats, they have the lowest ROAS (Return on Ad Spend) – approximately 6.5% on Day 7 and 15.7% on Day 30. Per the report, banner ads deliver the highest ROAS with over 11% on Day 7 and nearly 22% on Day 30.
Similarly, while native ads have a higher CPI ($5.22) than interstitial ads ($4.67), they offer the same ROAS on Day 7 (8%) and nearly the same ROAS on Day 30 (19% and 20%, respectively).
The report also analyzes the effectiveness of different ad formats for e-commerce apps. Banner ads are the least expensive format in the e-commerce vertical, with a CPI of $1.95 and a CPA-Purchase of $6.01.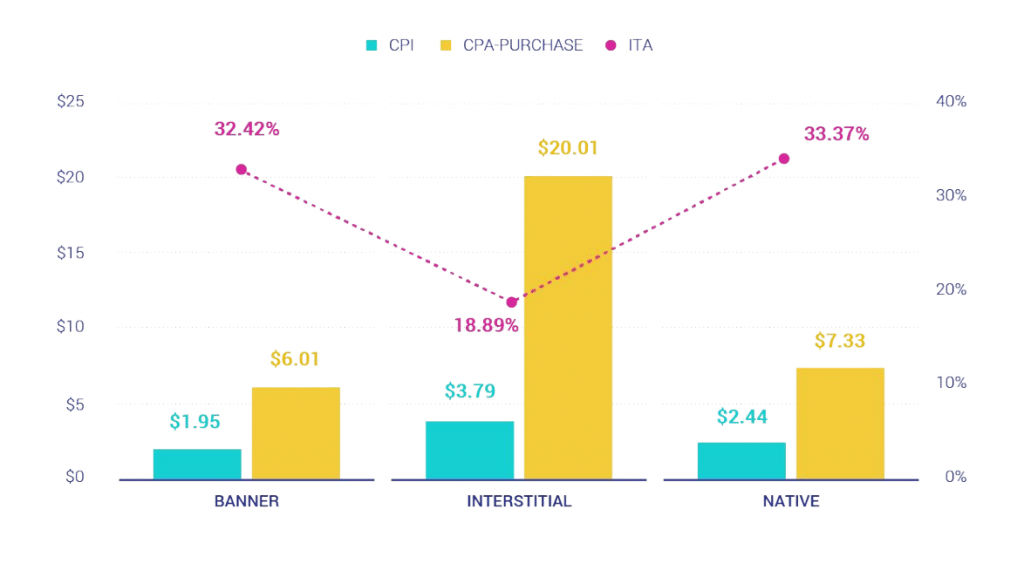 For advertisers focused on in-app purchases, banner ads also offer the most value with the lowest cost and a high ITA of 32.42%. Native ads have the highest ITA at 33.4%
The report also found that interstitial ads cost nearly 2x as much as banner ads per install and over 3x as much per action, and they have a lower install-to-action rate at 18.9%.