According to Insider Intelligence, app publishers worldwide still rely heavily on advertising to make money, despite Apple's App Tracking Transparency privacy policy.
According to the report, video and display ads are the best monetization methods among all types of apps. The next leading method for mobile games is in-app purchases and native ads for non-game apps.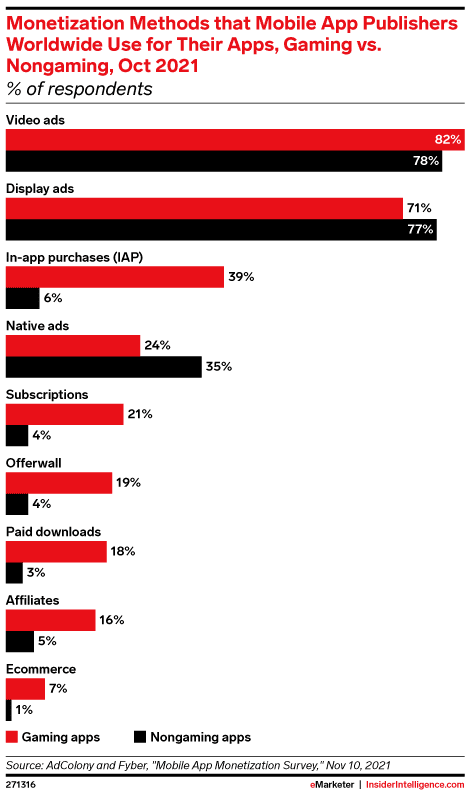 On the other hand, the Statista Digital Market Outlook estimates that by 2022, worldwide mobile social media advertising spending will lay around at $141 billion, making it the biggest form of mobile advertising spending. Mobile banner ads rank second with around 128 billion in spending, followed by search and video advertising spending.
Since the ATT framework came into effect in April 2021, advertisers have started shifting their budgets to Android ads and as a consequence, Android ad prices started to rise as advertisers deeply worry about the effectiveness of ads targeting iOS users.
According to a report by the Financial Times, Apple's privacy changes have caused social media companies such as Snapchat, Facebook, Twitter and YouTube to lose about $9.85 billion.
Mark Zuckerberg said in the Q3 conference call that Facebook experienced revenue headwinds in the third quarter due to Apple's ATT. The company's Q3 revenue topped $29 billion, up 35% year-over-year, but fell short of analysts' expectations.
According to Appsflyer's Performance Index XIII, after Apple's ATT went into effect, Apple Search Ads (ASA) surpassed Facebook, always the leading force in iOS, in power and volume rankings.
Twitter reported that its Q3 revenue rose 37% to $1.28 billion and avoided the revenue hit from Apple's privacy changes.