Mobile app video fraud increased by 50% last year, according to digital media measurement, data & analytics company DoubleVerify's new report.
---
As mobile app and device usage has skyrocketed especially during the pandemic which forced people to stay indoors and turned to digital forms of entertainment to keep themselves occupied while under lockdowns, mobile advertising has become a must for businesses of all sizes. As a result of this, global mobile ad spending is expected to surpass $117.35 billion by the end of this year and reach $156.38 billion by 2023.
However, mobile ad fraud is still a big problem in the advertising industry and fraudsters are trying ''cheaper'' but highly risky ways to fool attribution tools, ad networks, advertisers or app users.
According to DoubleVerify's 2021 Global Insights Report, while overall global mobile ad fraud volume didn't change year-over-year for the first time in 2020 (post-bid fraud/sophisticated invalid traffic rates decreased from 2% to 1.4%), mobile app video fraud increased by 50%.
---
Also Read: Apple prevented over $1.5 billion in fraud in 2020, removed 150,000 misleading apps
---
Data center traffic is currently the most common type of mobile web, mobile app and desktop fraud, according to the company which analyzed more than one trillion ad impressions across over 2,100 brands from 80 markets.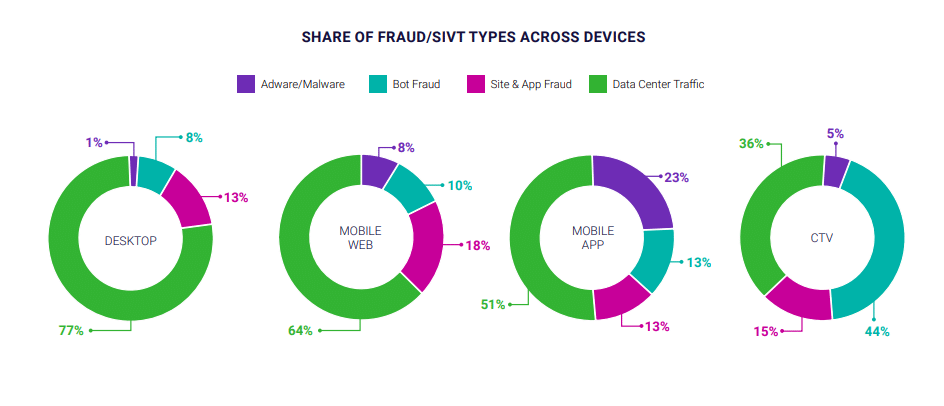 Meanwhile, bot fraud accounted for 78% of CTV violations last year and it decreased by 44% in 2021 as datacenter traffic's share in the pie increased, which suggests that fraudsters are exploring new ways.
You can check out the report for more details and our mobile marketing news for more reports like this.