Apple announced that it prevented over $1.5 billion in "potentially fraudulent transactions" in 2020 and rejected over 150,000 for being copycat and misleading. The announcement comes at a time of the ongoing Apple vs. Epic antitrust trial.
Last year, Apple removed Epic's Fortnite from the App Store for launching its own payment system bypassing the controversial 30% fee. The developer has been very vocal about the removal accusing the iPhone-maker of being anti-competitive in its purchase system and app review process.
Seeking to prove the opposite of the accusations, Apple on Tuesday shared an official article highlighting what it did last year to ''keep the App Store a safe and trusted place for users to discover apps by detecting and taking action against fraudulent developers and users.''
The company said that, in 2020 alone, it;
Prevented more than $1.5 billion in potentially fraudulent transactions,
Rejected 150,000+ apps that were spam and copycat, 215,000+ apps that violated user privacy & 48,000+ apps that contained hidden or undocumented features,
Prevented 3 million+ stolen cards from purchasing,
Terminated 470,000 developer accounts
Rejected 424 million account sign-ups and deactivated 244 million customer accounts due to fraud,
Removed more than 100 million reviews & 250 million ratings and reviews that didn't need moderation standards.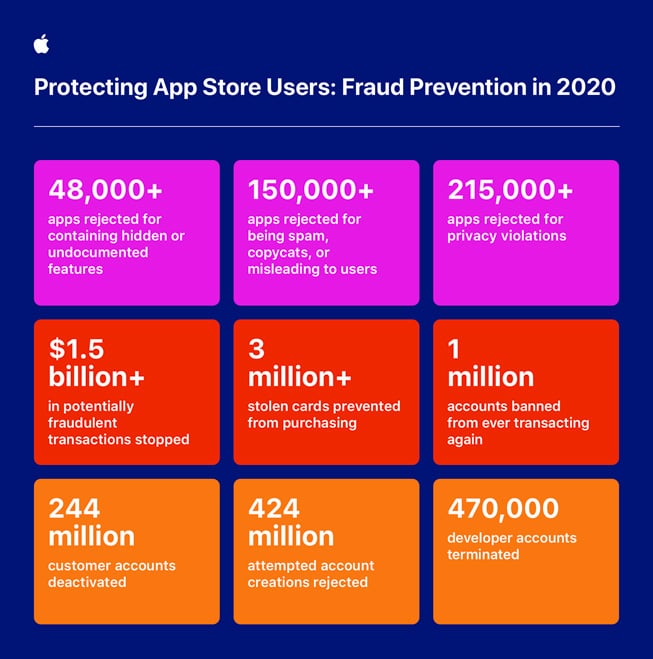 In addition, the company also announced that it blocked approximately 110,000 apps on pirate storefronts and 3.2 million apps distributed through its Developer Enterprise Program.
---
Also Read:
Apple users are trapped in the App Store, Epic says at the first day of antitrust trial
US judge presses Epic CEO on the second day of Apple antitrust trial
Emails show Apple's attempts to keep Netflix using in-app purchases
---
Feel free to leave a comment below and let us know what you think.