New internal company emails revealed as part of the ongoing Epic vs. Apple antitrust trial show how Apple tried to persuade video streaming giant Netflix to keep using its in-app purchases system, which is a very profitable income source for the iPhone-maker. 
Netflix used Apple's IAP system for a very long time, however, decided not to continue with it and dropped iOS subscription support in December 2018. Company emails show that Apple was aware of Netflix's plans to run an A&B test focused on its IAP.
As Director of App Store Business Management Carson Oliver wrote in the emails, Netflix's main concern seemed to be the high ''voluntary churn'' rate which Apple internally suggested that could be because of users getting Netflix gift cards were required to head to the Netflix website.

Another reason was probably the controversial 30% fee that Apple charges for in-app purchases, because of which Fortnite-maker Epic launched its own payment system which caused it's popular title to be removed from the App Store.
---
Epic vs. Apple Trial Day 1: Apple users are trapped in the App Store, Epic says
Epic vs. Apple Trial Day 2: US judge presses Epic CEO
---
In an internal email, Oliver asks if they should think about punishing the streaming giant if it continued running the A&B test. "Do we want to take any punitive measures in response to the test (for examples, pulling all global featuring during the test period)?" he wrote in the email. "If so, how should those punitive measures be communicated to Netflix?"
Another mail dated July 2018 shows that Apple prepared a presentation which highlighted what it did for Netflix and what it could do such as offering subscriber discounts, the ability to choose the shows and movies which Apple features in the App Store, Apple TV Bundle, coordinated A&B testing on iOS and many more.
The email says that "the 'What we could do' section is inclusive of pie in the sky ideas for completeness, and these ideas have not yet been approved."

Other offers include: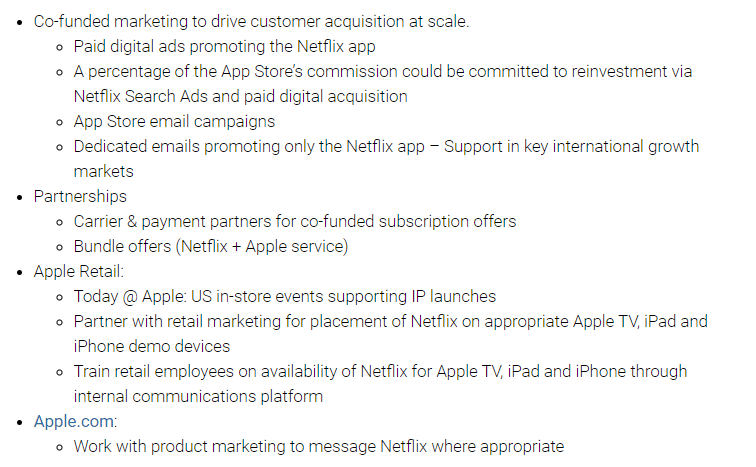 Although it looks like Apple tried it best to keep Netflix using its in-app purchases, Netflix still dropped the support in December 2018.