Global mobile advertising spending is expected to reach $156.38 by 2023, according to the Mobile Advertising Outlook 2021 report by eMarketer.
In fact, eMarketer's previous prediction was a little bit lower standing at $156.38 billion as the coronavirus pandemic first caused a decrease in mobile ad spending in the United States.
However, the growing mobile usage, video streaming, gaming and shopping during the pandemic has led the prediction to go up to $156.38 billion as it drove advertisers' and publishers' attention to new platforms and mobile products, highlights Yoram Wurmser, eMarketer Principal Analyst, Insider Intelligence.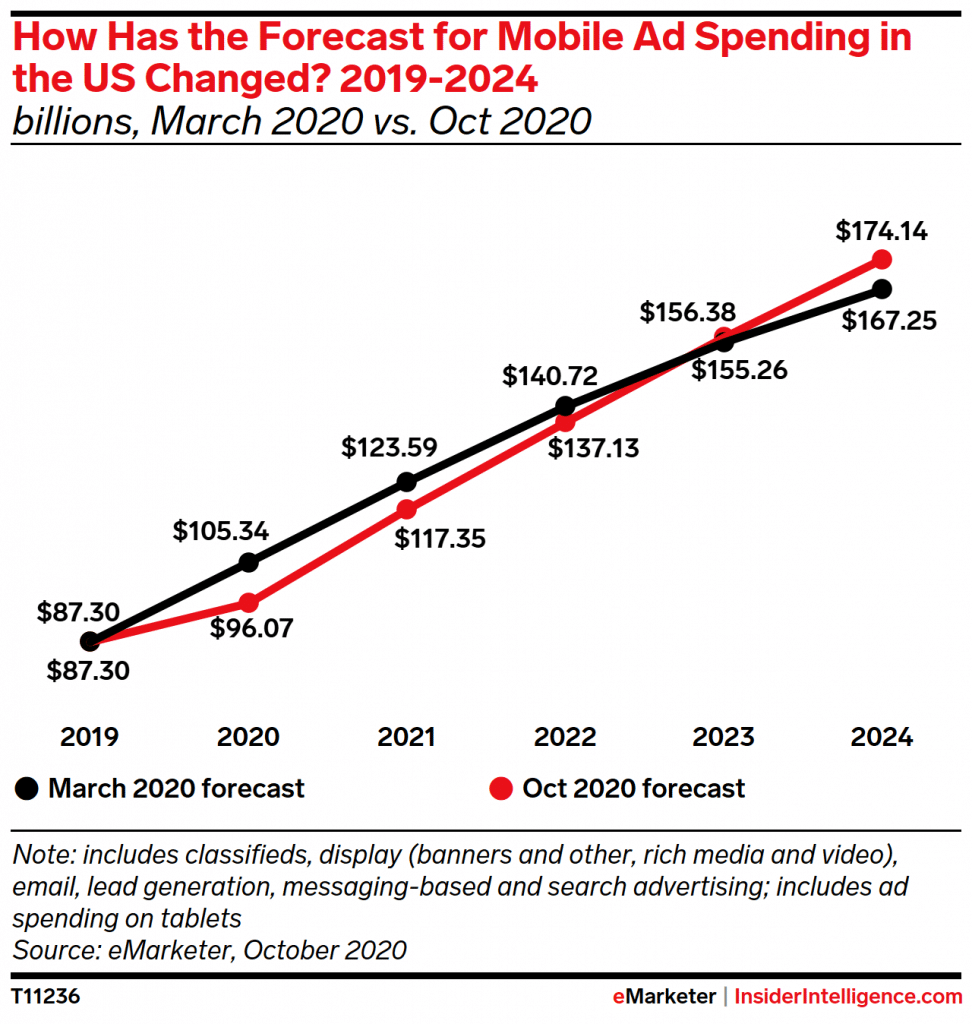 Yoram Wurmser also expects that app clips, which are basically the small parts of mobile apps enabling users to perform simple tasks including ordering food, renting a bike and paying for parking, will have a remarkable impact on app install advertising.
He says that Apple's controversial iOS 14 App Tracking Transparency feature, which will require developers to inform users to track their information using IDFA, "will make personalized advertising and attribution more difficult, but also accelerate the shift from waterfall auctions to contextual advertising,".
iOS 14 also allows users to opt in to "imprecise" location tracking, and the first 24 hours after installs are much more important to marketers and users, he says.
---
Apple first introduced the App Tracking Transparency framework at the Worldwide Developer Conference 2020 saying that it would go live with iOS 14. After the announcement, several Apple critics including Spotify, Epic Games and Tinder-maker Match Group formed 'Coalition for App Fairness' to fight against Apple's App Store policies.
Apple later delayed the iOS 14 privacy feature and announced the enforcement of the feature would be as early as 2021. As we're approaching the end of 2020, Apple last month required all developers to submit their app privacy information before December 8th, and in the beginning of December threatened to remove apps from the App Store if they don't comply with the privacy feature. In addition, it last week announced app privacy labels to provide users with a better understanding of the information they share with apps.
Later on, Facebook ran full-page newspaper ads in major papers including the New York Times, the Washington Post, and the Wall Street Journal against Apple's App Store policies.
---
Wurmser also predicts that there'll be a strong recovery for local search in the near future. iPhone 12 will ''supercharge'' mobile AI, regulations will bring limitations to the precise location data supply, mobile will get more premium OTT minutes creating more opportunities for brands in the casual game industry and in-app contextual advertising will improve importantly.
Integral Ad Science's 2021 Industry Pulse Report in which 200 ad industry executives participated also underlines mobile contextual advertising.
According to the report, 66% of them said that, especially in mobile contextual advertising, tools for assessing content within apps will create innovation. Meanwhile, 58% said they believe 5G will create a major trend in mobile gaming & advertising in 2021.
Katie Madding, Chief Product Officer at Adjust, said that with the video-streaming segment revenue which is expected to rise to $30.4 billion by the year 2024, "the opportunity that OTT media afford mobile marketers is enormous, yet largely untapped."
"Many companies are investing heavily in OTT, but often have no way of understanding what drives value. Measurement is the answer," she added.
She also believes subscription-based mobile apps are becoming a key revenue stream for many publishers and advertisers and represent high value for publishers and marketers.
"For marketers, the priority going into the new year — particularly when we get back to relative normality — will be how to retain the users they gained during 2020, and how to build more utility into their apps," said Andy Chandler, Adjust's Global Vice President Customer Success. "The pandemic has proven the value in going one step further and really thinking about what it is your users need, especially in very difficult times. As with any successful brand, it's about putting yourself in your customers' shoes and seeing what small things your company can do to make their lives easier and safer."
"Marketing and product development should continue to work closely to ensure they're retaining the organic users gained during the last year with relevant, helpful and most importantly, personal advertising," said Paul H. Müller, Adjust Co-founder and CTO. ''Mobile marketers will lean into automation to handle myriad channels, campaigns and advertising networks in 2021, and the most successful ones will use the freed-up time for "hyper-personalized" creative, he added.
The experts also highlighted some other key mobile trends including location-targeted ads, social commerce, shoppable ads, audio marketing, voice search, user-generated content, and chatbots.