Player spending in mobile Simulation games in the United States increased by 61.8% in 2020 compared to the previous year, making Simulation the fastest-rising category of 2020 by revenue, according to Sensor Tower who analyzed the top 100 titles in the category.
Including many popular titles such as Roblox from Roblox Corporation which recently raised $520 million at $29.5 billion valuation and Township from Playrix, the Simulation category generated $2 billion in 2020 with a 61.8% YOY growth.
According to the data, Simulation's largest subgenre by consumer spending was Sandbox which generated over $936 million. The top title in the subgenre was Roblox generating $764.4 million in the United States last year.
---
Also Read: Why is Simulation on the rise?
---
After Simulation, the second fastest-rising category by revenue was Casino which generated $4.5 billion in 2020 with a 49% year-over-year growth, followed by Lifestyle at No.3 generating $770 million with a 47.5% yearly growth.
Casino was also the largest genre by spending last year, followed by Puzzle at No.2 with $4.4 billion and Strategy at No.3 with $3.3 billion.
---
REPORT: Which mobile players play which games? – A comprehensive research on the tendency of mobile players of a particular gaming genre to play other genres.
---
Casino was the fastest growing genre by downloads
Including trending titles such as Moon Active's Coin Master and Big Run Studios' Blackout Bingo, the Casino category was also the fastest genre by downloads in 2020, generating 163 million installs with a 27.5% year-over-year growth rate. Casino's top subgenre was Slots generating 79 million downloads, 4.3% up from 4.3%.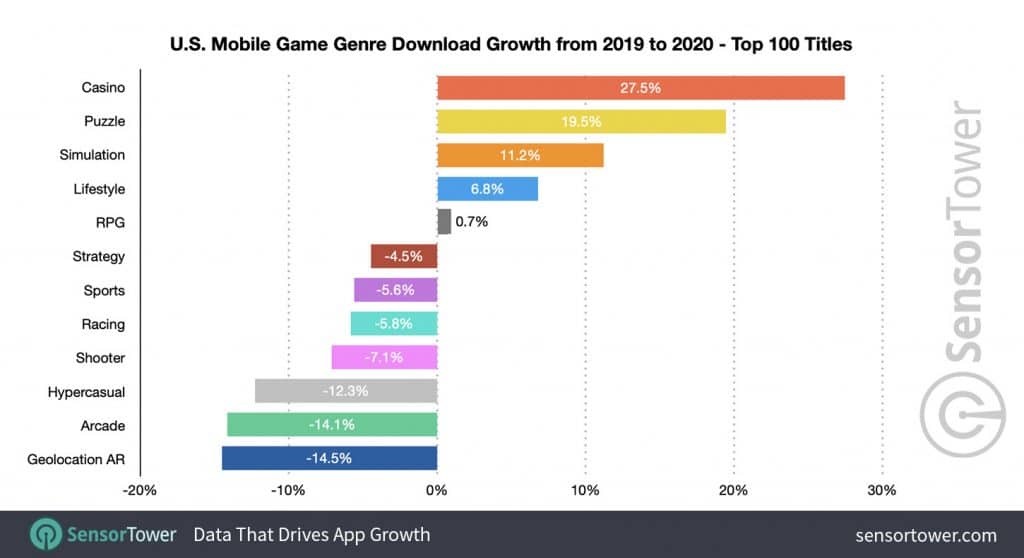 After Casino, Puzzle was the second fastest rising category by downloads with 503 million installs with a 19.5% year-over-year increase, followed by Simulation at No.3 with 285.5 million installs.
While the U.S. downloads of Hypercasual games declined 12.3% to 781.2 million, global downloads surpassed 1 billion in 2020.
In spite of the decrease in downloads, Hypercasual was the largest category by downloads last year, followed by Puzzle at No.2 and Arcade at No.3.