As the mobile gaming industry continues to grow, a very crucial category has captured our attention: Simulation.
Simulation is a category which provides a real-world experience that, with all of its exaggerated or non-exaggerated content, can help you improve your skills on a particular subject or simply serve as a means to entertain yourself.
Simulation consists of mini games which contain progressive levels that serve a particular purpose or upgrade due to the nature of the category. It is relatively more difficult to create a compelling gameplay in the simulation category when compared to other categories. Mini games are games that are consumed much faster than other and offer, as the name suggests, a noticeably shorter playing time. Because of their short length, it is very difficult to create an addictive game in this category.
Highest Rise Among Genres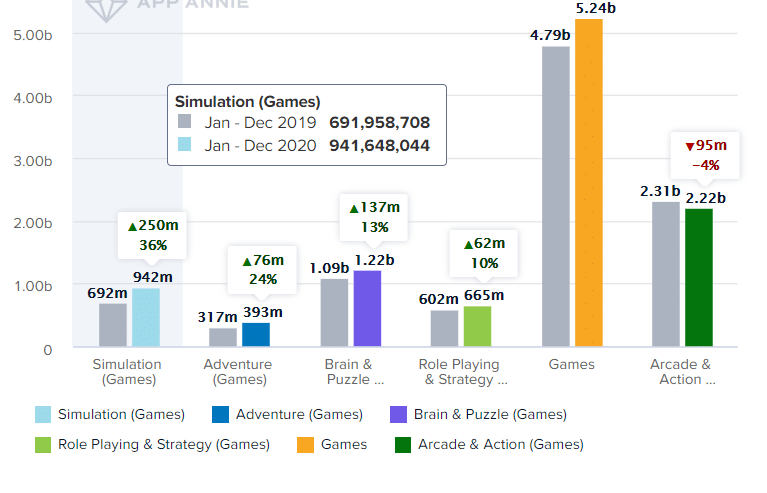 In the Arcade & Action category, where we observed the highest consumption, there was no increase in 2020 compared to the last year while Simulation saw a 36% Y/Y increase, becoming the category with the largest growth volume among all of the other genres.
What can revenues tell us?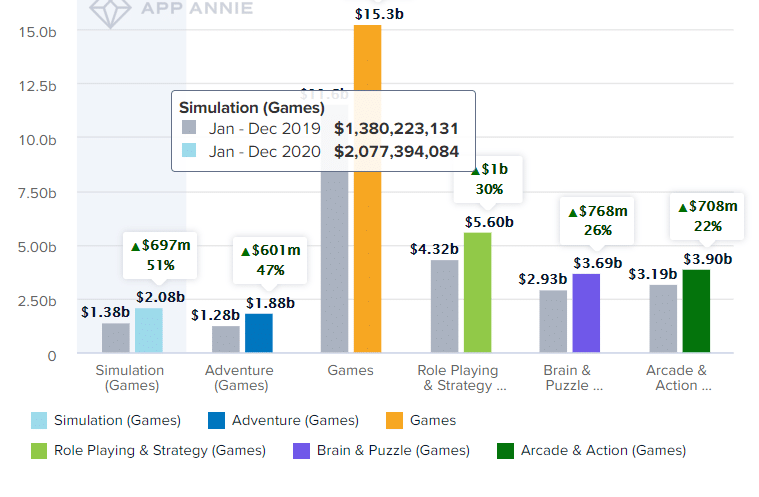 In the graph above, we see that the Simulation category saw a 51% increased rate in revenue, greatly outpacing the other categories. Despite this, Simulation still brings in the lowest income volume by distribution.
Low Revenue Structure + High Number of Downloads = Consumption Speed & Variety
The discrepancy between this 51% increase and the correlating low revenue tells us that the probability of finishing the game during an average playtime is higher than in other categories due to the instantly consumable and changing nature of simulation games. What this tells us is that the diversity within the category has increased the user's engagement.
A lot of Mechanics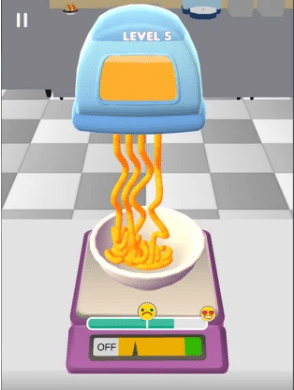 Thanks to the multiple mechanical structures these games have to keep the user stimulated, within these complex but sequential structures, the user is more likely to choose a game with content they like rather than a game that's simply in any given selected category. So whether the user prefers other categories like action or puzzle, because these mechanics are also using in simulation, the user will end up playing a game they're more likely to enjoy.
They seem entertained!
An addictive structure is rarely encountered in simulation games compared to other categories. Games in the Brain & Puzzle or Arcade & Action categories have a longer revenue lifetime because they offer longer gameplays or high scores when you re-enter the game, all which trigger a sense of addiction in users. In the simulation category, the user experience of progression is more satisfying. This experience of progression may not provide the same exhilaration when played again after the game has finished but in 2020, people loved this variety of satisfaction and increased its consumption.