Releasing a blog post and running full-page newspaper ads in major papers, social media giant Facebook criticised Apple's App Store policies and upcoming App Tracking Transparency feature, accusing the tech giant of anti-competitive behaviour.
---
At the Worldwide Developer Conference in June 2020, Apple introduced the highly controversial privacy feature named App Tracking Transparency which paved the way for the end of Apple's IDFA for many and which the company first said would come with the launch of iOS 14 but later postponed to early 2021 after receiving harsh criticism.
The App Tracking Transparency feature will require app developers to ask for user permission and show their privacy information to track user activities, and this is expected to send an $80 billion industry into upheaval.
Following the announcement of Apple's App Tracking Transparency feature, tech companies including Spotify, Epic Games, Tinder-maker Match Group, News Media Europe and many more formed the Coalition For App Fairness "to bring app developers together to fight against the App Store policies". Facebook also has been publicly criticising the upcoming App Store policies since Apple first announced them.
"Apple is behaving anti competitively by using their control of the App Store to benefit their bottom line at the expense of creators and small businesses. Full stop," said Dan Levy, Facebook Vice President for Ads and Business Products. (Reuters)
In response, Apple said that it will not require Facebook to change how it tracks users, instead, it will need to allow users to choose whether they want to opt-in or not.
"We believe that this is a simple matter of standing up for our users. Users should know when their data is being collected and shared across other apps and websites — and they should have the choice to allow that or not," Apple said in a statement.
Apple last month announced that app developers would be required to submit their privacy information before December 8. As we're slowly approaching the new year, the company last week threatened to remove apps from its App Store if they don't comply with the upcoming feature. In addition, Apple launched its new app privacy labels live on the App Store to allow users "to better understand the data types apps may collect".
Apple exposing all the ways Facebook tracks you with it iOS app is really quite something pic.twitter.com/hDhB85qk1L

— Tom Warren (@tomwarren) December 16, 2020
Facebook took another step and released a blog post named Speaking Up for Small Businesses where Dan Levy said ''Apple's new iOS 14 policy will have a harmful impact on many small businesses that are struggling to stay afloat and on the free internet that we all rely on more than ever.''
"We disagree with Apple's approach, yet we have no choice but to show their prompt.", Levy added.
Here's the overview: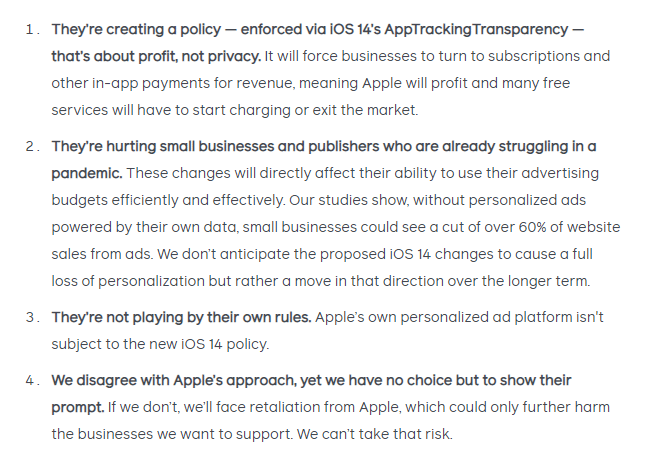 The company also ran full-page newspaper ads yesterday in several major papers including New York Times, the Washington Post, and the Wall Street Journal with the headline of "We're standing up to Apple for small businesses everywhere,".
I'm pretty certain #Facebook is fighting #Apple to retain access to personal data. #PID #privacy. #fullpagead #wsj pic.twitter.com/029WwaGSs0

— Dave Stangis (@DaveStangis) December 16, 2020
The company created a website page called Speak Up For Small Business: Impact Of Apple's Latest Update where small business owners share their concerns.
Keep following our Mobile Marketing News for the latest updates and let us know what you think.