According to Appsflyer's Performance Index XIII, after Apple's ATT went into effect, Apple Search Ads (ASA) surpassed Facebook, always the leading force in iOS, in power and volume rankings.
As the only media source in iOS that operates independently of SKAdNetwork on iOS and deterministically attributes users, it's no surprise that ASA is outpacing Facebook on iOS. "Indeed, iOS marketers flocked to ASA following the enforcement of ATT. The end result – it managed to reach almost 60% of its traffic from the previous index which covered the entire second half of 2020 in just 7 weeks," Appslyer reports.
ASA's dominance was driven by non-gaming apps where it ranked top, thanks to the top spot it secured in the Life & Culture group in seven regions across the globe, including Eastern Europe, Greater China, Japan and Korea, Latin America, Middle East, North America, Western Europe.
In Gaming, Apple Search Ads ended up 3rd in the power ranking and 4th in the volume ranking, which is still better than the #6 and #8 positions in the previous index. Its performance in Gaming was largely driven by #1 power rankings in the Casual Gaming group in Japan & Korea, the Middle East, Western Europe, and North America.
---
Also Read: Apple ATT has no clear effect on game downloads and revenue
---
Apple Search Ads also overtook Facebook in both the IAP Index's global power and volume rankings. Facebook held its top spot in Gaming (in both power and volume rankings), with a place atop the Puzzle, Role Playing, Simulation, and Strategy rankings, but dropped to 2nd in non-gaming.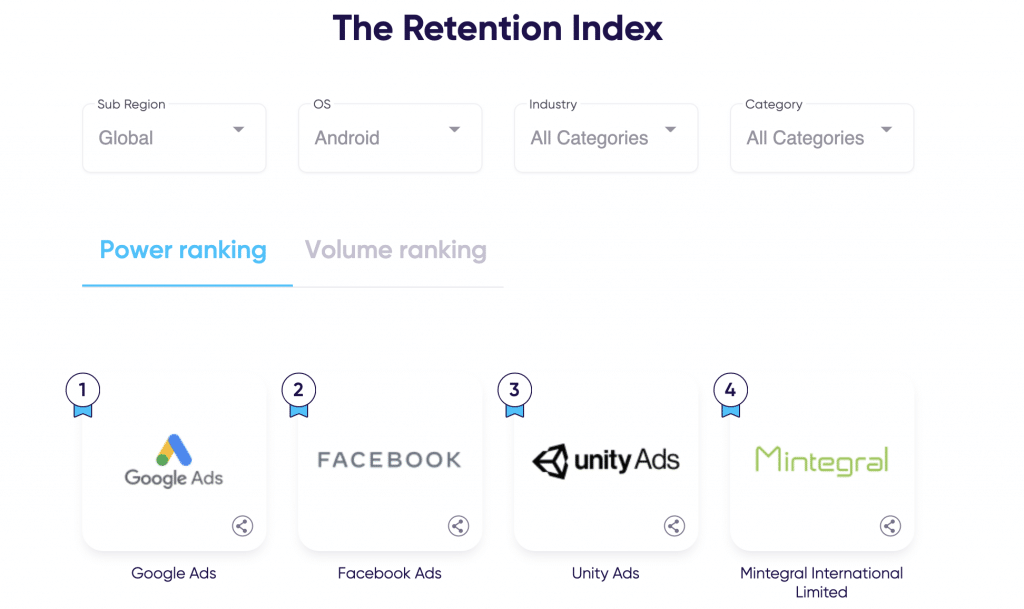 Maintaining the highest number of installs in app marketing on Android, Google is further increasing its lead in Facebook on Android devices. It ranked #1 in the Retention Index's power and volume rankings in all gaming and non-gaming categories, with the exception of Racing games.
Most of its growth came from Gaming, where it increased its share in the global app install pie by 5% in this index (comparing H1 2021 to H2 2020). With the biggest reach in almost every region, most of Google's growth comes from the Android-dominated developing world, particularly India, Latin America and Southeast Asia.
The Remarketing Index shows that while Facebook still dominates remarketing category, Google has closed the gap and even ranks top among Finance apps in Europe and globally.