Consumers in the top 10 most-mobile markets spent an average of 5.5 hours a day on mobile apps and games during the first quarter of 2023, which is up from 5.4 hours spent in Q1 2022, according to data.ai. In addition, users in eight major markets, including Indonesia, Brazil, and the United States, spent more than 5 hours on mobile on a daily basis.
The mobile data analytics platform previously announced the top mobile apps and games of the first three months of the year, when consumers spent $33.9 billion on mobile apps in total, and $1.63 billion on mobile games each week.
The new report also revealed the top breakout apps and games of the quarter by downloads and consumer spending.
Among non-gaming apps, second-hand marketplaces like Vinted, fast-fashion and cheap goods apps like SHEIN and Temu, budget friendly travel apps like Fly Bonza and Hopper, and grocery, food deals & rewards apps like FairPrice and CoffeBean SG all saw an increase in downloads during the quarter, data.ai said.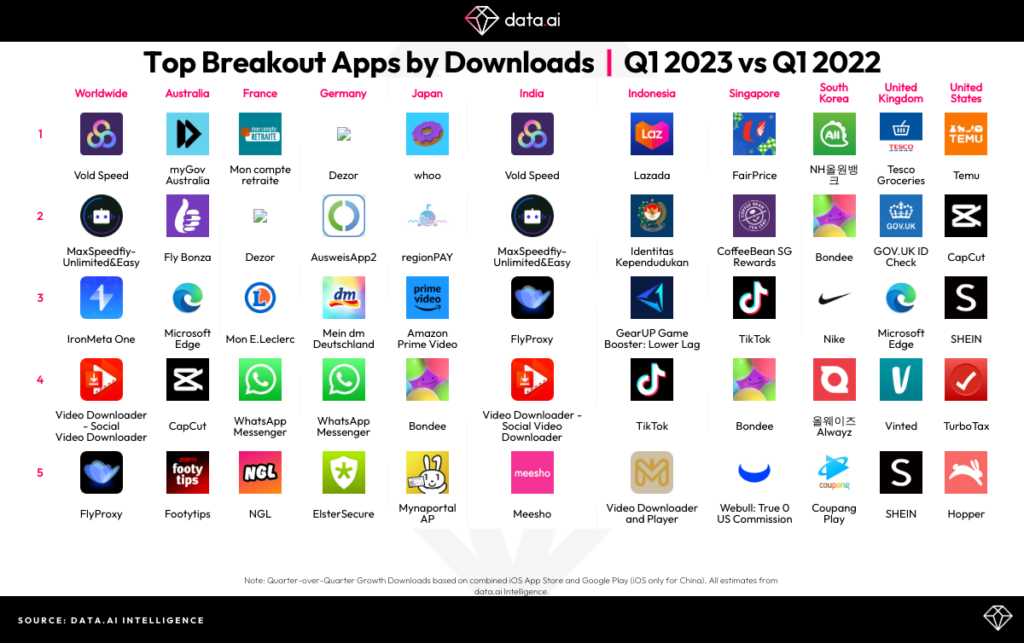 Meanwhile, language-learning apps like Duolingo and Babbel, video streaming apps like HBO Max, Disney+, Paramount+, DAZN, and ESPN, comics & anime apps like piccoma, LINE Manga, and Crunchyroll saw a remarkable growth in consumer spending.
When it comes to mobile games, Street Fighter: Duel and Block Blast Adventure Master garnered more downloads during the quarter, while Gardenscapes, Royal Match, and FIFA titles generated more revenue from consumer spending.