What is HBO Max?
HBO Max is a subscription-based digital streaming platform owned by Warner Media. HBO Max, which entered service in May 2020, has original and licensed content as well as the contents of the HBO channel. It gathers brands such as Cartoon Network, HBO, DC, Max Originals under one roof. It can be accessed from a TV, tablet, or smartphone that supports the app. A subscription is required to access the platform.
HBO Max Release Date: May 27, 2020

Owner: WarnerMedia

HBO Max Supported Devices: Apple iPhone, iPad, and iPod Touch (with iOS 12.2 or later), Android phone and tablets (with Android OS 5 or later), Amazon Fire tablets (4th generation and later), smart TVs, streaming devices including Fire Stick and Roku.
HBO Max Revenue Statistics
+ With the Discovery-WarnerMedia mega-merger officially closed as of early April 2022, the company said revenue at WarnerMedia, including Warner Bros., the Turner networks, and HBO, rose 2.5% in Q1 2022 to $8.7 billion. In addition, subscription revenues were $4.0 billion, up 4.4%, which reflects the growth of HBO Max.
+ In January 2022, HBO Max generated $48.7 million in in-app purchase revenues worldwide.
+ HBO Max parent company's revenue reached $41 billion at the end of 2021, which was down 10% from $45.7 billion in the prior-year period but ahead of estimates for $40.4 billion. (Deadline)
+ At WarnerMedia, content and "other" revenue jumped 45% in Q4 2021 to $4.4 billion, which the company credited to higher TV licensing and theatrical box office.
+ HBO and HBO Max's domestic revenue per subscriber at the end of 2021 was $11.15.
HBO Max User Statistics
+ HBO Max led in market share of US app downloads with 21% in Q1 2022, followed by Disney+ and Netflix. The video streaming app was also among the top apps with the highest monthly active users with 10% of market share. The platform has had success adding new users since with its U.S. market share climbing from 4.5% in Q2 2020 to 10% in Q1 2022.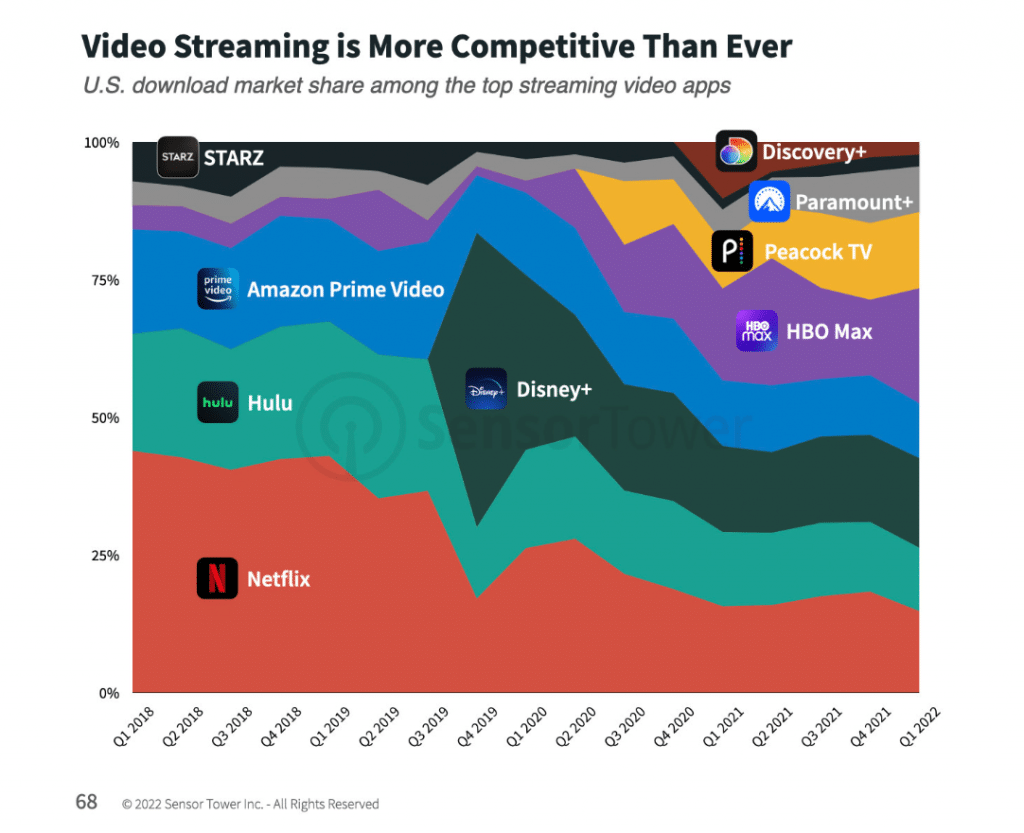 + HBO Max and HBO ended Q1 2022 with total global subscribers of 76.8 million, up 12.8 million year-over-year, and up 3.0 million from the prior quarter. (Techcrunch)
+ In January 2022, HBO Max generated 13.84 million downloads worldwide. (Statista)
+ When HBO launched Made for Love, it resulted in a 61% increase in the HBO Max app installs.
+ As of the end of 2021, HBO, including HBO Max, reached 73.8 million subscribers worldwide. (AT&T)
+ The number of HBO Max viewers in the United States is expected to reach over 100 million as of 2023. (Statista)
+ From Q1 2021 to Q3 2021, HBO Max was among the leading video streaming apps worldwide, with 57 million downloads.
How many users does HBO Max have?
+ HBO Max closed 2021 with 46.8 million domestic subscribers, an annual gain of 5.3 million over 2020.