According to data.ai, global consumer spending on the top 20 video streaming apps surpassed $7.8 billion in 2021, up 60% year-over-year from 4.9 billion. 
Meanwhile, time spent on the top 20 video streaming apps increased by 32% from pre-pandemic levels in 2019. In some countries the spike was even more striking, with Indonesians, for example, having nearly doubled their video streaming hours in two years, up 93%.
Netflix, which has the largest global footprint, is expected to surpass 1 million downloads in 60 countries by the first half of 2022. Meanwhile, Disney+ and Amazon Prime Video will have reached 1 million downloads in more than 28 countries by 2022.
Per data.ai's State of 2022 report, nine of the top 10 non-gaming apps by consumer spend for 2021 were video streaming apps. The report found that last year's total consumer spending on mobile apps reached $170 million, up 19% year-over-year. 
Having 221 million subscribers across all devices, Netflix dominated the top rank in terms of downloads and average monthly active users on mobile in 2021 in the OTT category. When the company premiered Squid Game in September 2021, it resulted in a 6% rise in downloads of its app 30 days after the initial release. Meanwhile, when HBO launched Made for Love, it resulted in a 61% increase in the HBO Max app installs.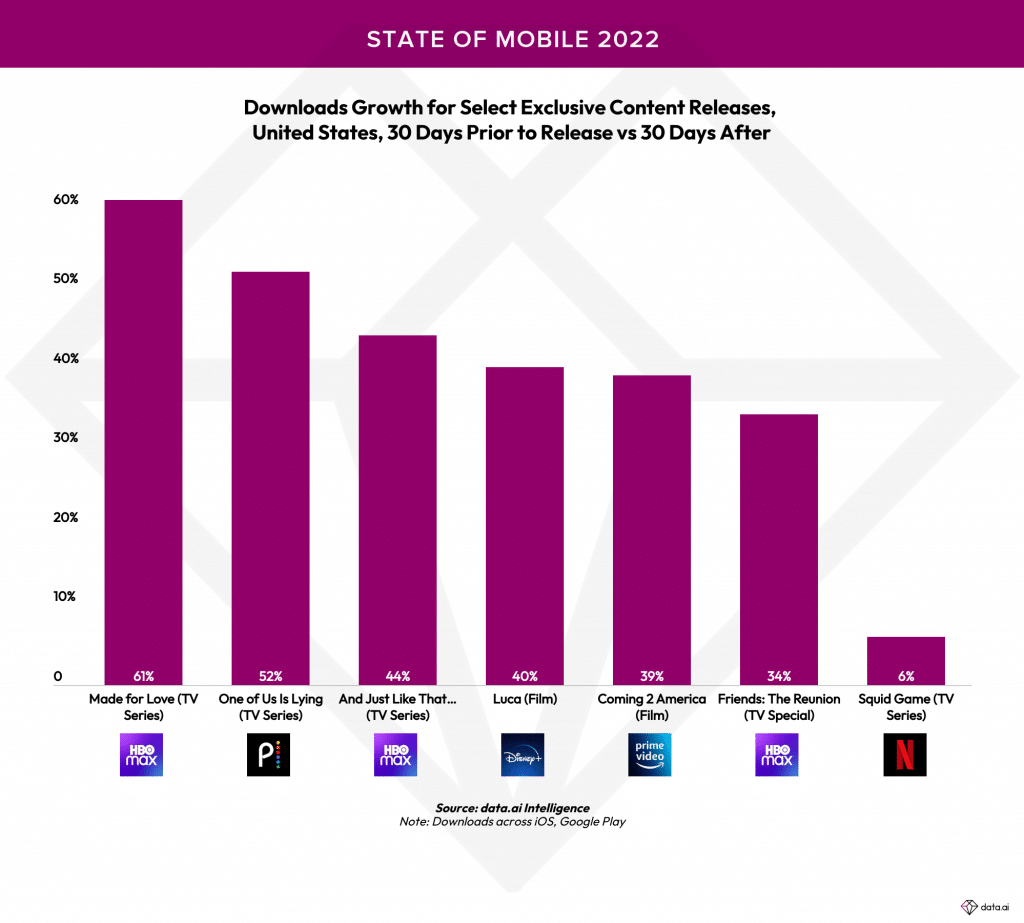 Per the report, time spent in the top 25 live streaming apps outpaced the social market overall year over year by a factor of 9, a 40% YoY growth compared to all social apps at 5%. Consumer spend has also risen dramatically. In total, global consumer spend on mobile live video streaming among the top 25 live streaming apps grew from $2.4 billion in 2020 to $3.8 billion in 2021. That's up 55% YoY and more than 4x that of 2019.