According to Sensor Tower, Ad Removal is the most widely used monetization mechanic used by casual games, as they can rely more heavily on ads than any other class. Casual games account for 90% of the games using this monetization option.
On the other hand, half of the top grossing titles globally during 2021 featured a Season Pass among their monetization mechanics. The Shooter genre accounted for three out of the top 10 earning titles that feature a Season Pass. The monetization model has its roots in the category, having been popularized by Fortnite before finding its way into titles such as PUBG Mobile, Garena Free Fire, and Call of Duty: Mobile.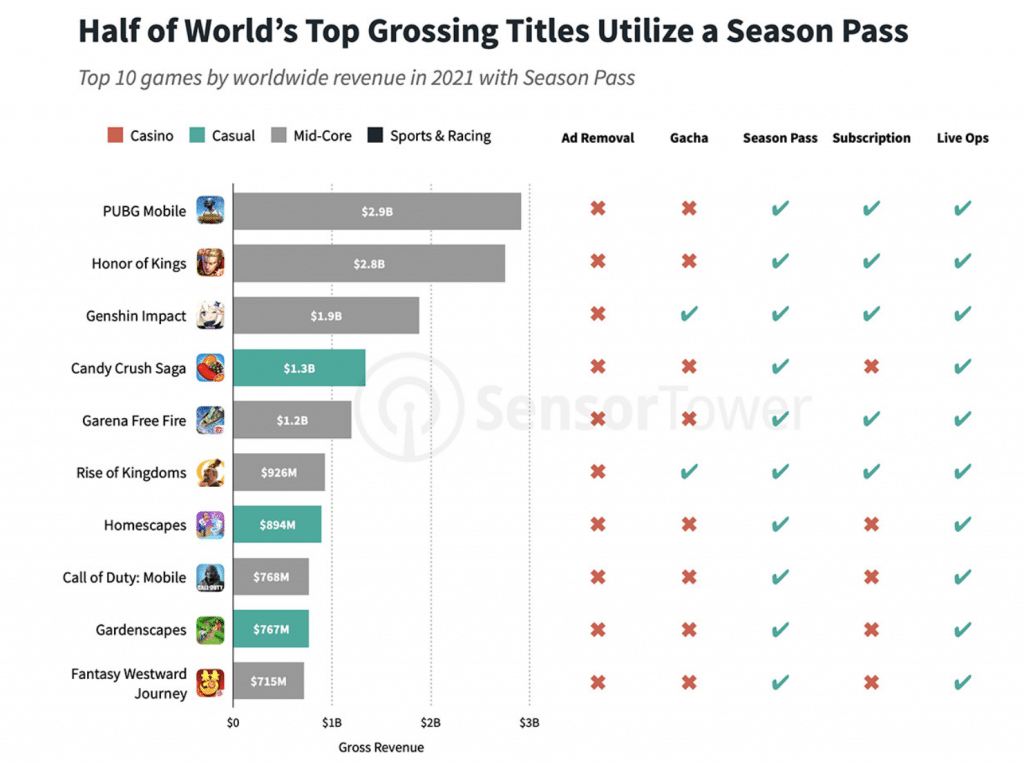 While most of the top games that have implemented a Season Pass are Mid-Core games, Casual titles have also started to add the feature, including King's Candy Crush Saga and Homescapes and Gardenscapes from Playrix. 
Gacha, which is a core progression collection system where players can only be granted collectables with a random delivery mechanic, is more widely seen in the top Asian mid-core titles, with mid-core accounting for 82% of games using the feature.
The nascent NFT / Crypto space is currently showing a diverse range of classes from mid-core to casual, reflecting early experimentation to find the most monetizable audience. Casino only represents 10% of Real Money titles, while skill-based Casual games such as Pool Payday, which use the third-party platform Skillz, make up 77%.