Full-screen video ads that are 37 seconds long, combined with video end cards, are the top-performing mobile ad creative targeting hyper-casual mobile gamers, according to a new study published today by Liftoff + Vungle. To maximize their impact, data suggests that ads should not last longer than 40 seconds.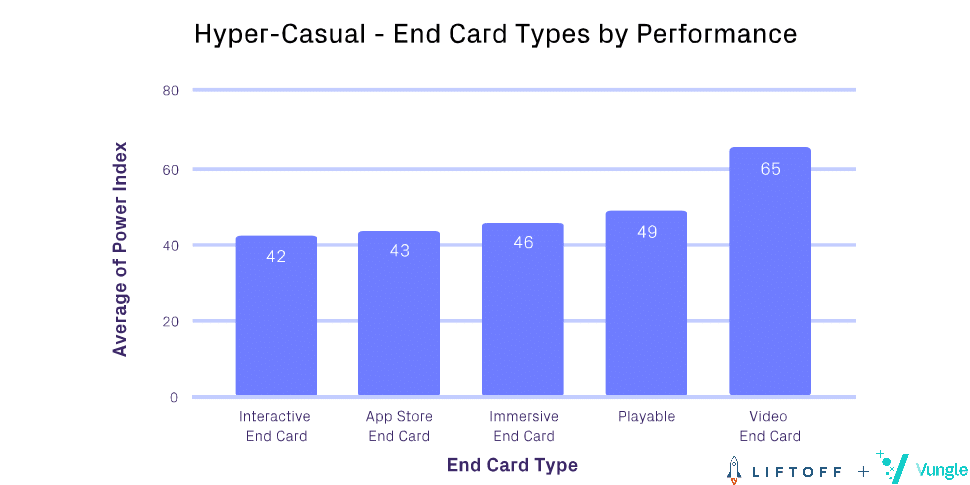 Compiled from an analysis of 3.7 billion ad impressions and the resulting installs, the study also revealed the top-performing ad creative for other gaming genres, including:
Role-playing games: Long-form ads that explore specific game mechanics are the best way to capture the attention of RPG audiences, who are eager to dive into detail-rich experiences. Forty-six seconds is the ideal length, while looping video end cards drive the best performance for the end card.
Social casino games: Social casino gamers favor concise ads that are short and sweet—mirroring the rapid game cycle of these titles. The top-performing duration for these ads was 10 seconds, and the winning end cards were standard end cards.
Strategy games: There is room for numerous ad durations to succeed with strategy gamers, as ads 20 seconds long to those reaching 40 seconds can produce strong results. That said, the data revealed the 33-second mark was the happy middle ground and that app store end cards, which automatically redirect players to the app store front page, stood out among the end card options.
Puzzle games: While relatively short video ads that clearly illustrate the puzzle's mechanics work well for this audience, advertisers can see success with numerous creative combinations. The study found the optimal duration for ads was 22 seconds and the best end card was an app store link.
"To thrive in the highly competitive mobile environment, app marketers have to understand how to build and run successful campaigns, and that all starts with effective ad creative," said Si Crowhurst, VP of Creative Labs & Brand at Vungle. "Our in-house team, Vungle Creative Labs, diligently designs, tests, and iterates on mobile ad creative. We understand what mobile game marketers are up against when they're optimizing creative, and we wanted to share hard data to help them boost their performance."
According to a new report from Adjust, mobile gaming remains the largest user acquisition-driven category, making up 50% of total UA ad spend across all verticals. Global mobile advertising spending is expected to reach $156.38 by 2023, according to the Mobile Advertising Outlook 2021 report by eMarketer. Another report from GlobalData estimates the mobile gaming market will be worth $272 billion by 2030, representing a compound annual growth rate of 11%. Moreover, Hyper-casual is currently the largest audience in mobile gaming.