According to a new report from Adjust, mobile gaming remains the largest user acquisition-driven category, making up 50% of total UA ad spend across all verticals. 
To put mobile gaming's 50% share of UA spending into perspective, the second-place vertical (e-commerce) makes up just 16%. This is especially pronounced in the APAC region, where ad spend distribution for gaming apps measured by Adjust reaches as high as 64% (followed by publications at 11%). In North America, that number reaches 57% (followed by fintech at 14%) and in EMEA it sits at 39% (followed by e-commerce at 27%).
From 5,460 apps across all regions and verticals, Adjust global data shows that the top global sub-vertical is puzzle gaming (16%), but that swaps to role-playing games in Asia Pacific (23%).
Global mobile advertising spending is expected to reach $156.38 by 2023, according to the Mobile Advertising Outlook 2021 report by eMarketer. Another report from GlobalData estimates the mobile gaming market will be worth $272 billion by 2030, representing a compound annual growth rate of 11%.
According to the Adjust data, gaming is also still the biggest mobile vertical in 2021 in terms of app installs, making up a quarter of all iOS downloads and 21% of all Android downloads.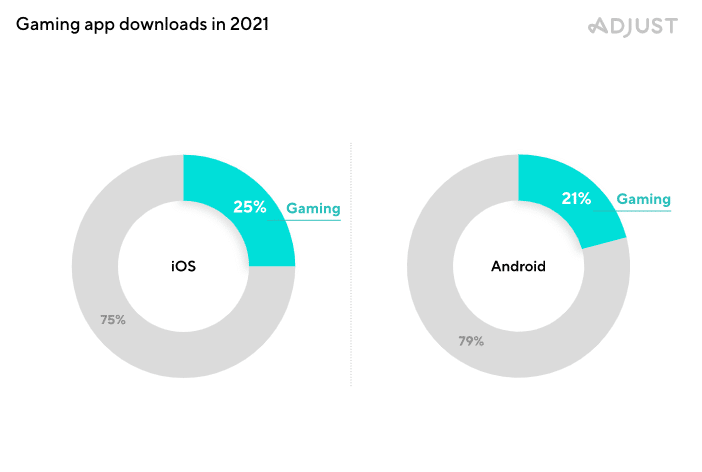 Looking at install costs across these networks globally, Apple leads the pack with $3.86. An install from Facebook costs $1.02, while Google Ads comes in at $0.91. AppLovin, ironSource and Mintegral follow at $0.58, $0.39 and $0.19, respectively.
Hyper casual games, characterized by their lightweight, instantly playable and infinitely replayable gameplay models, are expanding the traditional definition of a gamer and have solidified their position as a driver of gaming growth in recent years.
Adjust also found that install and session increases of 43% and 36% for hyper casual in 2020, which is up another 44% in the first three quarters of 2021. Hyper casual sessions jumped as high as 72% above the 2020 average in mid-March as lockdowns started across the globe. Even after this huge jump in 2020, sessions have still managed to grow by another 2% this year, growth that would be 25% if the aforementioned peak would be excluded.