According to a new survey by Meta Audience Network, the majority of mobile game developers now use in-game advertisements as part of their monetization strategies. 
For the study, the tech giant teamed up with International Data Corporation (IDC) which surveyed 514 decision makers in 17 countries around the world, to understand the impacts of Apple's App Tracking Transparency framework on the mobile gaming industry and what kind of roadmaps these decision makers have created after ATT came into effect in April last year preventing developers from showing users personalized ads unless they have their consent. 
93% of the participants said that they use in-game ads which they think are essential for a successful monetization strategy.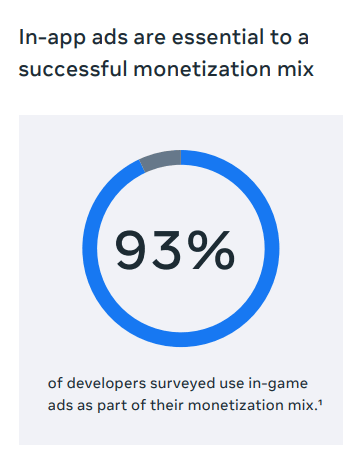 62% of them said that they think using a combination of in-app advertising (IAA) and in-app purchase (IAP) at game launch helps them increase D+7 & D+8 retention and revenue, while 42% said using in-app advertising at post-launch boosts average revenue per daily active user (ARPDAU). 
The survey also found that 67% of decision makers adopt strategies that focus on both user acquisition and monetization, starting from the early days of their game development process.
In addition, 83% of the respondents said they believe in-app ads contribute to cross promotion, by helping them acquire new users for their other titles.
Developers are also leveraging the power of social media to lure users to their apps. 54% of the participants said they team up with influencers and content creators, 53% said they create social communities and networks outside their apps, and 51% said they add new features based on viral topics on social media to acquire new users.