Netflix continues to have the most monthly active users (MAUs), with 39% market share in the US in the first quarter of 2022, according to a new study by Sensor Tower.
However, the popular platform has seen the market share of MAUs decline among the top streaming apps since Q1 2018 as competition increased in the subscription video-on-demand (SVOD) space.
After Netflix, Hulu saw the highest usage with 18%, followed by Disney+ with 17%, HBO Max at 10%, and Amazon Prime Video at 6%. Per the study, Disney+ is rapidly increasing its monthly active user share and ranks third in the first quarter of 2022 despite only launching in Q4 2019.
HBO Launched HBO Max in May 2020, replacing HBO Go and HBO Now. The platform has had success adding new users since with its U.S. market share climbing from 4.5% in Q2 2020 to 10% in Q1 2022.
When it comes to app downloads, HBO Max led in market share of US installs with 21 percent, followed by Disney+ with 17%, and Netflix with 15%. Peacock TV, Hulu, and Amazon Prime Video also had at least 10%.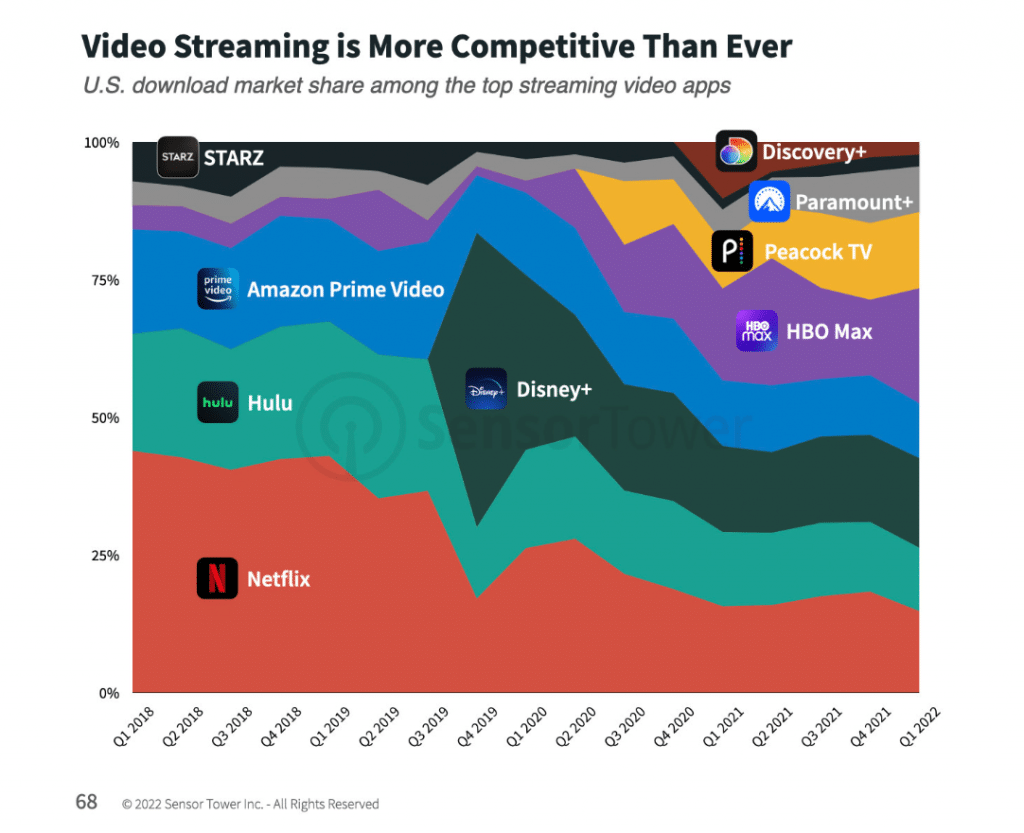 HBO Max and Disney+ have both been bolstering their content offerings with tentpole movie releases along with a drumbeat of TV show premieres; HBO Max saw a surge in U.S. downloads during the second season of Euphoria.