New report from data.ai (formerly known as App Annie) shows that the pandemic-driven boost in mobile app usage still continues although people in many countries have now returned to their normal lives after curfews were lifted. According to the Q2 2022 Regional Pulse Index of the mobile analytics platform, users in Indonesia, Singapore and Brazil now spend over 5 hours in mobile apps on a daily basis. 
In addition, daily time spent in apps surpassed 4 hours in 10 other countries in Q2, including Mexico, Australia, India, Japan, South Korea, Canada, Russia, Turkey, the United States and the United Kingdom.
In general, there has been a slight slowdown in mobile app usage growth compared to 2020, when billions of people around the world turned to mobile apps to maintain their daily tasks and keep themselves occupied during lockdowns, however, the growth is still remarkable in several markets. 
According to the report, daily time spent in Singapore and Australia both grew 40% over the last two years. Singaporean users spent an average of 4.1 hours in Q2 2020, and now spend 5.7 hours on a daily basis. Meanwhile, Australian users spent 3.6 hours during the beginning of the pandemic, and now spend 4.9 hours per day on average. 
Top apps & games of Q2 2022
Data.ai also revealed the best performing apps and games of the second quarter of 2022. 
In terms of downloads, Instagram became the No.1 non-game app of the quarter, followed by Facebook, TikTok, WhatsApp and Snapchat respectively. Indian e-commerce app Meesho showed a remarkable growth in Q2, rising from No.12 to the 8th place. 
---
Check out the most up-to-date mobile app analytics on MMR!
---
Meanwhile, TikTok was the No.1 non-game app worldwide in terms of consumer spend, followed by YouTube, Tinder, Disney+ and Tencent Video respectively.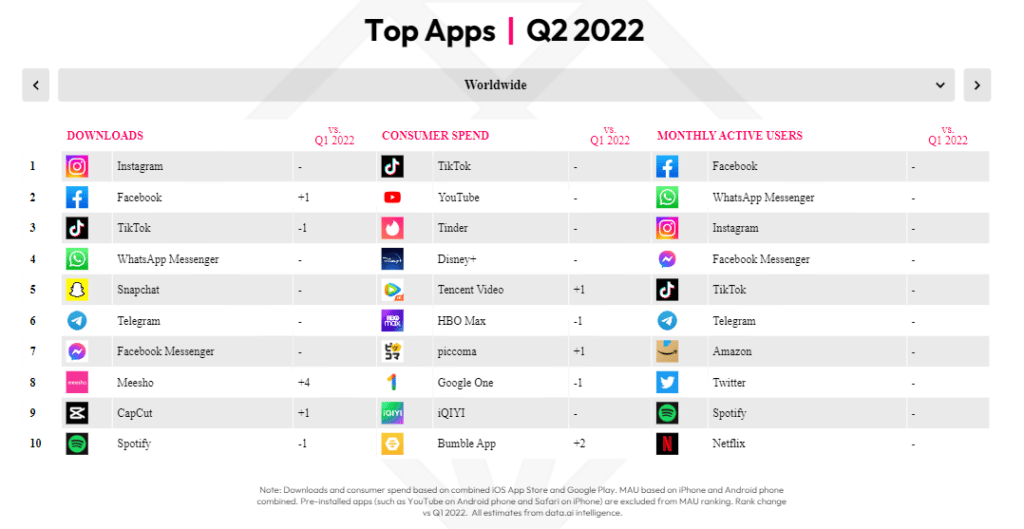 On the gaming side, Garena Free Fire was the most downloaded title of the quarter, followed by Subway Surfers, Ludo King, Bridge Race, which moved up 23 places, and Tall Man Run, which managed to rise to the 5th place despite being newly released. Fill the Fridge, a fridge organizing game developed by Gybe Games and published by Rollic Games, moved up 84 places to No.10. 
Meanwhile, Honour of Kings generated the most consumer spend, followed by Game For Peace, Genshin Impact, Three Kingdoms Tactics and Fantasy Westward Journey.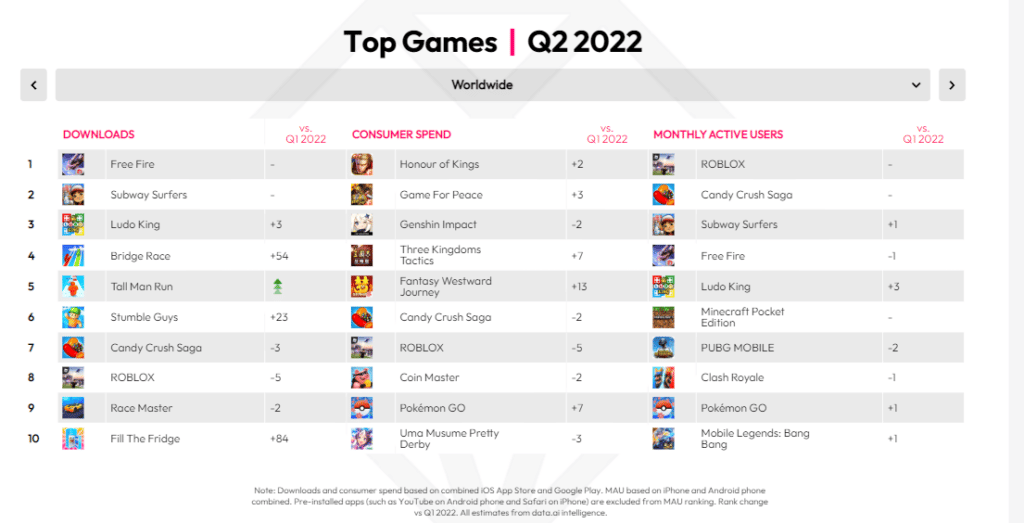 According to another report from data.ai, average time spent-in pet-related apps grew 75% to 16.3 minutes in the first quarter of 2022.