Manga, which originated in Japan in the 12th century, has a very loyal and large audience all over the world. The emergence of manga works as we know them today begins with the occupation of Japan by the United States between 1945-1952. During this period, the Japanese are acquainted with the comics of the period such as Mickey Mouse, Betty Boop, and Bambi brought to the island by the Americans.
The Japanese, who decided to reflect the intense feeling of the occupation into art, took the first steps of manga culture. During this period, manga series began to be published one after another. Japanese Osamu Tezuka, an artist respected by the whole world today, has created some of the most important works.
Popular works such as Naruto, Death Note, Soul Eather, and Bleach, which come to mind first when talking about manga today, had a serious fan base. While online access to these works is very valuable for readers, thanks to the manga apps, these precious works are now at our fingertips.
Of course, not all manga apps on the App Store and Google Play are of the same quality. It is not easy to choose the best manga apps in terms of price-performance, with a nice library and advanced features in addition to a good user experience. In this list, we've put together the best manga apps for Android and iOS for those who love to read the manga.
The Best Manga Apps for iOS and Android
MangaToon
MANGA Plus
Shonen Jump Manga & Comics
WEBTOON
Crunchyroll Manga
VIZ Manga
Mangamo
Comixology
WebComics
BILIBILI COMICS
MangaToon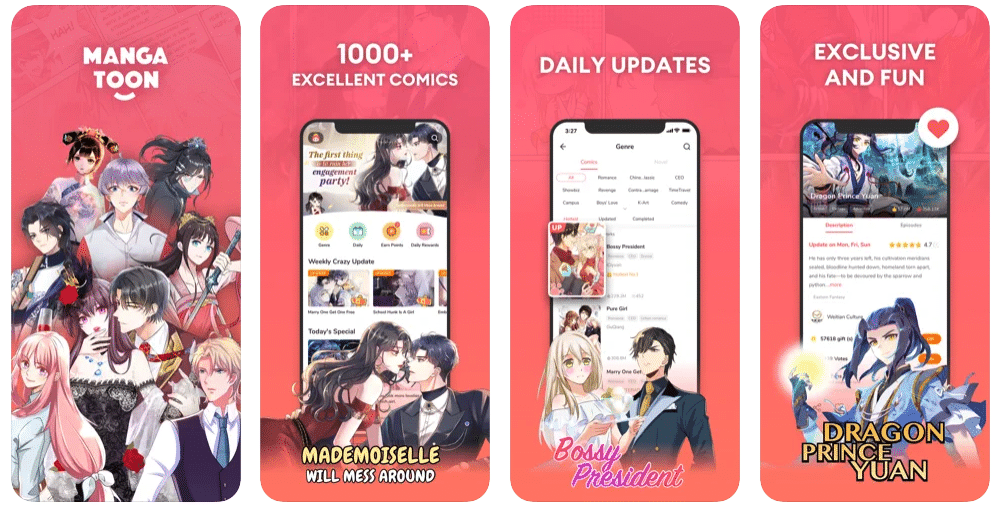 MangaToon, a free app for reading comics, manhua, manhwa and manga, is regularly updated with different genres of comics such as Action and Romantic. You can download manga to read offline in the app where you can earn free points and reading coupons to unlock paid chapters or support authors directly.
In MangaToon, which offers a dedicated community for manga lovers, you can also contribute your own stories and share your creations with millions of readers.
MANGA Plus by SHUEISHA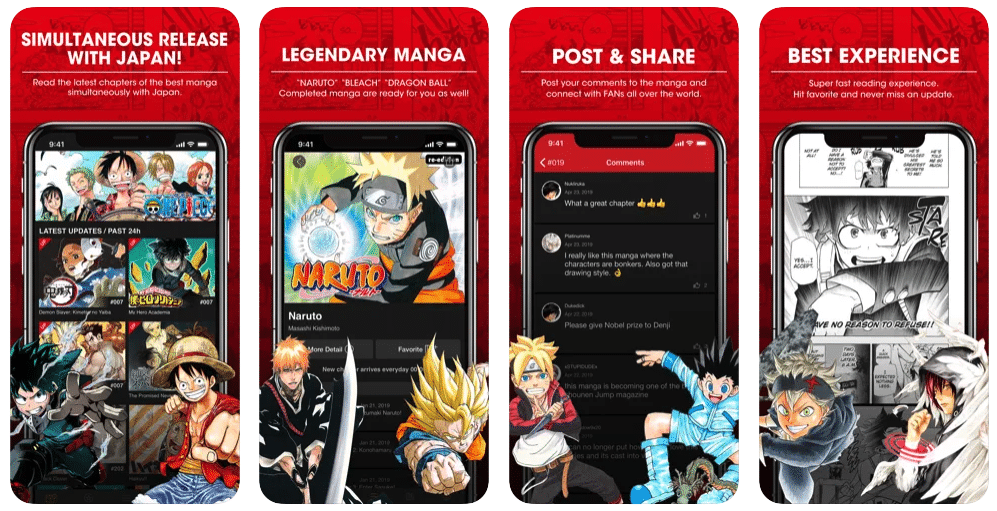 As one of the best manga apps for Android and iOS, Manga Plus by Shueisha is the official manga reader from Shueisha, and is available globally. Featuring the most popular manga worldwide including Dragon Ball, One Piece, Naruto, Bleach, and more, the app adds new chapters daily and weekly.
If you want, you can read the latest episodes of Manga Plus' weekly magazine for free and simultaneously with Japan. The app also has translation support for Spanish, French, Brazilian Portuguese, Bahasa Indonesian, Thai, and Russian. In the app, one of the free manga reading apps, you can also post comments to the manga you read and support the creators by watching in-app ads.
Shonen Jump Manga & Comics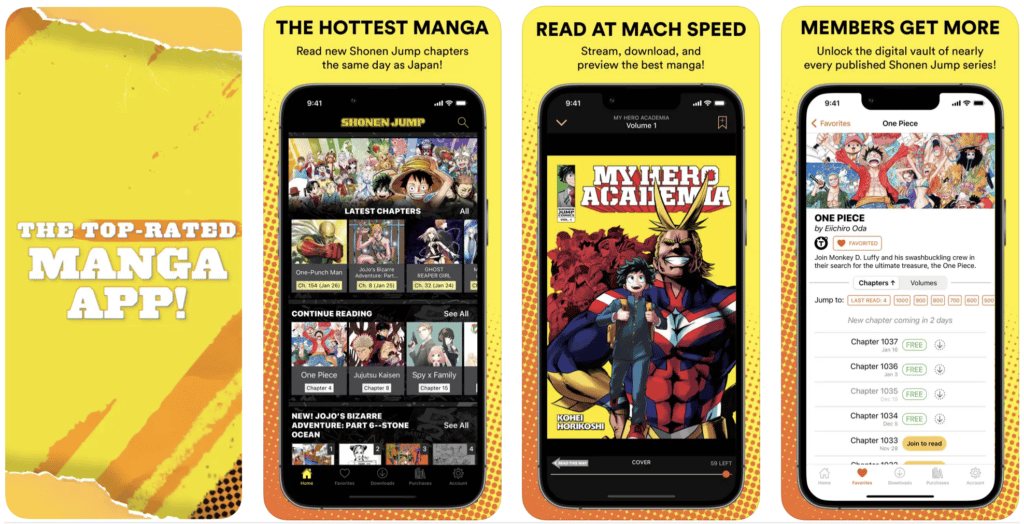 Next on our list is a manga app that will make especially fans of the Shonen Jump series happy. If you want to access more than 15,000 chapters in the popular application that allows you to read up to 100 chapters for free every day, you just have to pay $2.99 per month after the 7-day free trial. It is worth highlighting that the app only includes the Shonen Jump series, which includes some popular names such as Naruto, One Piece, and Bleach.
Shonen Jump Manga & Comics on Google Play
Shonen Jump Manga & Comics on the App Store
---
Also Read: The 10 Best Anime Games for Android
Also Read: The 10 Best Anime Games for iOS
---
WEBTOON
As one of the largest webcomics communities worldwide, Webtoon includes manga as well as epic sagas, manhwa, comics, and short stories, across 23 genres, including comedy, fantasy, horror, action, and romance.
Home to 72 million readers, WEBTOON allows you to read action-packed, international blockbuster manga such as Tower of God, Noblesse, The God of High School.
---
Also Read: 7 Mobile Apps That Will Help You Discover New Things Without Leaving Home
---
Crunchyroll Manga
Crunchyroll's Manga app, one of the best manga apps for iOS and Android, provides users with unlimited access to a variety of the hottest manga including Attack on Titan, Fairy Tail, and Space Brothers.
You may read a few manga chapters for free in the app, just like on the main Crunchyroll app that almost all anime lovers have heard of. However, a Crunchyroll premium subscription is required if you wish to read every episode.
VIZ Manga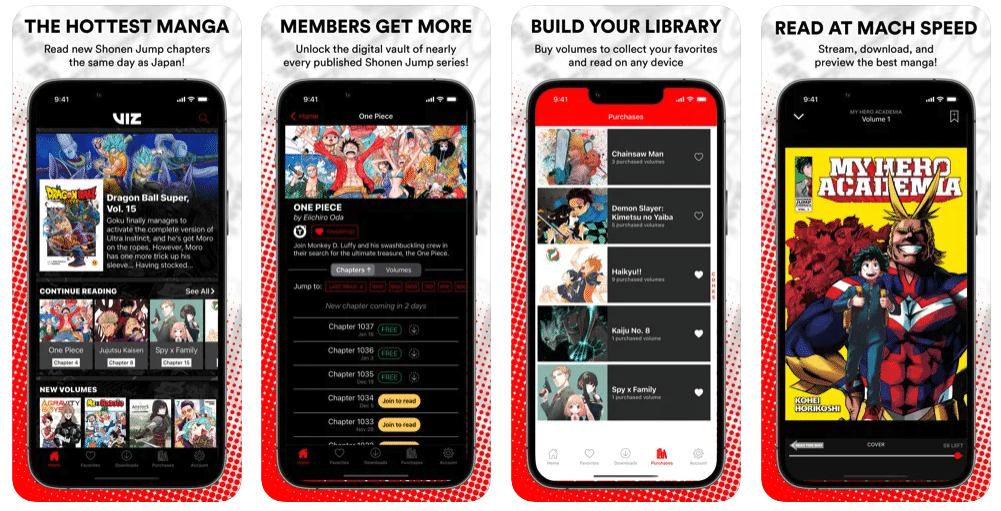 Including the entire VIZ catalog, VIZ Manga features hit series like My Hero Academia, Jujutsu Kaisen, One Piece, and Boruto: Naruto Next Generations. In the app, you can download manga to read offline and read free previews of paid volumes before making a purchase.
In VIZ Manga, you can find manga that suits your taste in almost every genre, from action to fantasy, from science fiction to romance. The monthly subscription to the app, which offers a 7-day free trial, is $2.99.
---
Also Read: The 5 Best Comic Book Apps for Android and iPhone
---
Mangamo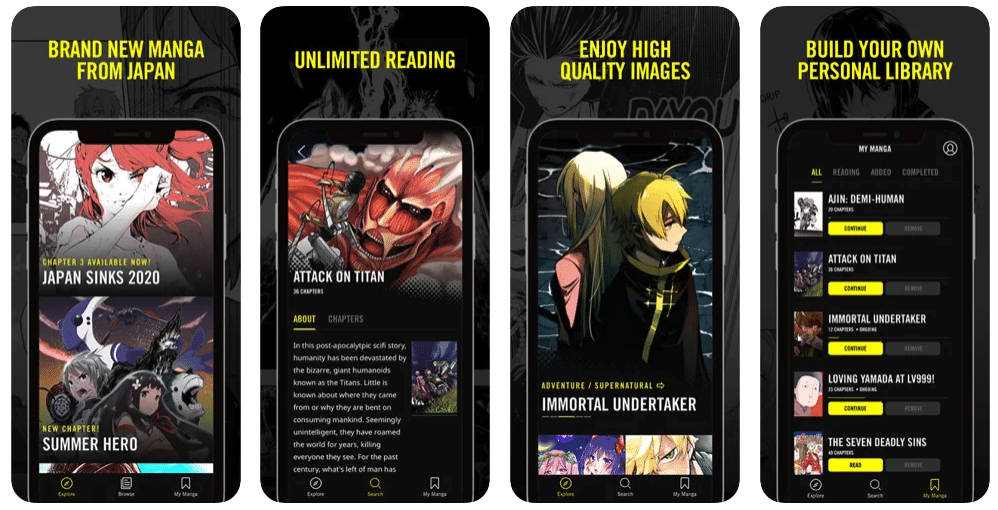 Offering a manga subscription service for unlimited access to more than 300 titles, Mangamo includes mega-hits like Attack On Titan, Fairy Tail, The Seven Deadly Sins, Battle Angel Alita, Ghost in the Shell, BLAME!, Inuyashiki, Knights of Sidonia, Nodame Cantabile, and Space Brothers.
The app also features exclusive award-winning manga series like Loving Yamada at Lv999!, I Fell in Love So I'm Streaming It, Ultra-Fem Shishihara-kun, and Reset Game. Providing a 30-day free trial for newcomers, the app charges users $4.99 per month at the end of the trial.
Comixology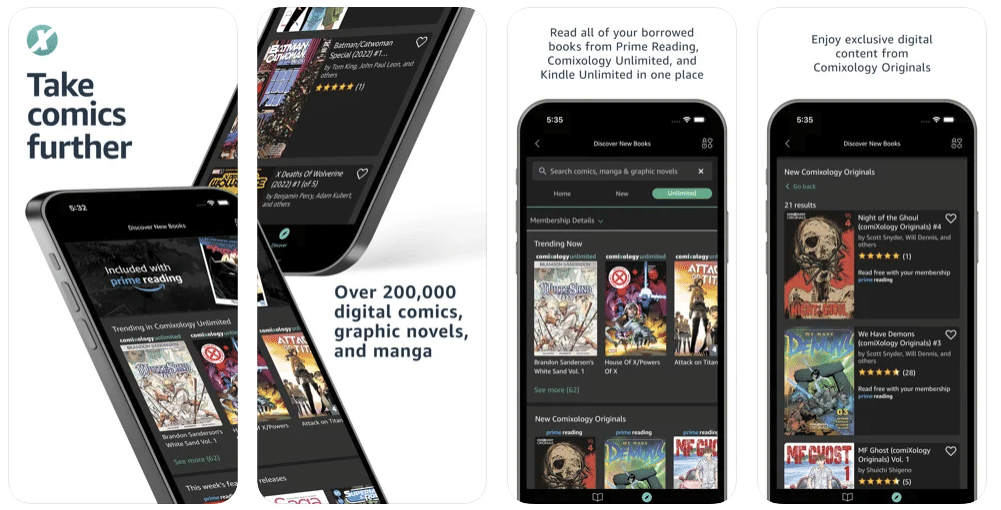 Last in our list of the best manga apps for iOS and Android is Comixology. The popular app includes more than 230,000 digital comics, manga, and graphic novels from Marvel, DC, Viz, Kodansha, Dark Horse, Image, its own exclusive Comixology Originals. Moreover, if you want to read comics on your computer, you may visit Comixology through your web browser.
Comixology, Amazon's leading digital comics service, comes with a free 30-day trial and is currently only available to US based customers.
---
Also Read: The 17 Best Anime Games for PC
---
WebComics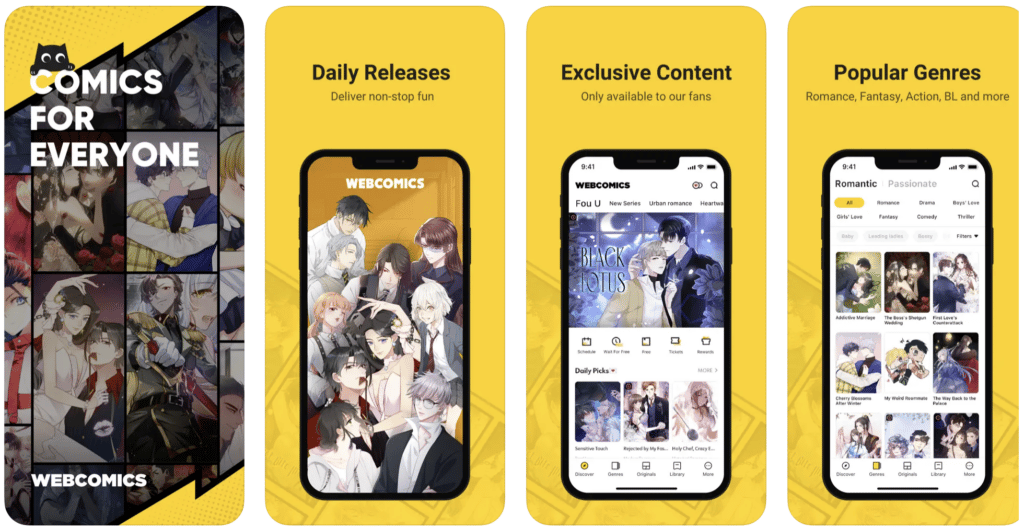 WebComics, one of the most popular webtoon and manga apps on both the App Store and Google Play, has dozens of different manga series updated daily. Offering a community where you can share your opinions, the app is one of the favorites of manga readers with its offline reading support, daily addition of more than 1000 new chapters, and successful user interface.
BILIBILI COMICS
With millions of downloads across Google Play and the App Store worldwide, BILIBILI COMICS is one of the best manga apps for Android and iOS. In the app where you can access many free and paid manga series, there is no need to pay per episode and you are not disturbed by ads.
BILIBILI COMICS on the App Store
BILIBILI COMICS on Google Play