Although anime games are not one of the most popular categories in the world, they are among the popular games. If you have never played a mobile anime game before or if you are looking for a new anime game, you can take a look at these games we have prepared for you. Here are the best anime games for iPhone…
---
Also Read: The Best Anime Games for Android
---
NARUTO X BORUTO NINJA VOLTAGE
NARUTO X BORUTO NINJA VOLTAGE is a strategy anime game where you can experience your favorite Naruto and Boruto stories, action-packed ninja battles, castle building and defense, and co-op gameplay with your friends. In the game where you will collect your favorite shinobi and form the ultimate ninja clan, you will defend your fortress from other players.
NARUTO X BORUTO NINJA VOLTAGE on the App Store
ONE PIECE Bounty Rush
In One Piece Bounty Rush, a 3D anime battle arena treasure loot game set in the popular manga pirate world of One Piece, you can join Luffy and all your favorite characters from the One Piece universe in 4v4 real-time pvp battles.
ONE PIECE Bounty Rush on the App Store
---
Also Read: The Best Anime Games for PC
---
Bleach

With over 60 million downloads worldwide and based on Tite Kubo's hit manga and TV anime series, Bleach is one of the best anime games for iOS. Bleach, which started in the early 2000s and broadcast 366 episodes for 8 years, manages to be one of the most popular anime even today. Bleach's "gacha" based role-playing game BLEACH Brave Souls, on the other hand, deals with the same story as the anime.
Genshin Impact
Genshin Impact holds a special place when it comes to gacha games. Genshin Impact, one of the rare gacha/JRPG games that managed to carry its success on mobile to console and PC, is quite similar to BLEACH in terms of gameplay and general structure. The gameplay structure, depending on the abilities and elements of different characters, also adds variety and movement to Genshin Impact.
Genshin Impact on the App Store
---
Also Read: The Best Manga Apps for Android and iOS
---
Another Eden
Another gacha game that has become very popular on mobile and has made its way to PC and Switch, Another Eden is a very entertaining anime game. The general structure of the game, its character designs and its world with limited freedom are very similar to Bleach. The game has a classic turn-based combat system. Still, because it's a gacha-based game, Another Eden manages to stay fresh with dozens of different character and team combinations.
Onmyoji
If you are looking for a nice turn-based game in an anime atmosphere, Onmyoji will be the game for you. In the game, which also has cross-platform support, you try to remove the strongest characters from the boxes and create the perfect team, adhering to the classic gacha logic. Onmyoji, where you can make PvE and PvP battles, is one of the best anime games for iPhone with its sweet visuals and interesting characters.
DRAGON BALL Z DOKKAN BATTLE
Dragon Ball Z Dokkan Battle, one of the best examples of gacha games, is a very different game where you can collect cards, fight and read Dragon Ball manga at the same time. Basically, Dokkan Battle, which is based on opening boxes, card packs and collecting the strongest characters, will be a game that you can not give up easily if you like the world of Dragon Ball Z.
Dragon Ball Z Dokkan Battle on the App Store
---
Also Read: The Best Poker Games for iPhone
---
Pokémon Masters EX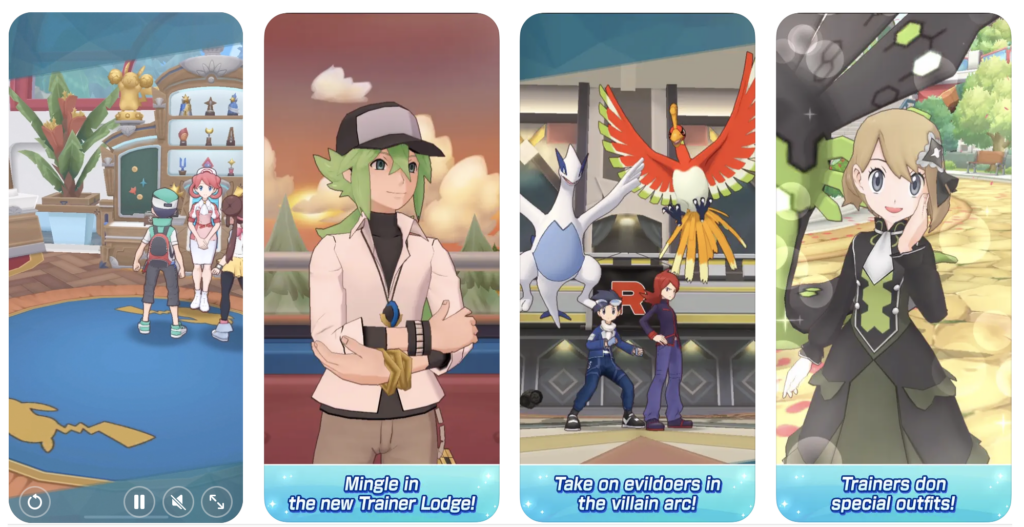 Although not exactly an anime game, Pokémon Masters EX is a very popular gacha-based game. In Pokémon Masters EX, which is predominantly role-playing, we hit the road as a Pokémon trainer, very similar to cartoons, and try to catch powerful Pokémon. On our journey, familiar names such as Misty and Brook accompany us.
Pokémon Masters EX on the App Store
ONE PIECE Treasure Cruise
One Piece Treasure Cruise, developed by the creators of Tekken, is very similar to Dragon Ball Z Dokkan Battle with its gameplay mechanics and general gameplay. Again, in the game where we collect and fight the characters we are familiar with from the anime, the dialogues in the form of manga that appear from time to time also add an extra flavor to the game.
ONE PIECE Treasure Cruise on the App Store
Yu-Gi-Oh! Duel Links
The card game based on Yu-Gi-Oh!, a popular Japanese anime series created by Kazuki Takahashi, is one of the best anime games for iOS. The duel cards of the game, which is about duel monsters, are available in the game. In the game, you can do Yu-Gi-Oh!'s duels in your iPhone and enjoy the game with the characters Yugi, Kaiba, Joey and Mai.
Yu-Gi-Oh! Duel Links on the App Store