A new report from data.ai revealed that total mobile app revenue surpassed $500 billion in 2022, of which $336 billion (66.8%) came from ad spend, and $167 billion (33.2%) came from app store spend for paid apps and in-app purchases.
According to the State of App Revenue report, global advertising revenue increased by 14% year-on-year in 2022 despite the challenges the ad industry is facing, such as Apple's App Tracking Transparency framework and the General Data Protection Regulation (GDPR) in Europe.
Non-gaming apps like Facebook, Instagram, TikTok and YouTube accounted for nearly $220 billion (65%) of the total mobile ad spend last year, while gaming apps drove the remaining 35%. However, when excluding these advertising giants, 70% of the mobile ad spend went to gaming apps, data.ai said.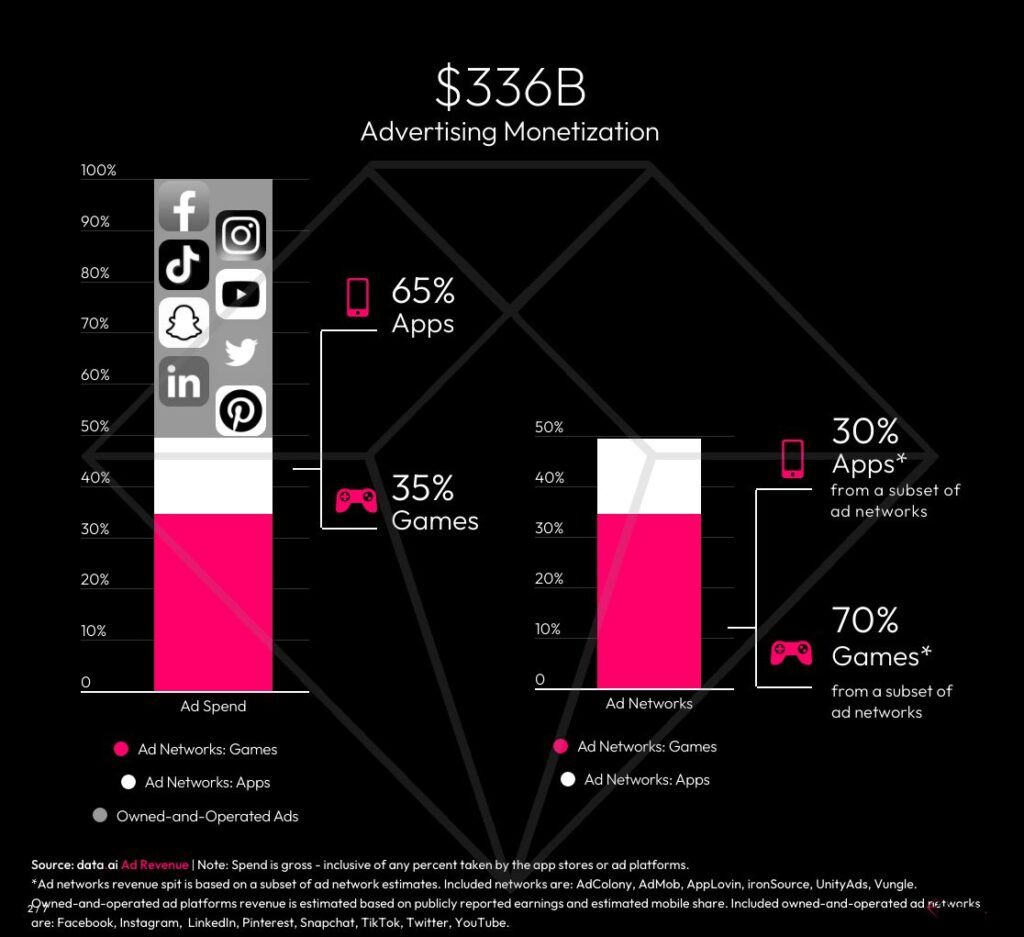 ---
Also Read: Global mobile ad spend to reach $362 billion in 2023 -data.ai
---
iOS accounted for half of the total app store spend in 2022
The report also revealed that Apple's App Store accounted for 50% of the $167 billion mobile users spent on app stores last year, while Google's Play Store drove 27%, and third-party app marketplaces in China were responsible for the remaining 23%.
Overall, 66% of the app store revenue went to mobile games, while non gaming apps drove the remaining 34%. 98% of mobile game revenue came from one-time in-app purchases, and 71% of non-gaming app revenue was driven by in-app subscriptions.
---
Also Read: Consumers spent 5.5 hours a day on mobile in Q1 2023 -data.ai
---
Mobile leaders adopt mixed monetization strategies
Data.ai also said that more than half of the top money-making apps across social networking, mobile gaming and video streaming adopt both advertising and in-app purchases to increase their revenue.
YouTube, for example, saw $29.24 billion in ad revenue in 2022, accounting for 11.35% of its parent company Google's overall revenue.
However, it also became the second mobile app of 2022 in terms of app store revenue in the United States, largely thanks to users paying for YouTube Premium to remove the ads on the platform.
You can check out data.ai's report for more details.