After rising 19% year-over-year to $170 billion in 2021, global consumer spending on mobile apps dropped 2% to $167 billion last year, according to data.ai's new State of Mobile 2023 report. Users spent $318,000 per minute across Google's Play Store, Apple's App Store and alternative Android app stores in China, down $2,000 from the average spending seen in 2021.
While spending on mobile games decreased 5% to $110 billion, non-game apps generated $58 billion with a 6% growth, showing a stronger resilience against the global economic downturn. They were largely boosted by OTT, social media/dating and short video apps, according to data.ai.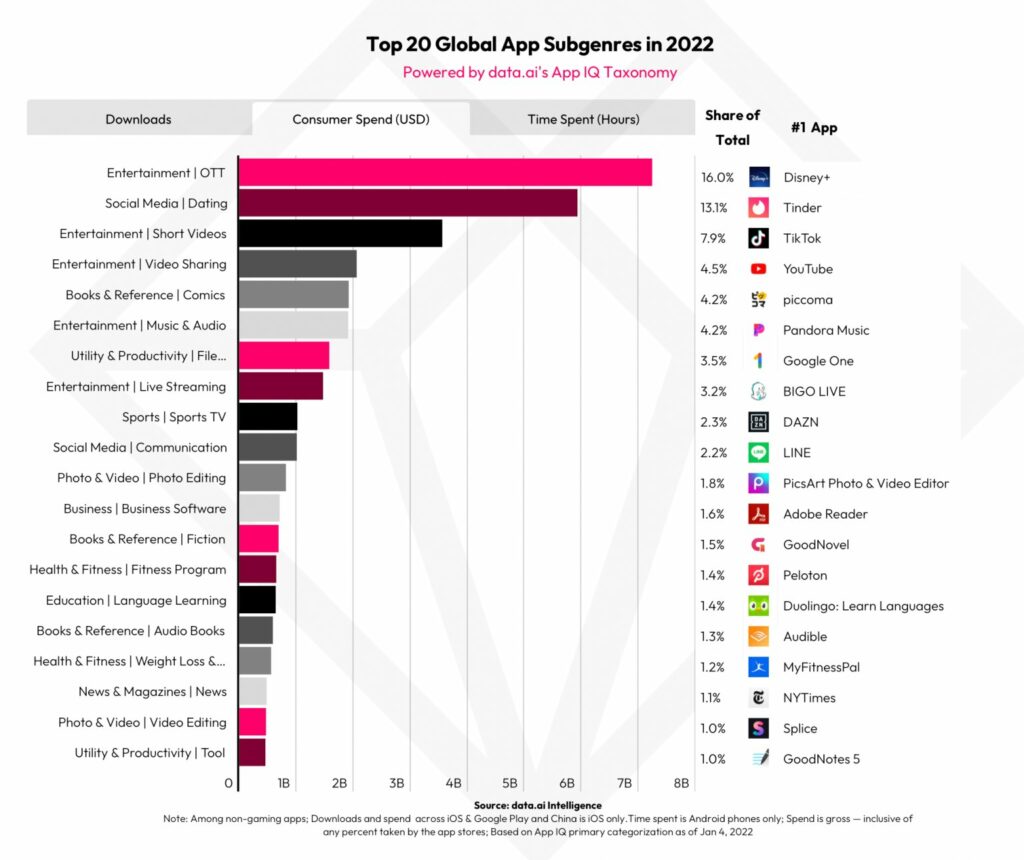 In 2022, 1419 apps and games saw more than $10 million in revenue, 224 generated $100 million, and 10 joined the $1 billion club. While games accounted for a much larger amount than non-game apps did last year, the decreasing consumer spend also caused the number of apps surpassing $10M, $100M and $1 billion to fall 1%, 4% and 33% year-over-year respectively.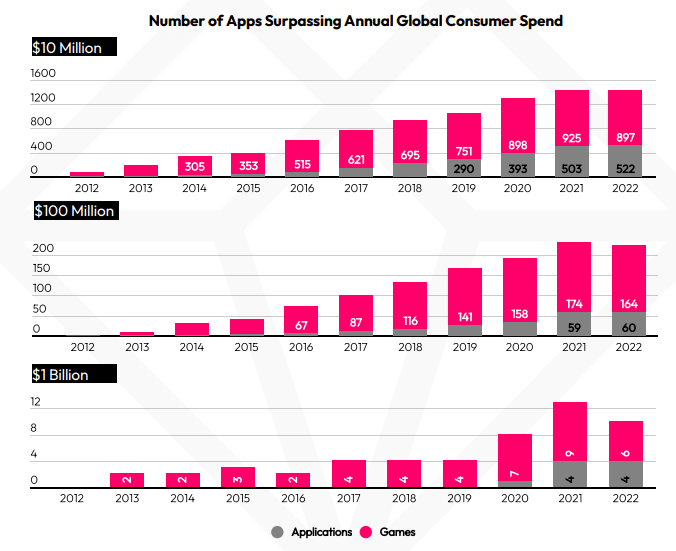 Global app downloads up 11% Y/Y
Unlike consumer spending, mobile apps and games saw a 11% year-over-year growth in downloads which reached 255 billion in 2022.
Non-game apps accounted for 165 billion downloads (+13%), largely driven by loan apps (+81%), BNPL apps (+47%), coupons & rewards apps (+27%), and budget & expense apps (+19%).
Meanwhile, mobile game downloads rose 8% Y/Y to 90 billion last year, and the categories that drove the most installs were Hypercasual Simulation (616.63M), Simulation Driving (566.18M), Simulation Creative Sandbox (304.56M), Simulation Sports (252.06M) and Match Merge (219.52M).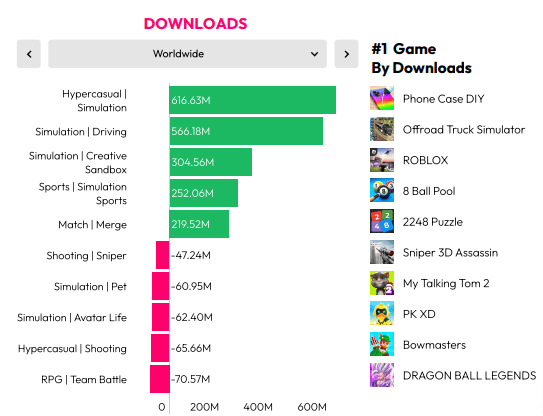 Top apps and games of 2022
The mobile analytics company also shared the top apps and games of 2022 in terms of downloads, consumer spend and the number of monthly active users.
Instagram was the No.1 non-gaming app of 2022 with the most downloads, followed by TikTok and Facebook.
TikTok topped the list when it comes to consumer spending, and it was followed by YouTube and Tinder respectively.
Meanwhile, Facebook had the most monthly active users last year, followed by other Meta-owned apps, WhatsApp and Instagram.

On the gaming side, Subway Surfers saw the most downloads in 2022, followed by Free Fire and Ludo King.
Honor of Kings generated the most consumer spend, followed by Genshin Impact and Candy Crush Saga.
And Roblox saw the highest number of monthly active users, followed by Candy Crush Saga and Free Fire.

App competitive intelligence company Apptopia also recently shared the most downloaded mobile apps and games of 2022. While it shows a different picture than data.ai in terms of rankings, many of the titles in the lists are similar.
Users spent 4.1 trillion hours on mobile
The report also revealed that time spent on mobile apps and games surpassed 4.1 trillion hours last year, with a 9% Y/Y growth. Users in Indonesia, Brazil, Saudi Arabia, Singapore and South Korea spent more than 5 hours per day.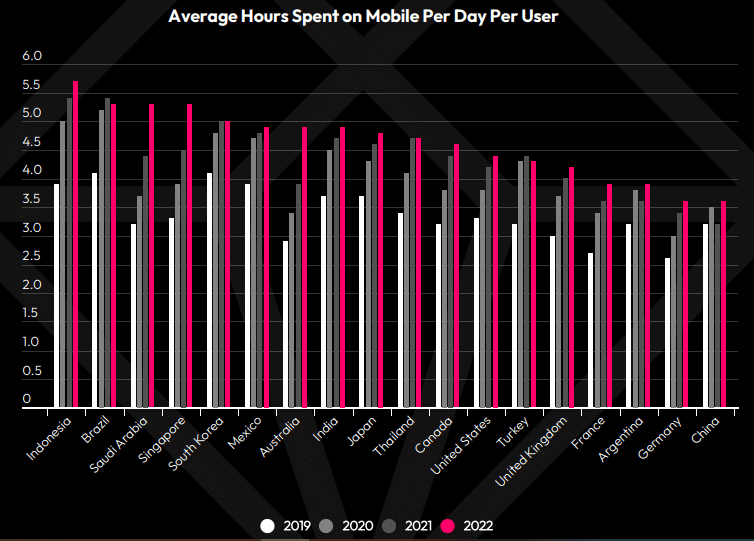 Mobile ad spend reached $336 billion
Lastly, the study found that global mobile ad spend also increased by 14% Y/Y to $336 billion in 2022. However, data.ai expects the growth to slow down this year due to the global economic uncertainty.
Since social networking platforms have seen steep declines in their ad revenue, short video apps like TikTok will account for the majority of this year's global mobile ad spend, which is expected to reach $362 billion.