Global consumer spending on mobile apps reached $32.5 billion in the first quarter of 2022, up 0.6 percent from $32.3 billion in Q1 2021, according to Sensor Tower. 
Per the analysis, App Store revenue was more than double that of Google Play, growing 5.8 percent YoY from $20.6 billion to $21.8 billion. Google Play reached approximately $10.7 billion in global consumer spending, down 8.5% YoY from $11.7 billion in Q1 2021.
Reaching $2.3 billion in consumer spending last year, TikTok maintained its position in Q1 2022 and became the top grossing non-game app again with $821 million. The popular short video app also saw the most downloads across both marketplaces. 
First-time downloads on Google Play and the App Store also saw a slight increase in the first quarter of the year, as did consumer spending. In total, both app stores reached 36.8 billion in first-time downloads, up 1.1% year-over-year.
According to the report, consumer spending on mobile games decreased 7.1% YoY to $21 billion in Q1 2022, with both marketplaces seeing less revenue as compared to the year-ago period.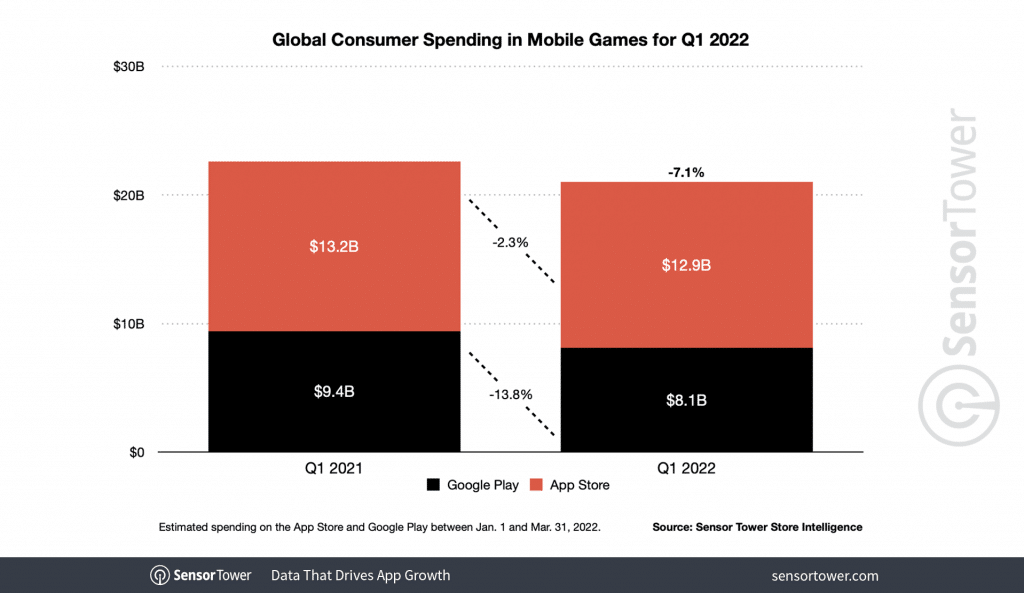 The top three highest grossing mobile games overall as well as on the App Store all came from Chinese publishers in Q1 2022. Tencent's Honor of Kings and PUBG Mobile came in No. 1 and No. 2 with $735.4 million and $643 million generated across the App Store and Google Play. Genshin Impact came in third with $551 million in player spending.
On the other hand, global mobile game downloads increased 2.1% YoY in the first quarter of 2022, climbing to 14.4 billion, mainly driven by Google Play. Garena Free Fire saw the most downloads across both marketplaces as well as on Google's marketplace, with 71.2 million downloads across both platforms.
Sensor Tower also found that the top five advertisers in the US spent around $786.7 million from January 1 through March 28, 2022, up 13.6% YoY from $692.3 million in the year-ago period.