Worldwide consumer spending in mobile apps across the App Store and Play Store dropped 4.8% Y/Y to $31.6 billion in the third quarter of 2022, according to Sensor Tower. With $65 billion spent in the first half, total consumer spending now totaled $96.6 billion in the first 9 months of the year.
While iOS user spending more than doubled that of Android users one more time, it still decreased by 2.3% from $21.7 billion in Q3 2021 to $21.2 billion in this year's third quarter. Google Play revenue, on the other hand, saw a sharper fall with Android users spending $10.4 billion during Q3, down 9.6 % Y/Y from $11.5 billion spent in the same quarter of last year.
In overall, popular short video platform TikTok was the No.1 non-game app of the quarter in terms of consumer spending, generating $914.4 million in revenue and bringing its total figure to over $6.3 billion. It was followed by YouTube, Google One, Tinder and Disney+.
While TikTok was the highest-grossing app on the App Store, the first spot on the Play Store belonged to Google One, which generated nearly $330 million.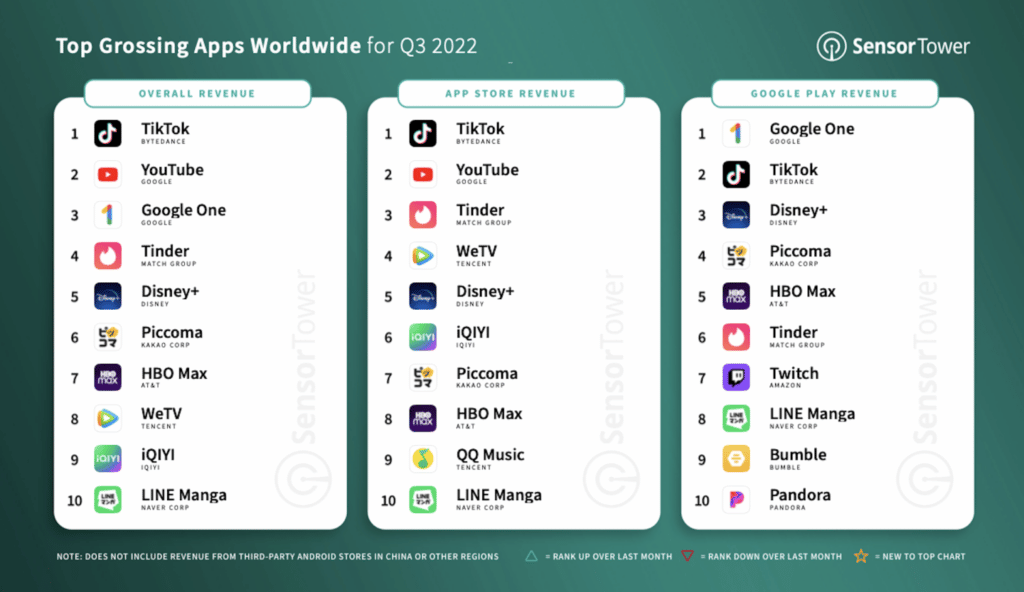 Global app adoption kept falling in Q3
Global app adoption which previously saw a slowdown in the first half continued falling in the third quarter of 2022. Per report, first time downloads of mobile apps and games across the App Store and Play Store decreased by approximately 1% Y/Y to 35.3 billion in Q3. While Android downloads dropped 2.2% Y/Y to 27 billion, iOS downloads grew by 3.8% to 8.2 billion.
In overall, ByteDance-owned TikTok was also the most-downloaded non-game app of Q3, garnering 196.5 million new installs during the quarter. It was followed by Instagram, Facebook, WhatsApp and Messenger.
While TikTok was the most downloaded app of the App Store, it ranked third on the Google Play list after Facebook and Instagram.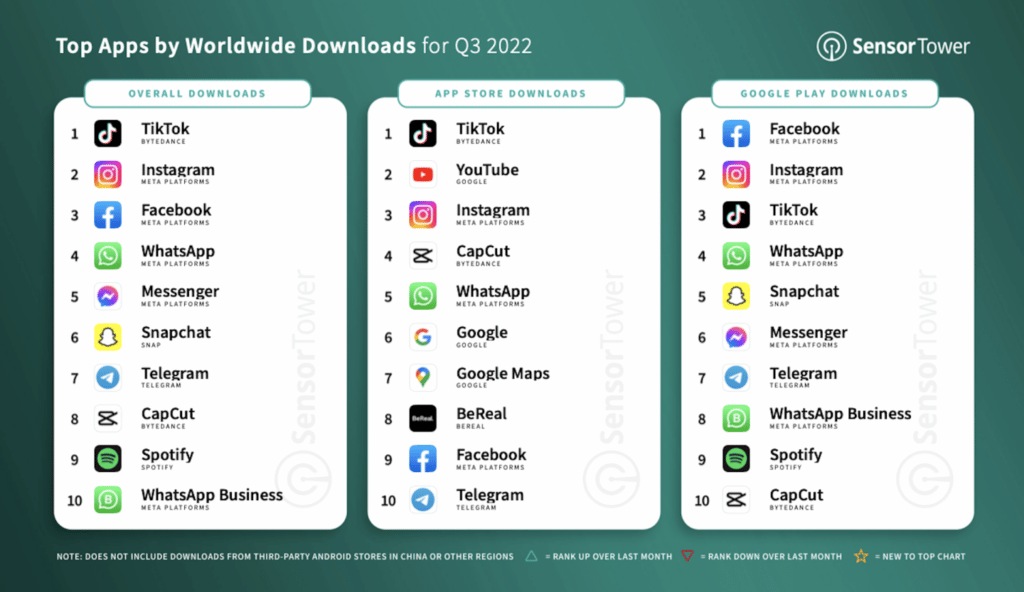 Spending in mobile games down 12.7% Y/Y
According to the report, Android and iOS user spending in mobile games tumbled 10% Y/Y to $19.3 billion in Q3. While the App Store spending fell by 9.8% Y/Y to $11.9 billion, Play Store spending dropped 16.9% Y/Y to $7.4 billion.
In overall, Honor of Kings and PUBG Mobile from Tencent and Genshin Impact from miHoYo were the Top 3 highest-grossing games of the quarter generating $639.3 million, $450.6 million and $369.7 million respectively. They were followed by King's Candy Crush Saga and Roblox.
While Honor of Kings was the No.1 game in terms of revenue on the App Store, Moon Active's Coin Master took the first spot on the Play Store.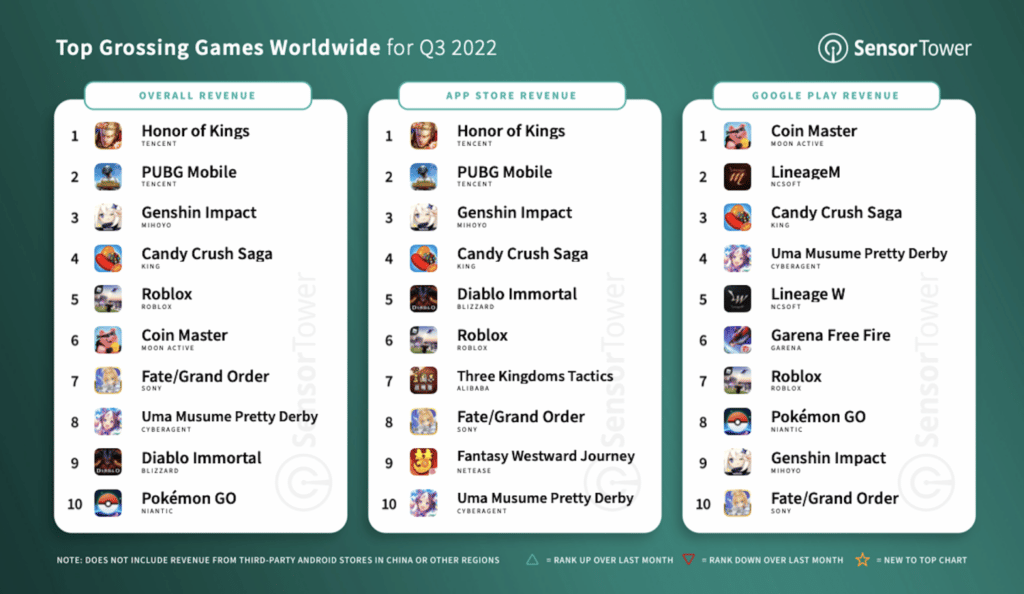 Meanwhile, global mobile game downloads stayed the same in the third quarter at 13.7 billion. Just like in Q3 2021, Android games generated 11.6 billion downloads and iOS apps saw 2.1 billion installs.
In overall, Subway Surfers by Sybo (now owned by Miniclip) was the most downloaded game of the quarter with nearly 86.2 million new installs. It was followed by Stumble Guys, which was recently acquired by Scopely, Garena Free Fire, Ludo King and Candy Crush Saga respectively.
Subway Surfers also topped the App Store chart, but it came second to Garena Free Fire on Google Play Store.