Downloads of top business apps in the United States have surpassed 70 million each quarter since the first quarter of 2022, and reached 76 million in the Q2 2022 with a 70% increase from Q2 2019, according to new data from Sensor Tower.
Business app installs skyrocketed in 2020 as millions of employees started working from home during lockdowns and relied on their mobile devices to keep in touch with their colleagues. Although most of the pandemic-related measures have now been lifted, many businesses decided to continue remote or hybrid working, as a result of which, business app adoption is still above its pre-pandemic levels.
Communiation apps have more than doubled their market share
According to Sensor Tower's latest analysis, while top apps in the Communication subcategory including Google Chat and Microsoft Teams accounted for 7% of all business app downloads in the US in 2019, their market share more than doubled to 15% in the first half of 2022.
Video conference apps, on the other hand, saw a 4% decline in 2021 and 18% in the first half of this year, due to the slowing adoption which previously peaked during the beginning of the pandemic. Nevertheless, the genre is still the top-performing category among the top Business apps.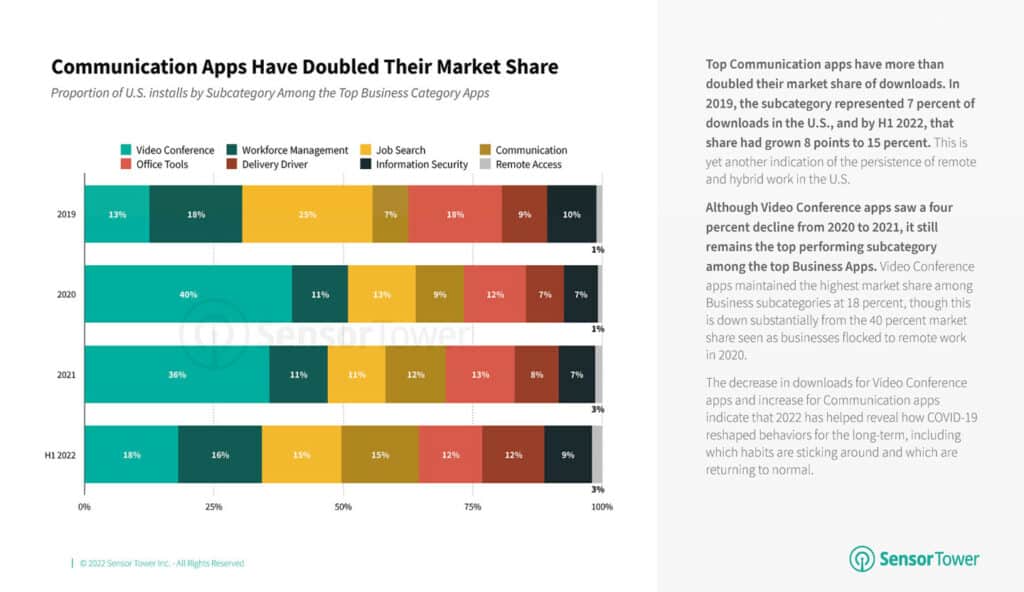 Job-search apps continue to grow their user base
The report also revealed that popular flexible staffing app Instawork's number of average monthly active users have grown 15 times since 2019. At the same time, freelancing app Fiverr's user base grew nearly 50%, Indeed's grew 51% and LinkedIn's grew 12%. On the other hand, Zipcruiter saw a 33% decrease in the number of monthly active users.
---
Find the best jobs in gaming, esports, and mobile and hire the best talent with MMR Jobs
---
As of H1 2022, Indeed is the No.1 staffing app in the US accounting for 43% of all job-search app downloads, followed by LinkedIn with 33%, ZipRecruiter with 9%, Instawork with 9% and Fiverr with 7% respectively.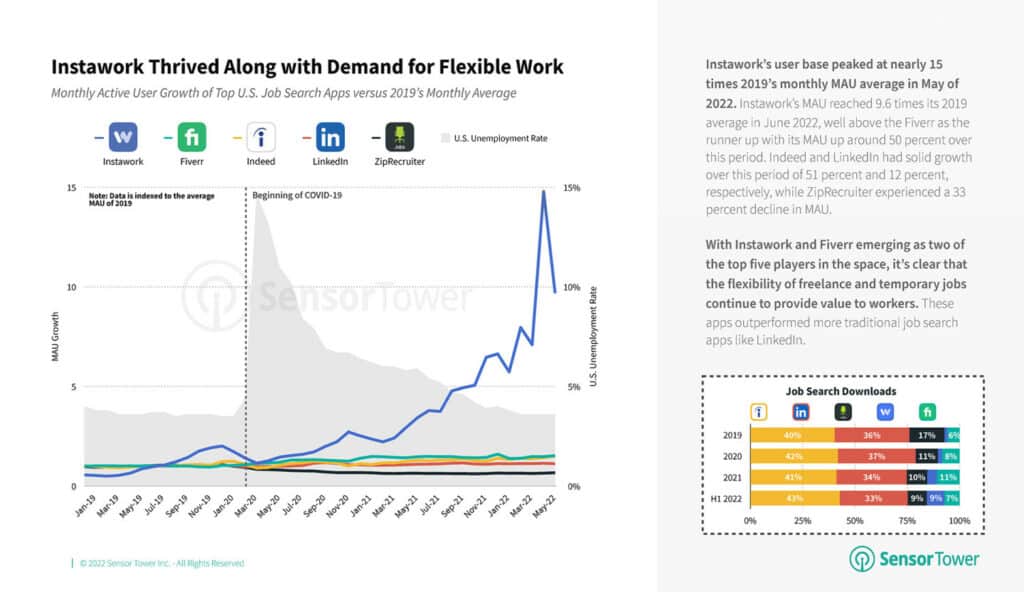 Office Tool Installs Keep Rising
In the first half of 2022, US downloads of scanner apps like Adobe Scan and Scanner grew by 6% Y/Y to 7.7 million, and these apps have been dominating the Office Tool subcategory for four years in a row now. Meanwhile, PDF editor apps such as Adobe Acrobat and Office Suite have generated over 5 million downloads during the first quarters of 2020, 2021 and 2022.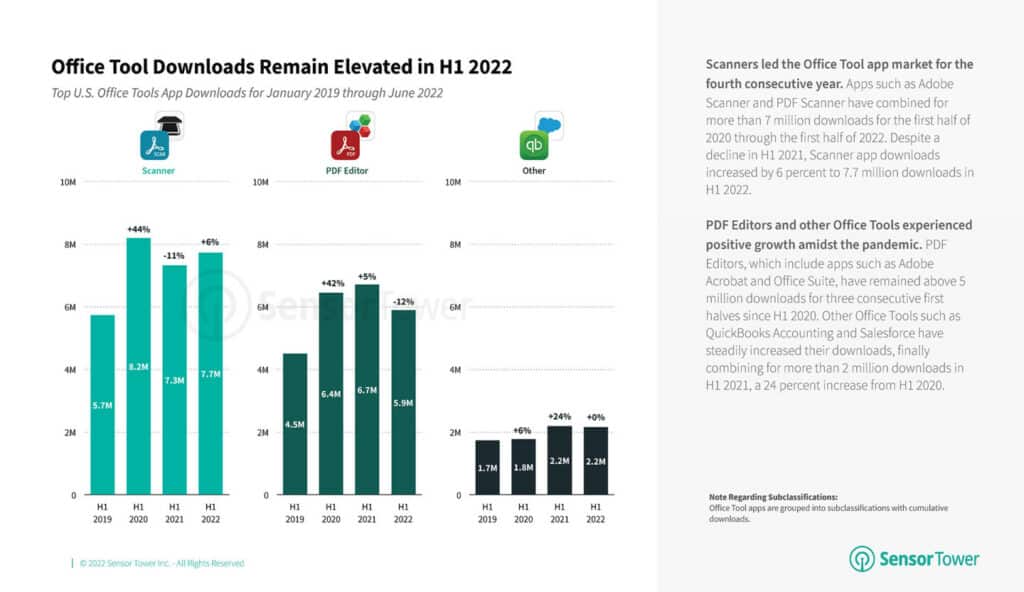 According to another recent report from Sensor Tower, global mobile game revenue fell for the first time in both Q1 & Q1 2022.