According to a new report from Sensor Tower, a non-game iOS app now needs to reach around 156,000 downloads in a given day for it to hit #1 in the US. This is a 37 percent increase from the median of 114,000 daily downloads needed throughout 2019.
In contrast, mobile games saw a 46 percent decrease in downloads required to hit #1 when the two periods were compared. Year-to-date, a top mobile game in the US should collect around 93,000 installs in one day, as compared to 171,000 in 2019.
Non-game Android apps, on the other hand, need 56,000 downloads in a given day to hit #1 in the United States, down 33% from 83,000 in 2019. Mobile games have seen a year-over-year decrease in the median number of installs needed to reach No. 1 on Google Play. An Android mobile game now needs a median of 37,000 daily downloads to hit the top, less than 114,000 needed in 2019.
According to the analysis, over the past four years, 2020 has been a record year for the number of downloads required to reach #1 on the US App Store for a given day, with 185,000, up 62 percent from the previous year. On Google Play, that number was 87,000, up 5%.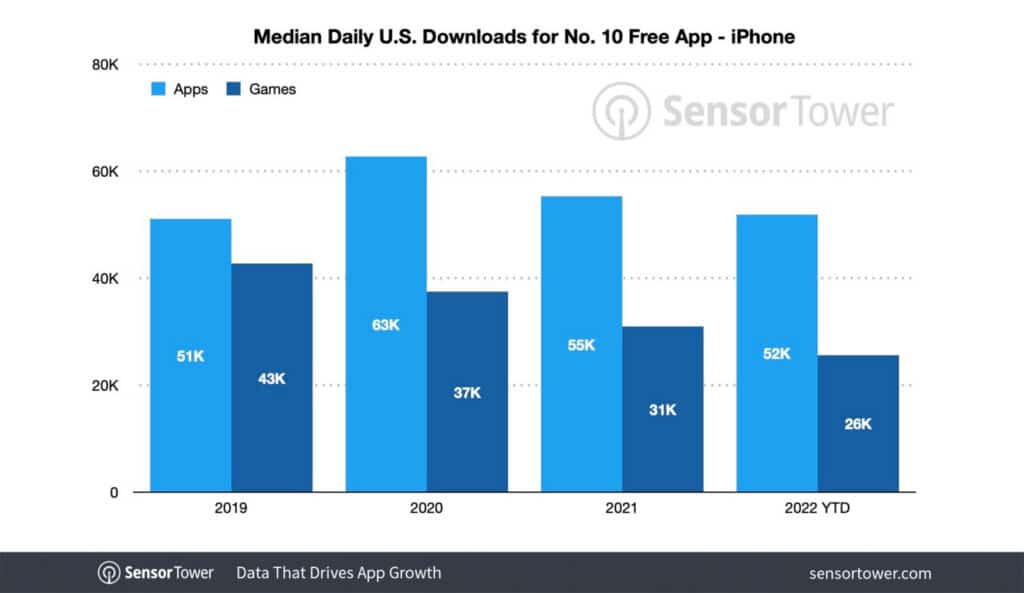 In order to rank among the overall top 10, a non-game iPhone app currently needs around 52,000 downloads on any given day, up 2% compared to 2019. On Google Play, a non-game Android app needs nearly 29,000 installs to rank in the top 10 in 2022, down 9 percent from 2019. This is the lowest threshold ever seen, including 2019 and prior.
When it comes to mobile games, a game needs to reach 26,000 downloads on the App Store and 16,000 on Google Play to reach the Top 10 in the US.