The average size of top mobile games on the App Store in the United States has grown 76% in 5 years, according to Sensor Tower who analyzed the top 100 highest-earning iOS games in the U.S. market.
The research found that while the average game size in 2016 was nearly 264 MB, it reached 465 MB in 2020. In addition, the median stood at 147 MB in 2016 and reached nearly 299 MB last year.
In 2020, the top revenue generating mobile game on the App Store in the United States was Roblox of which the app size increased by 20% Y/Y and reached 222 megabytes at the end of the year.
The second top grossing game was King's Candy Crush Saga of which the app size was 225 MB in 2020 with a 17.2% decrease from 2019. However, the game's size increased by 5.6% since 2016.
The mobile game with the largest app size was NaturalMotion's CSR Racing 2 of which the size reached 3.8 GB with a 16.6% Y/Y growth. The title's size has grown 123.3% since 2016.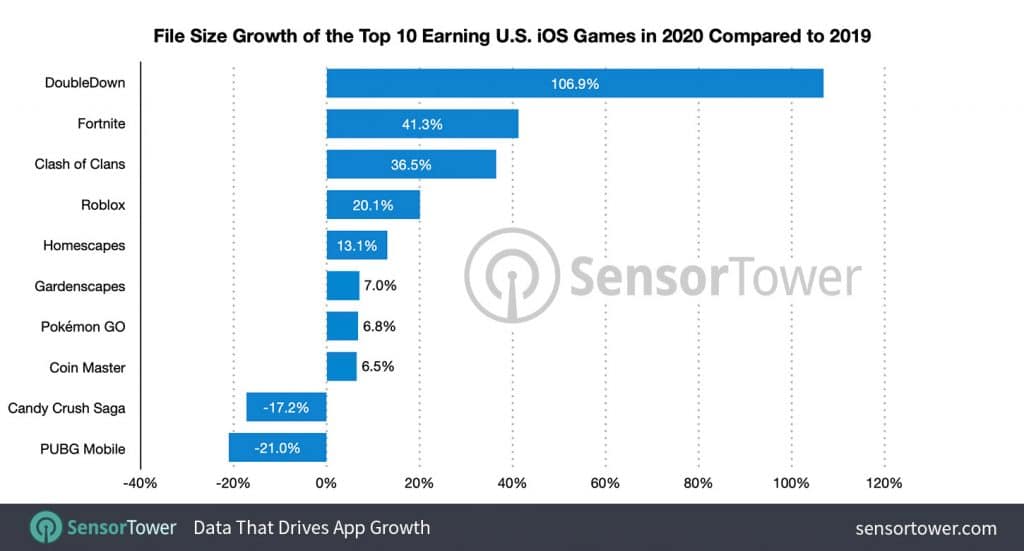 Among the top 10 highest earning games in the U.S. App Store in 2020, DoubleDown's app size increased the most, reaching 99 MB with a 107% yearly growth.
DoubleDown was followed by Epic Games' Fortnite. It's file size grew 41.3% to approximately 315 MB in 2020, before it was removed from Google Play Store and App Store.
Meanwhile, the third fastest riser was Supercell's Clash of Clans which saw 36.5% Y/Y growth in file size which grew to 259 MB in 2020.