EA's Tetris games will no longer be playable on mobile devices. All Tetris games, including Tetris 2011 and Tetris Blitz, have been removed from the Play Store and App Store. Let's take a look at the details.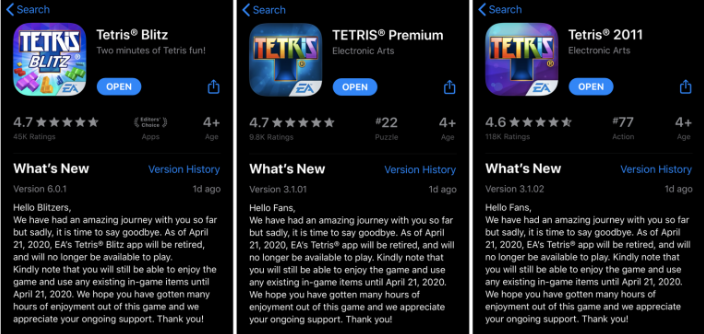 Electronic Arts is one of the names that brought the legendary puzzle game Tetris to the mobile platform. Tetris 2011, Tetris Blitz and Tetris Premium applications are highly loved by mobile players. However, these games, which exceeded 10 million downloads only on the Android platform, have been removed from the Google Play Store and Apple App Store.
EA, the developer of the game, made the following statement to Tetris players.
"Hello Fans, We have had an amazing journey with you so far but sadly, it is time to say goodbye," the statement reads. "As of April 21, 2020, Tetris will be retired, and will no longer be available to play. Kindly note that you will still be able to enjoy the game and use any existing in-game items until April 21, 2020. We hope you have gotten many hours of enjoyment out of this game and we appreciate your ongoing support. Thank you!"

EA
Users who have previously downloaded the apps will be able to play them until April 21. Other Tetris lovers are now searching for alternatives. What do you think?
Don't forget to check out our other mobile news.