Global player spending in mobile games declined for the first time in the first and second quarters of 2022, after skyrocketing during the pandemic and peaking at $22.6 billion in Q1 2021.
Sensor Tower's new report found that player spending couldn't catch up with the pandemic-driven surge in 2021, dropped 6% year-over-year to $21.2 billion in Q1, and decreased even further, 6.9%, to $20.1 billion in Q2 this year.
In addition to the fading pandemic-hype, the decrease is likely due to the inflation, rising costs of living and Apple's controversial IDFA changes, according to the report.
Mid-core mobile games drove 60% of player spending in H1
Mid-core games generated 60% of global player spending during the first half of 2022, with the RPG genre accounting for nearly 50% of all mid-core games revenue. It was followed by the Strategy genre with 36%.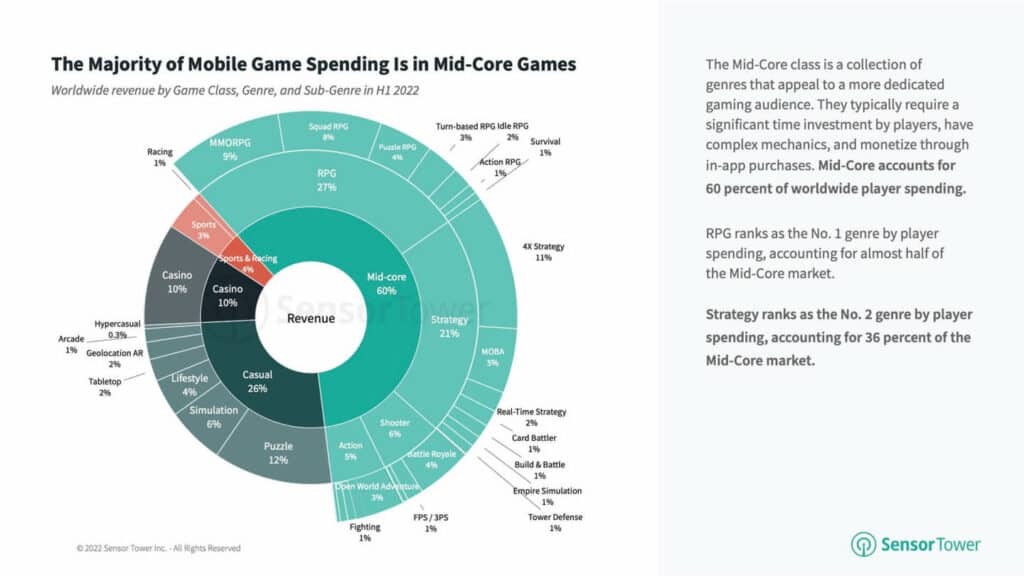 Casual games, on the other hand, accounted for 78% of global game downloads in H1 2022. While mid-core games drove the majority of player spending, they accounted for only 14% when it comes to downloads.
Player spending in mobile games to decrease in 2022
Global player spending in mobile games is expected to decrease 2.3% year-over-year to $86 billion in 2022. However, Sensor Tower predicts that the revenue will bounce back starting in 2023 and will reach $117 billion in 2026, with the mobile game industry growing at a compound annual growth rate (CAGR) of $5.6%.
While the total mobile game revenue is expected to drop in 2022, the App Store revenue is expected to increase $1 billion this year to $53 billion in total. Google Play revenue, on the other hand, is projected to fall by 8.3% Y/Y to $33 billion.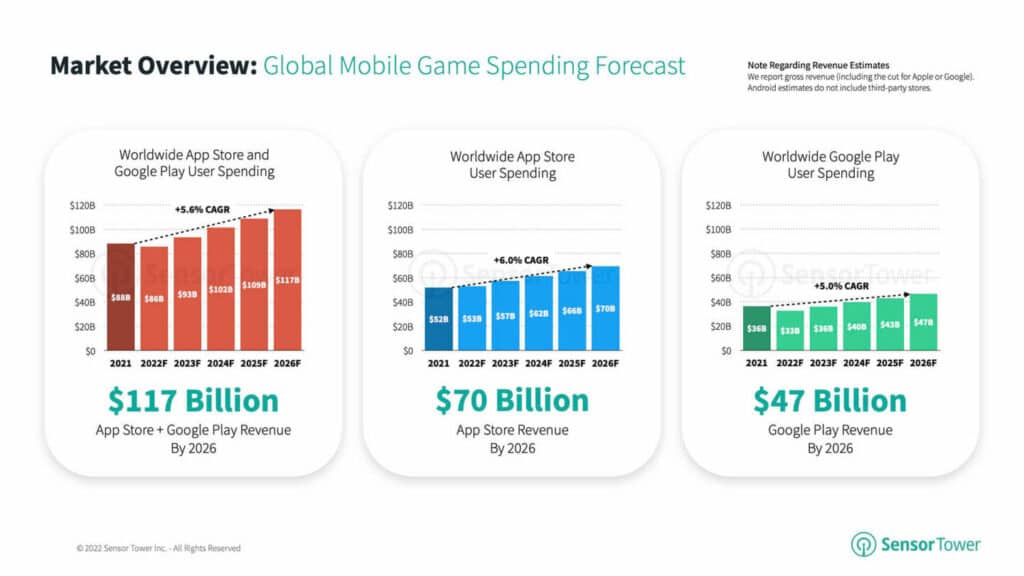 Asian countries continues to dominate the MMORPG market
The report also found that users in South Korea, China and Japan combined accounted for 80% of all player spending in MMORPG titles in the first half of 2022.
---
Check out the best MMORPGs for Android & iOS!
---
While MMORPG's have struggled to establish influence in markets outside of Asia, they managed to grow their downloads by 5% Y/Y in the United States, which accounted for almost 10% of all MMORPG installs.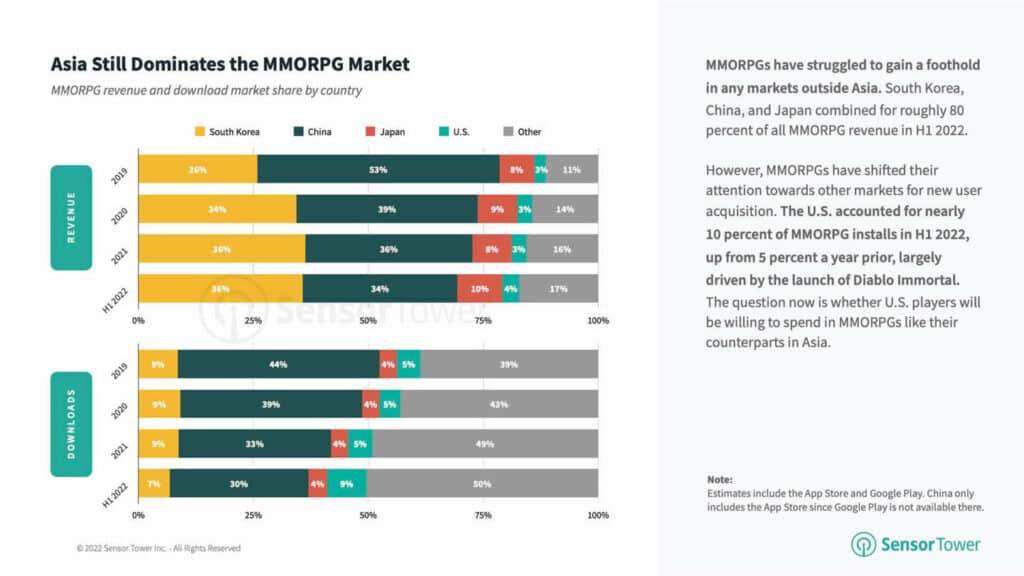 Sensor Tower also recently revealed that the top 1% of publishers drove 91% of overall app revenue in H1 2022, and brand app installs reached 85 million in the US during the second quarter.