Brand apps generated 56 million downloads on the App Store and 29 million installs on Play Store in the US during the second quarter of 2022, as more traditional brands are now investing in mobile technologies to reach their audience where they're most active.
That's according to new data from Sensor Tower, which analysed the Top 50 brand apps in the United States, as well as their download and advertising activities. 
Airline app downloads bounce back
Airline apps, which previously saw sharp declines in downloads in 2020 when restrictions took effect, is now recovering from the pandemic, according to Sensor Tower's report. During the first seven months of 2022, the subcategory accounted for 11% of all the downloads brand apps generated. 
---
Also Read: US travel app installs grew 18% to 137 million in Q2 2022
---
Meanwhile, US downloads of Dining and Retail apps, which significantly rose during lockdowns in 2020, have now fallen below their pre-pandemic levels as restrictions have been eased. The subgenres drove 32% and 23% of all the brand app downloads respectively, between January and July 2022.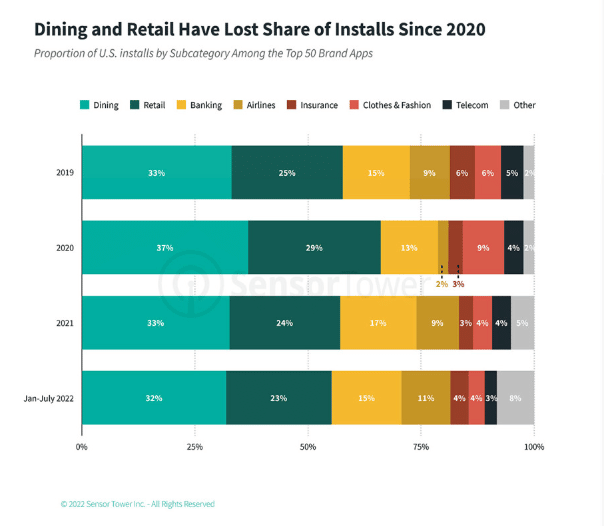 McDonald's was the fastest growing brand app of H1 2022
McDonald's was the fastest growing brand app in H1 2022, and also the No.1 app in the category in terms of downloads. The app generated 3 million more installs than what it gained in H1 2021. It was followed by Planet Fitness, The Home Depot, KFC and United Airlines respectively.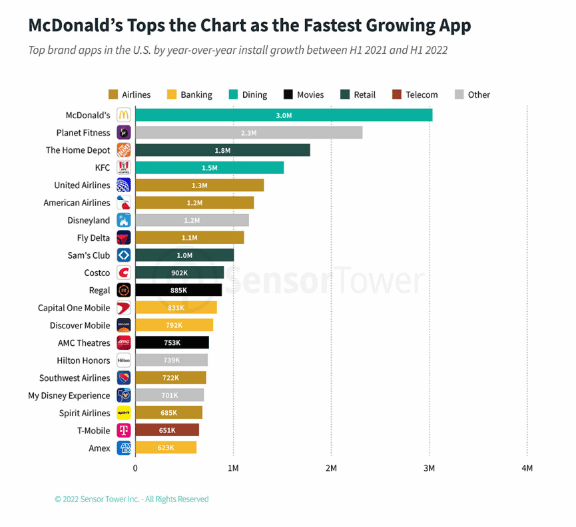 Sensor Tower suggests that there is a clear link between McDonald's rising app downloads and advertising campaigns. The company, which signed partnerships with famous names including K-Pop group BTS, Travis Scott, J Balvin and Saweetie during the pandemic period, also spent $12.6 million for its digital ads in July 2022 alone, which represents a 124% growth since July 2019. At the same time, its downloads grew 115% to 2.6 million.
But it wasn't the case for Domino's Pizza and Taco Bell, which also increased their ad spend 98% and 335% respectively, but saw 13% and 67% growth in downloads in return.