Thanks to the ''meme stocks'' trend in the financial world, monthly app installs of Reddit surpassed 6 million in January making it the best month ever for the app in terms of downloads, according to Sensor Tower.
The app generated 6.6 million global installs in the first month of 2021 with a 43% month-over-month and 128% year-over-year increase. It previously saw 4.6 million monthly downloads in December 2020 and 3 million in January 2020.
---
Also Read: Robinhood and Reddit top the App Store following GameStop mania
---
The monthly installs in the United States reached 2.8 million in January, up 56% from December when it saw 1.8 million installs and up 115% from January 2020 when it generated 1.3 million installs.
The mobile app of 'the front page of the internet' has generated 122.5 million global downloads so far across both Google Play Store and Apple's App Store, with the U.S. accounts for 46%, or 55.8 million, of the total installs. So far, Reddit users in the United States have spent nearly $5.5 million which accounts for 76% of the global consumer spending.
---
Also Read: Reddit Revenue & User Statistics
---
Monthly consumer spending hit $670k
According to the Sensor Tower data, Reddit's mobile app saw approximately $670,000 in January, up 31% from December when it saw $510.000. Meanwhile, the U.S. consumer spending hit $523,000 in January with a 34% M/M growth.
Monthly active users saw 54% Y/Y growth.
There's been a consistent increase in Reddit's monthly active users in the United States since the app was released in 2016.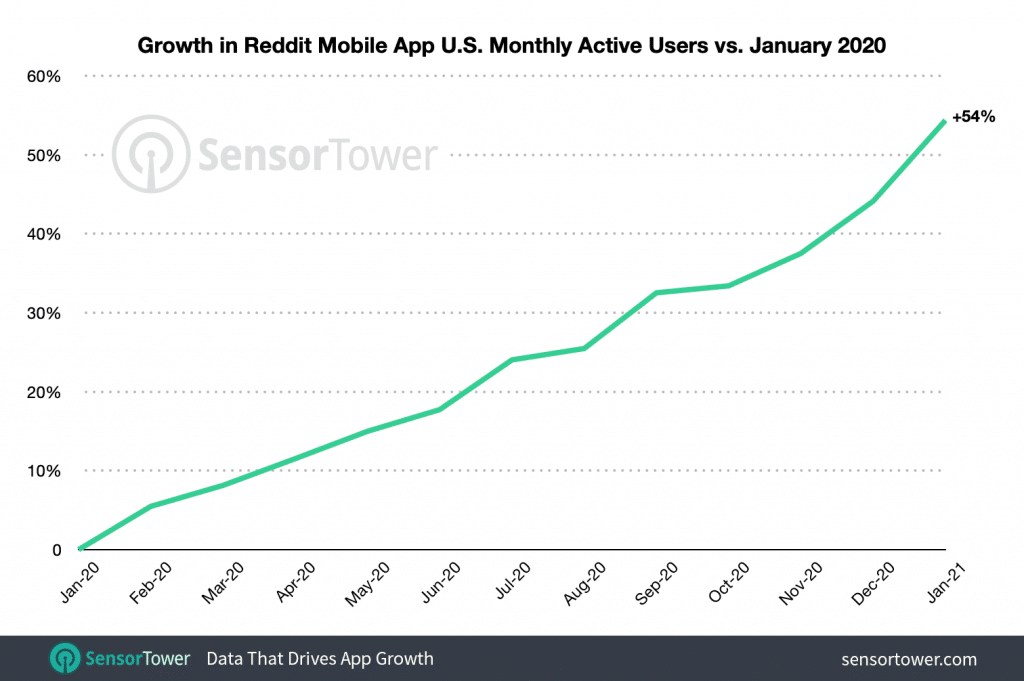 In January, Reddit's U.S. monthly active users increased 54% compared to the same month last year.