Stock trading & investing app Robinhood and social networking platform Reddit rise to the top on the App Store charts following the GameStop mania and Google deletes 100,000 negative Robinhood reviews.
---
The GameStop mania which started with a Reddit post and increased the game retailer's stock price by 1,754% in a couple of weeks, not only saved the firm from bankruptcy but also skyrocketed the downloads of stock trading apps.
Yesterday, the trending investment & trading app Robinhood rose to the #1 on the App Store for the first time ever since its release, according to recent data from app store intelligence company AppTopia.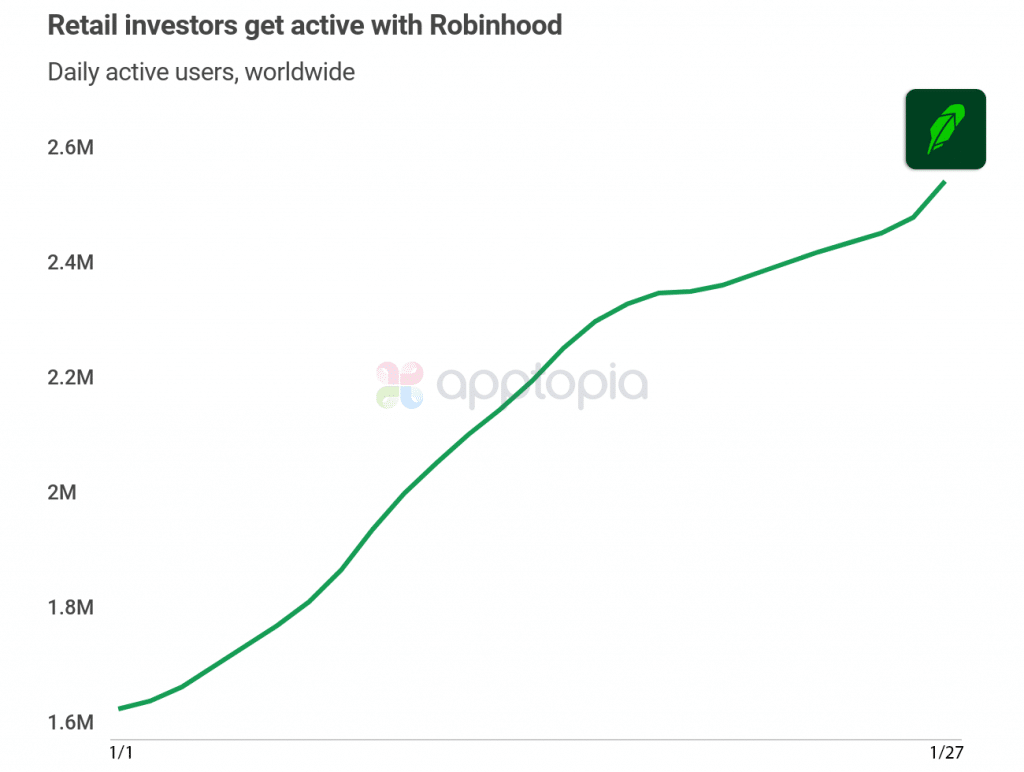 While the app had its most single day downloads with over 120k first time installs, it also broke a new record with over 2.6 million daily active users.
---
Also Read: Robinhood Revenue And Usage Statistics (2021)
---
Robinhood was followed by Reddit where the GameStop mania first started with r/wallstreetbets users encouraging others to buy stocks.
---
Also Read: Reddit Revenue & Usage Statistics (2021)
---
Reddit climbed the No.2 on the U.S. App Store and also broke a new single-day downloads record generating 199,000 installs on both iOS and Android.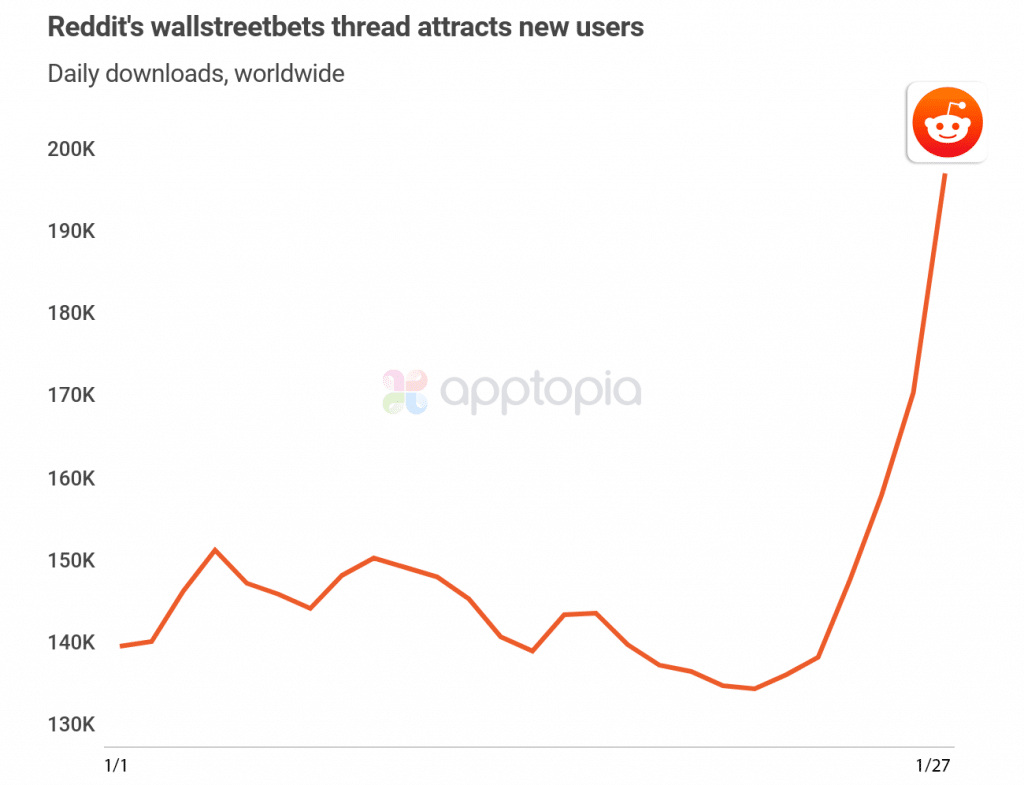 The GameStop Mania is also skyrocketing the downloads of more traditional investing apps including Webull, TD Ameritrade, E*TRADE and Fidelity.
On Wednesday, all these reached their highest-ever positions on the U.S. App Store charts, with Webull rising to No.45, TD Ameritrate rising to No.53, E*TRADE rising to No.113 and Fidelity rising to No.178.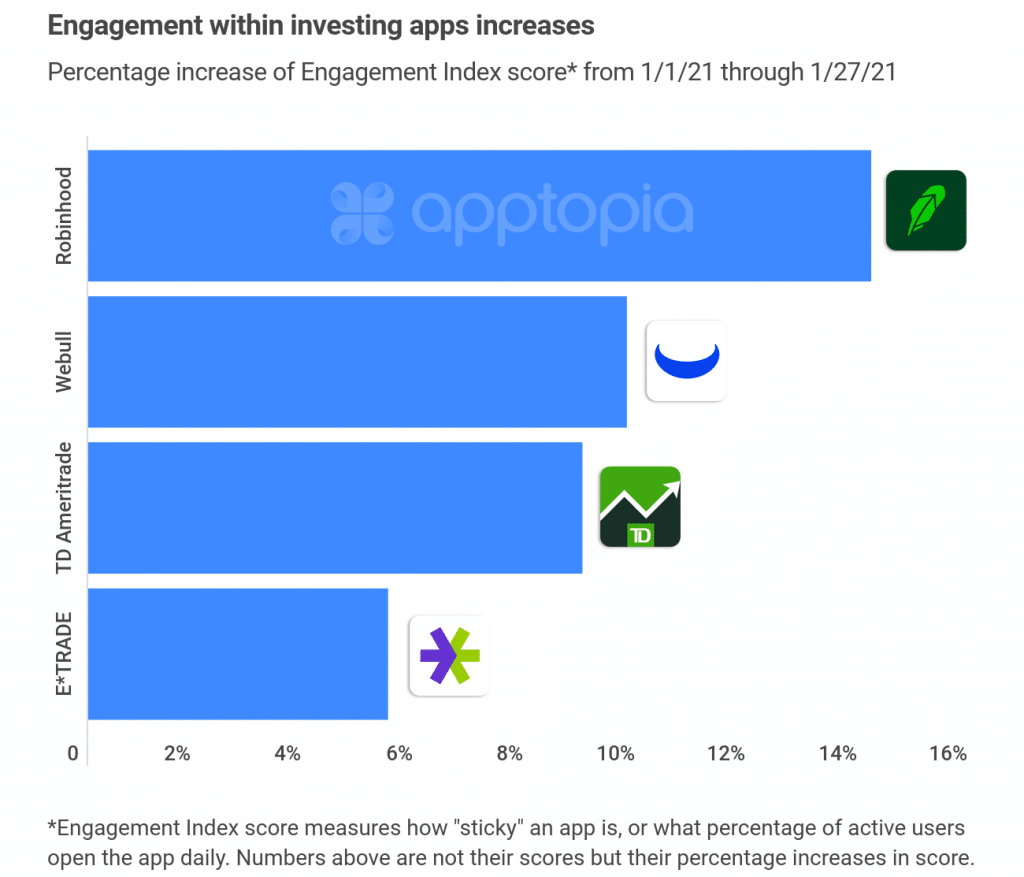 In total, these apps generated 863,600 daily downloads on Wednesday. Webull, TD Ameritrade and Fidelity also set new records with 952,000, 444,000 and 429,000 daily active users respectively.
Google deletes 100,000 negative Robinhood reviews
Although the Robinhood app has risen to the top on the app markets, the app was bombarded with hundreds of negative reviews after the company announced that it would block purchasing GameStop, AMC and other stocks.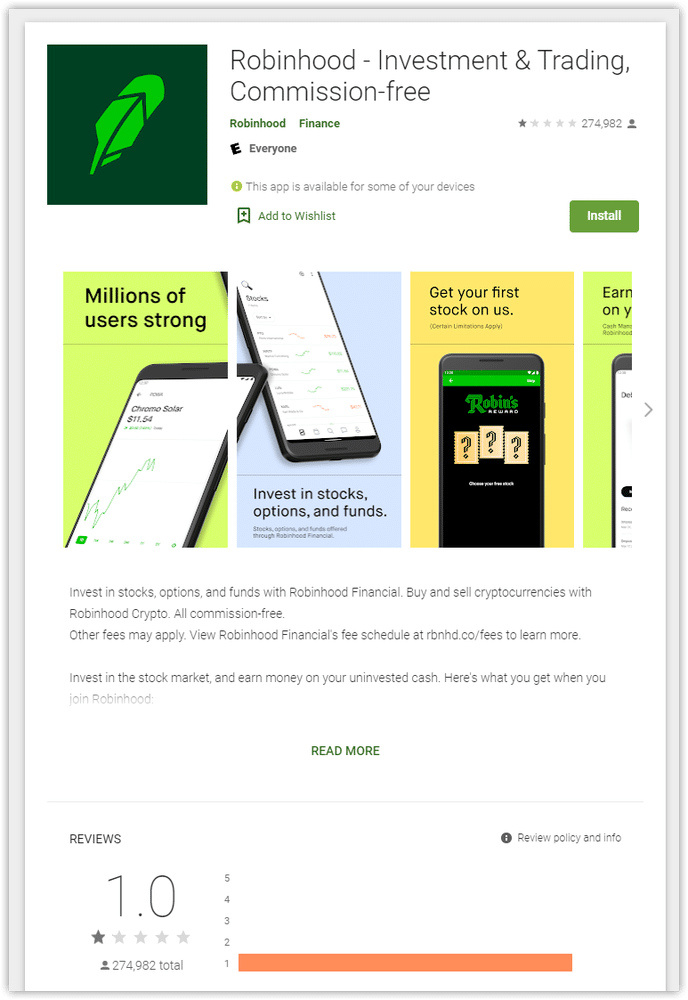 As captured by 9to5Google, the Google Play Store rating of the Robinhood app declined to 1.0 after the negative review bombardment.
Tech giant Google took an immediate action deleting almost 100,000 negative reviews and the rating of the app returned to 4.3.

What do you think? Don't forget to check out our other Mobile Marketing News to keep up with the world of mobile.