If you're on the lookout for the best Reels editing apps to elevate your video editing app, look no further. In this comprehensive article, we covered the greatest contenders in the realm of Reels editing apps, ensuring that you find the perfect tool to enhance your creative storytelling on social media platforms. Without further ado, here are the best Reels editing apps!
CapCut
Price: Free/In-App Purchase: Up to $174.99
CapCut is a superb and user-friendly video editor and video maker with music, making it one of the best Reels editing apps. With its advanced features like keyframe animation, smooth slow-motion effects, and chroma key, users can create captivating videos for TikTok, YouTube, and other social media platforms. The app also offers unique tools like motion tracking, auto-captions, and background removal, allowing users to showcase their creativity and go viral. With a wide range of editing options, trendy effects, and an extensive library of music and sound effects, CapCut is an excellent choice for anyone looking to enhance their video content. To learn more information about the app, visit CapCut's website.
Inshot
Price: Free/In-App Purchase: Up to $199.99
InShot is a powerful all-in-one video editor and maker that offers professional features and stands out among the best Reels editing apps. With InShot, users can effortlessly create engaging content for YouTube, Instagram, TikTok, and other social media platforms. The app provides a range of editing tools, including trimming, merging, and splitting videos, adjusting speed, and creating photo slideshows. InShot's advanced video editor offers unique features such as AI-based body effects, keyframes, and chroma keys for green screen videos. 
Moreover, InShot allows users to add music, effects, and voice-overs and customize video filters and transitions. The app also doubles as a photo editor and collage maker, allowing users to enhance their images and create stunning collages. With its user-friendly interface and extensive sharing options, InShot is a go-to app for aspiring influencers and content creators. Check out Inshot's website for more detailed information.
---
Also Read: The Best Apps to Resize Photos for Instagram
---
VN Video Editor
Price: Free/In-App Purchase: Up to $69.99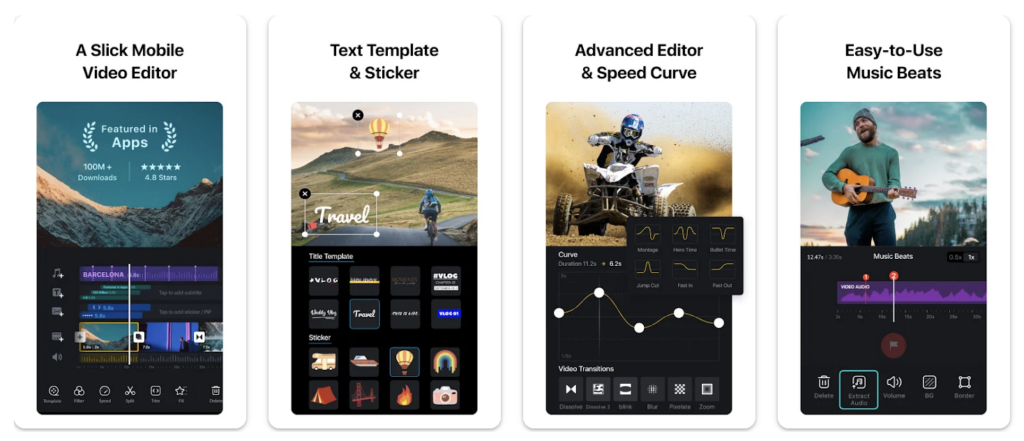 VN is an excellent and watermark-free video editing app that caters to both professional and amateur video editors. With its intuitive interface and powerful features, VN allows users to create high-quality videos without any prior knowledge. The app offers a multi-track timeline, enabling the easy addition of picture-in-picture videos, photos, stickers, and texts. The keyframe animation feature allows for personalized customization. VN provides trending effects, color grading filters, and rich cinematic filters, making it easy to create visually stunning videos. The advanced video editor offers features like keyframe animation, reverse, zoom, and freeze frame effects, and it deserves to be one of the best Reels editing apps.
VN Video Editor on Google Play
VN Video Editor on the App Store
Filmora
Price: Free/In-App Purchase: Up to $69.99
Filmora, formerly known as FilmoraGo, is an easy-to-use video editor and movie maker that offers a wide range of creative features. With Filmora, users can effortlessly trim clips and add music, transition effects, text, emoji, and filters to create incredible videos in minutes. The app provides stunning templates that allow users to quickly create their movies for platforms like TikTok, Instagram, and YouTube. Filmora saves users time while providing a fun and intuitive video editing experience. The app offers a powerful yet simple editing interface, allowing users to manage multiple timelines and perform actions like trimming, splitting, duplicating, merging, and rotating video clips. Additional features include playback in reverse, curve shifting for adjusting playback speed, keyframe animation, AI Smart Cutout for accurate object removal, a built-in royalty-free music library and sound effects, PIP (Picture in Picture) support, chroma keying for changing clip backgrounds, and much more. Filmora is the perfect video editing app for creating high-quality videos for social media sharing.
---
Also Read: The 7 Best Instagram Story Apps
---
GoPro Quik
Price: Free/In-App Purchase: Up to $49.99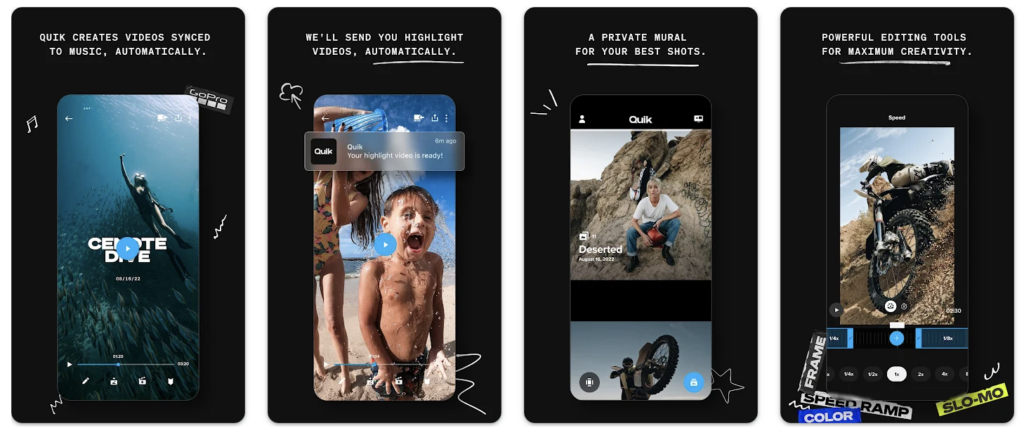 GoPro Quik is a powerful app that offers automatic edits, cinematic transitions, and shareable videos and is considered one of the best Reels editing apps. With a GoPro subscription, users can enjoy automatic uploading of shots to the cloud while their GoPro charges and receive stunning highlight videos ready for sharing. The app provides unlimited mural backups of 100% quality, ensuring your precious memories are always safe.
Furthermore, Quik offers powerful editing tools, including manual control in a multi-selection timeline, beat syncing, speed control, and frame grabbing. With its intuitive interface, cinematic transitions, filters, and effects, Quik allows users to create captivating videos. Easily share your creations directly with your favorite social media apps. The app offers a camera remote control, previewing shots, live streaming, horizon leveling, and firmware updates for GoPro camera owners.
Splice
Price: Free/In-App Purchase: Up to $209.99
Splice is a mobile video editing app that brings pro-level editing tools to your fingertips. With just a few taps, you can trim clips, add music, adjust speed, and create stunning movies and slideshows that will captivate your audience. The intuitive timeline allows you to easily organize and merge photos and video clips, while the professional trimmer and cutter enable precise editing. With the app, users can choose from a library of 400+ songs to add the perfect soundtrack and enhance their videos with titles and text overlays.
Additionally, Splice allows users to create masterpieces in the right aspect ratio for social media platforms like Instagram, TikTok, and YouTube. Users can stand out with speed effects, timelapse, and hyper-lapse. The app allows users to effortlessly share their creations on various platforms or save them to their camera roll. Splice is a terrific app for editing Reels and creating stunning video content.
---
Also Read: The 8 Best Video Editors for TikTok
---
Videoshop
Price: Free/In-App Purchase: Up to $99.99

Videoshop is a feature-rich video editing app that offers a wide range of tools to create stunning Reels. With Videoshop, you can easily trim unwanted moments, add music from your library or their stock library, and include fun sound effects like animal noises, explosions, and more. The app allows users to adjust video speed to create captivating slow-motion or fast-motion effects, and it ranks among the best Reels editing apps. Enhance your videos with customizable display settings such as brightness, contrast, and saturation. Users can merge multiple clips into one, add text with various fonts, record voiceovers, and introduce their videos with animated titles. Applying inspired filters, users can choose from transitions, create slideshows, and even experiment with stop-motion recording. Videoshop allows users to resize, reverse, and copy video clips, ensuring creative flexibility. The app comes with high-resolution video exporting features, and users can seamlessly share them on their favorite social media channels or via email.
Unfold
Price: Free/In-App Purchase: Up to $99.99

Unfold is a fantastic video and photo editor that stands out as one of the best Reels editing apps. With hundreds of award-winning Instagram templates, Unfold empowers users to create stunning content for Instagram stories, posts, reels, TikTok, and other social media platforms. The app offers a rich selection of templates, filters, text options, stickers, GIFs, textures, and backgrounds to enhance your creations. Unfold also provides a convenient feed planner for organizing and scheduling your Instagram posts.
Additionally, Unfold's Bio Sites feature allows users to create a personalized link in the bio page, enabling seamless connectivity with their audience. Unfold+ membership offers even more exclusive benefits for reaching your creative potential. With its intuitive interface and powerful editing tools, Unfold is a must-have app for content creators seeking to elevate their Reels and Instagram presence.
---
Also Read: The 8 Best Short Video Apps
---
Funimate
Price: Free/In-App Purchase: Up to $69.99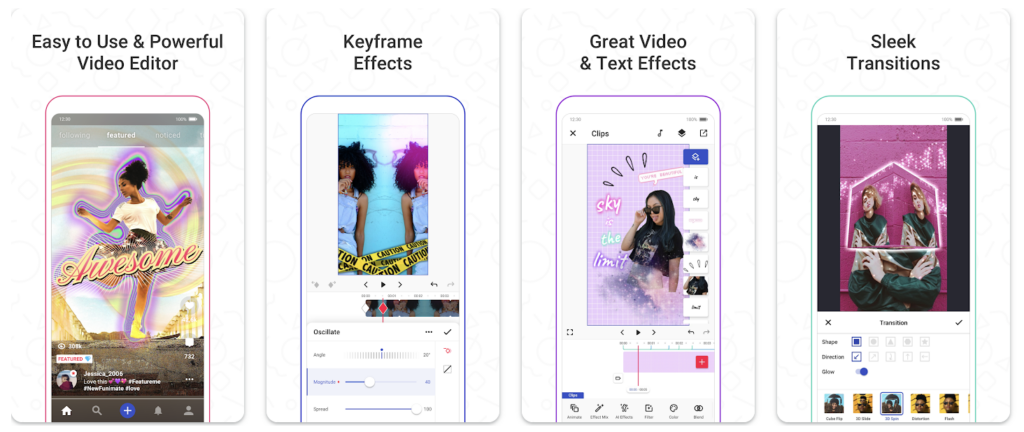 Funimate is a marvelous Reels editing app, offering a plethora of advanced features that enable users to create professional edits effortlessly. The app comes with incorporating unique transitions, custom animations, text effects, filters, and more. The app's element library provides thousands of stickers, backgrounds, and overlays to enhance your creativity and make your videos truly stand out. Sharing your creations on popular platforms like TikTok, Instagram, Snapchat, and Musically allows you to impress your friends and attract followers. With its seamless integration of effects, music, trimming, and merging capabilities, Funimate is a magnificent video editing app for content creators looking to make an impact.
VITA
Price: Free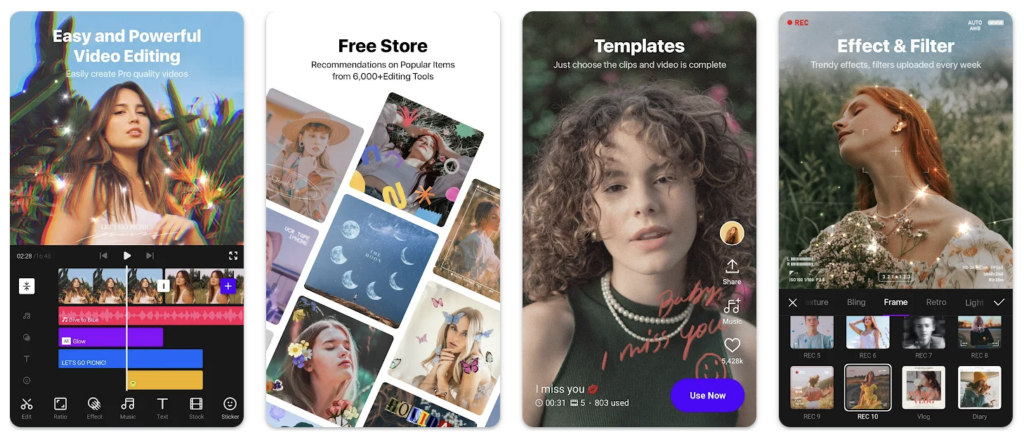 VITA is a wonderful video editing app that provides all the essential features for creating breathtaking videos. With its high-quality export capabilities, you can enjoy videos in full HD resolution. The app offers a range of video editing options, including the ability to adjust video speed, add captivating transitions, and apply aesthetic effects like glitches, glitter, and bling. Users can enhance their videos with filters for professional color grading, and choose from a music library to add the perfect soundtrack. VITA also offers quick and easy video templates for vlogs, along with customizable fonts and animated texts. Also, you can create unique clone videos by collaging and overlaying videos with PIP functionality.