First time installs of U.S. shopping apps reached a new single-day record of 2.8 million on Black Friday, according to recent data from Sensor Tower.
There was an 8% increase in the downloads of mobile shopping apps which is almost the same growth rate as Black Friday 2019. However, shopping app downloads have been much higher this month compared to November 2019.
According to Sensor Tower, U.S. shopping app installs across Apple's App Store and Google Play Store hit nearly 59.2 million between November 1 and November 29, which is 15% higher compared to 51.7 million installs generated in the same period last year. This is 10% greater than the 2% year-over-year growth experienced during the same period in 2019.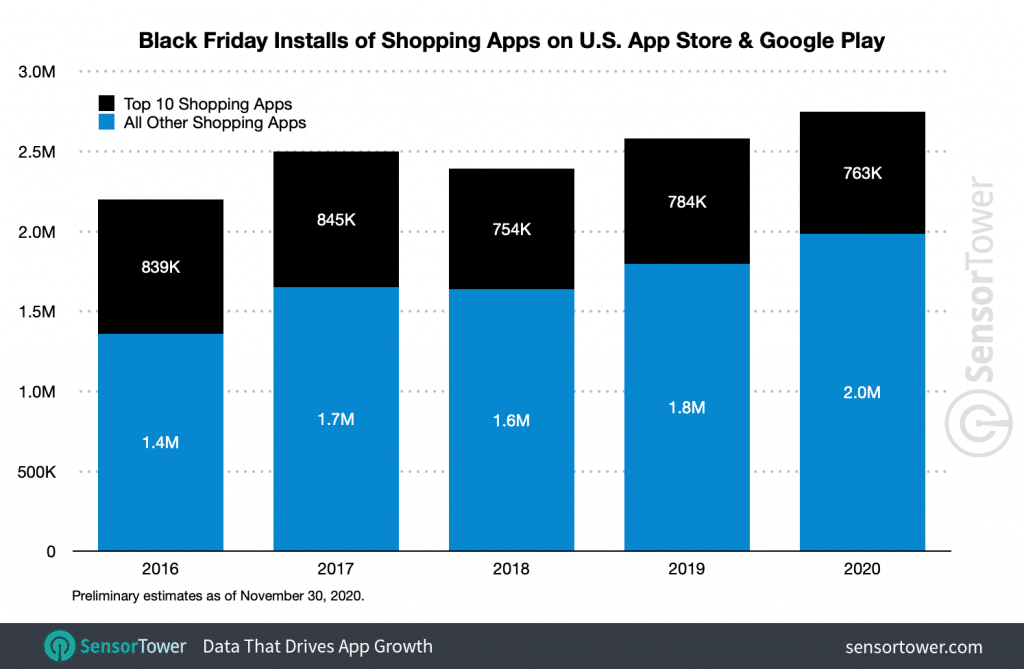 The data also shows that brick-and-mortar (B&M) retailers have experienced the highest year-over-year growth with 27% and made up the five of the top 10 most downloaded shopping apps on Black Friday. 
Among the top 10 shopping apps which were downloaded 763,000 times in total, Walmart experienced the most daily downloads with 131,000 installs, followed by Amazon with 106,000 and Shop with 81,000.