As TikTok is facing a possible ban in the U.S. and is in trouble with political issues in many other countries, U.S. downloads of four of its rivals increased by 361% in just a week after the ban rumors came out during the week of July 27, according to Sensor Tower.
---
Last month, India banned 59 Chinese apps including TikTok and the popular short video app lost its biggest market where it had more than 650 million downloads.
According to Sensor Tower, the app had 87 million new installs in June, but it was down 25% to 65.3 million in June, just after the ban.
Now, the parent company ByteDance is facing a similar problem in the U.S., in its third largest market, as White House threatened to ban the app over security issues, during the last week of July. 
Then Trump gave Microsoft 45 days to acquire TikTok and the two companies are reportedly in talks right now.
And last week, Trump signed an executive order to ban Chinese owners of TikTok and WeChat from making US transactions.
In the meantime, TikTok's new U.S. installs from the App Store and Play Store which was 8.2 million in May was down 8.5% to 7.5 million in June, and 16% to 6.3 million in July.
While TikTok is trying to deal with these political issues, four of its rivals which are Triller, Zynn, Dubsmash and Byte got 1.5 million installs during the last week of July, with a 361% growth compared to the prior week when they collectively had 316,000 installs. as reported by Sensor Tower.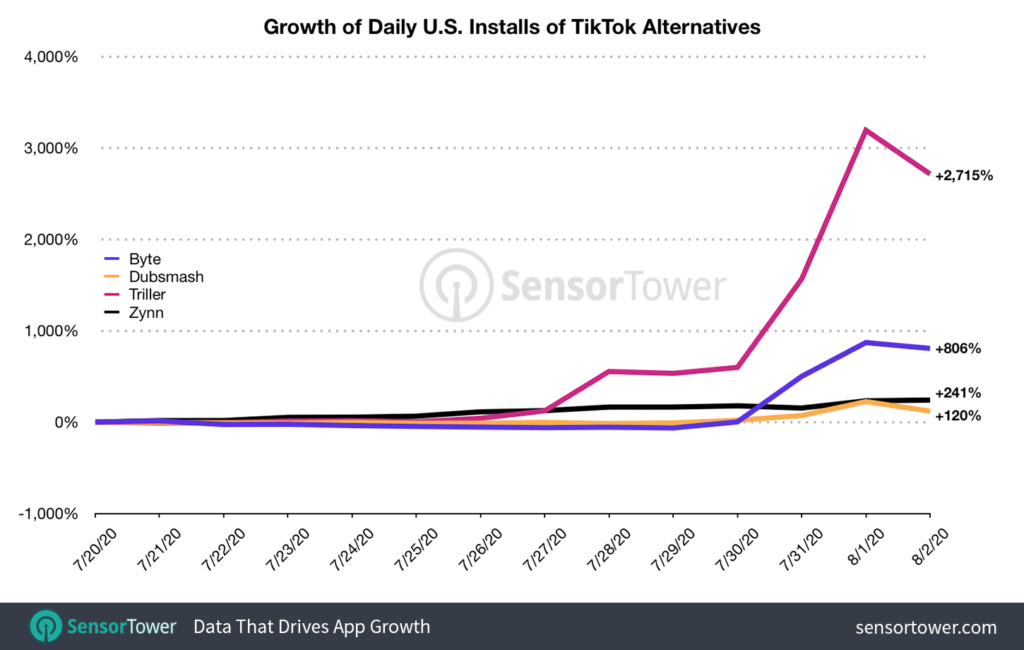 Among these TikTok alternatives, Triller and Byte experienced the most significant week-over-week increase.
Triller saw a 1,227% WoW growth and climbed to number 1 in the Top Free iPhone Apps category in 50 markets including the U.S, with the start of August.
And Zynn, which was removed from the App Store and Play Store in the U.S. in June and came back on July 21, saw a 93% growth in its installs during the same week.
Dubsmash, which has been downloaded 41.6 million times so far, experienced a smaller growth of 69% but it has the highest lifetime downloads among these TikTok alternatives.
Let us know what you think.