A new report from Apptopia sheds light on how India's TikTok ban affected the performance of rival short form video apps in the country, and how that could provide insights into what would happen in the U.S. if the possible nationwide ban becomes a reality.
Citing national security concerns, India has banned more than 250 mobile apps with links to China so far, and of them is ByteDance's owned TikTok that was suddenly removed from the country's app stores on June 30, 2020.
TikTok had been downloaded around 400 million times in India prior to its removal. To make a comparison, the app reached that milestone just this month in the United States.
Daily downloads of top social apps in India immediately reached new heights following TikTok's ban as users were in search for alternative platforms to spend their time. Just before and after the ban, many new TikTok rivals emerged such as Mitron, LitLot, Moj, Josh and Tiki.
In addition, platforms that were already available in the country for a while like Chingari, Roposo, and ShareChat, which Twitter reportedly offered to buy for $2 billion to build a TikTok rival, introduced TikTok-like features such as the ability to create duets with other users on their platforms. Downloads of all these apps along with those of newly emerged ones skyrocketed within a month following the ban.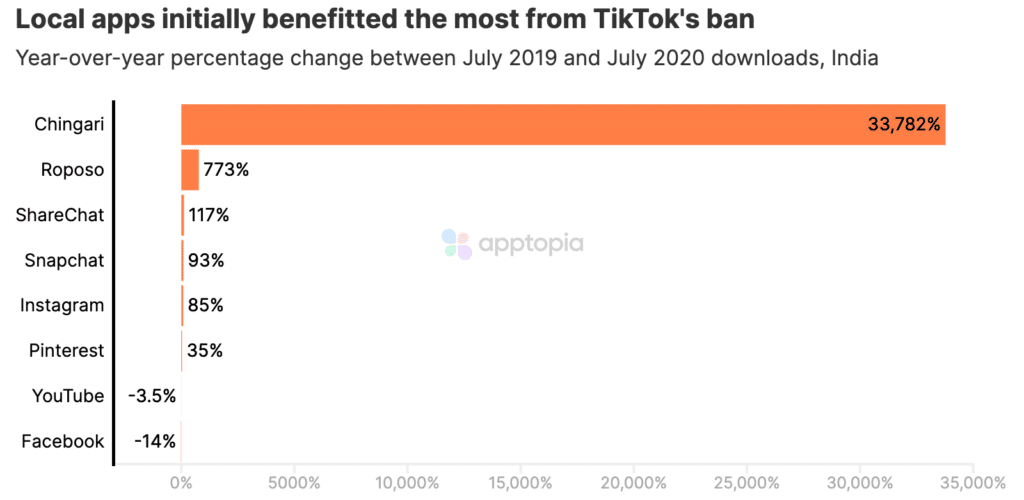 Although Instagram initially didn't see a massive growth in downloads compared to local apps, the Meta-owned app eventually rose to the top spot around a year after the ban thanks to the growing success of its short-form video feature ''Reels'', which it first tested in India, Brazil, Germany and France before expanding to other countries. Meanwhile, YouTube also launched its ''Shorts'' feature in India in September 2020, and recently started sharing 45% of its ad revenue with short video creators to lure more users.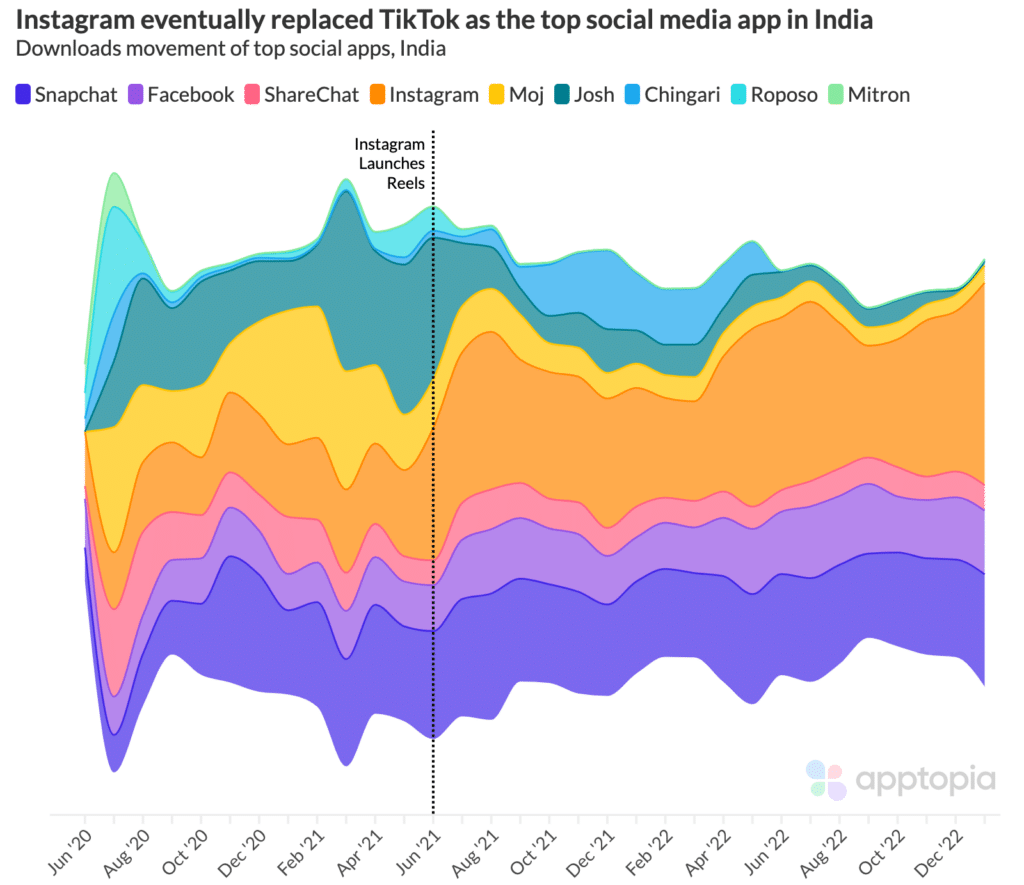 Where U.S. users are more likely to flock to?
In order to better predict what platforms users are more likely to flock to if TikTok gets banned nationwide in the United States, Apptopia analyzed how much time they spend across top social media apps in the country. Not surprisingly, TikTok leads the list with a 32% share, followed by a 20% split between Meta-owned Instagram and Facebook, YouTube (15%), and Snapchat (9%) respectively. Twitter, Reddit and Pinterest account for the remaining 2%.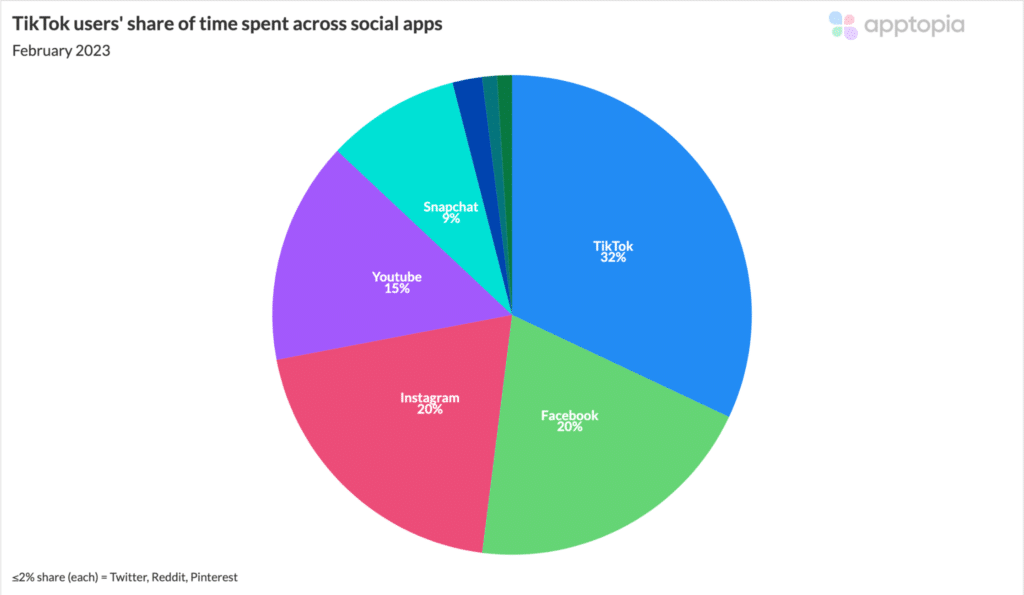 The report suggests that the ban would provide a huge boost for Instagram as its Reels feature is already available in the United States. However, we can also see new competitors in the market, and users may head to smaller platforms like Triller, Likee, Tiki, BIGO Live, Tango, ZIKTALK, and BeReal as well.
---
Also Read: ​​The 6 Best TikTok Alternatives
---
This is not the first time ByteDance's TikTok is facing a potential ban in the United States. In August 2020, former president Donald Trump signed an executive order to ban transactions with ByteDance and WeChat-owner Tencent, which resulted in a 361% increase in the downloads of U.S. TikTok alternatives at the time. That order was later revoked and replaced by Joe Biden.
However, citing concerns that the Chinese government could access citizens' data, the Biden administration banned TikTok from government-issued devices earlier this month, following similar bans by tens of states, the U.S. House of Representatives, and the U.S. Navy.
While U.S. citizens are still able to use TikTok on their personal devices, the White House recently endorsed a Senate bill that could allow a nationwide ban. According to sources familiar with the matter, TikTok is now considering splitting from ByteDance to avoid the ban.
Meanwhile, TikTok has also recently got banned from government devices in the United Kingdom, Canada, and by the European Commission over similar concerns.
To help address those concerns, the company announced that it will open three new data centers in Europe as part of its new initiative ''Project Clover''.