While mass layoffs at Twitter and the new controversial $8 monthly fee for blue check mark sparked a global backlash, the company's mobile app saw a 66% growth in global consumer spending, 21% rise in downloads, and 2% in daily usage in the 12 days following Elon Musk's takeover. However, platforms like Mastodon and Tumblr keep luring users looking for a better alternative.
According to Sensor Tower's new report, Twitter's app generated 7.6 million new installs and $502,000 in user spending from across Google's Play Store and Apple's App Store between October 27 and November 7. It had 6.3 million installs and $303,000 in consumer spending during the previous 12-day period.
Meanwhile, its US downloads increased 31% from 916,000 to 1.2 million and spending in the country also grew 65% from $268,000 to $442,000.
---
Also Read: Twitter Revenue and Usage Statistics
---
Downloads of Twitter alternatives up 657%
While Twitter had a spike in both downloads and user spending following Musk's acquisition, alternative platforms like Tumblr and Mastodon saw a larger growth at the same time.
Between Oct. 27 and Nov.7, Mastodon garnered 322,000 new U.S. downloads across the App Store and Play Store, according to Sensor Tower's report. That's 100 times more than the 3,000 it had in the previous twelve-day period. Meanwhile, its global installs rose 657% to 1 million, up from the 15,000 it saw before the acquisition.
---
Also Read: Mastodon hits 1 million monthly active users amidst Twitter drama
---
In addition, third-party Mastodon apps like Tootle and Metatext also grew their global adoption, from 1,000 downloads to 19,000 and 7,000 installs respectively.
US downloads of Tumblr, which recently started selling two blue ticks for $7.99 to mock Twitter, increased 96% from 47,000 to 92,000, while its global downloads grew 77% from 170,000 to 301,000.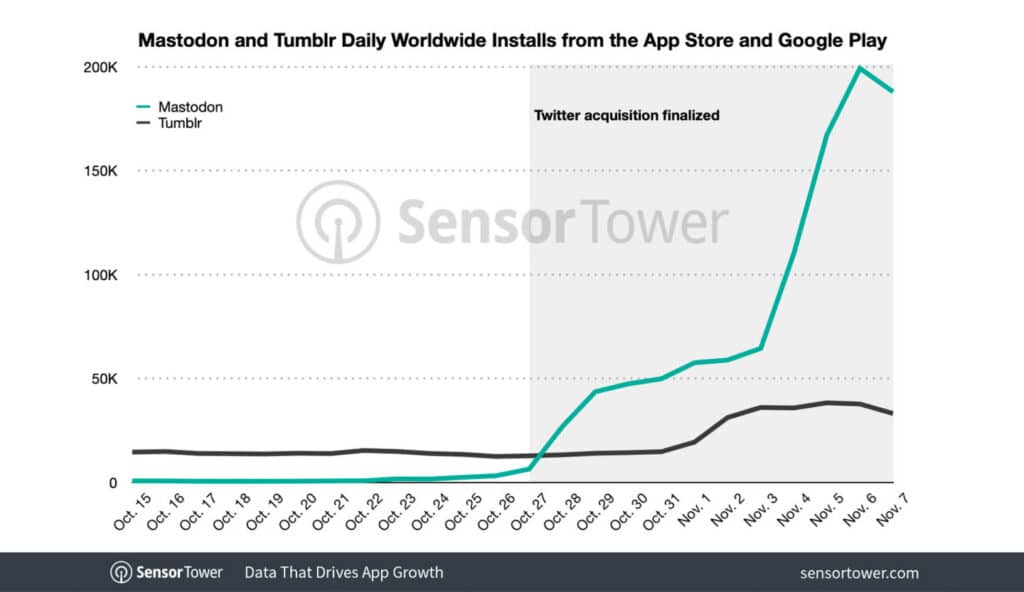 Another but relatively smaller alternative CounterSocial also grew its US downloads by 2300% to 24,000 and global installs by 3,200% to 33,000 following Musk's Twitter takeover.