The latest data published by Sensor Tower sheds light on the impact of Covid-19 lockdowns on mental health and mindfulness apps. According to the report, mental wellness apps' downloads increased by 24% in April 2020 compared to the first month of the year.
According to the latest data by Sensor Tower, the top 10 mental wellness apps were downloaded nearly 10 million times in April alone, 24% more than January 2020.
The most downloaded mental wellness app in April was Calm with 3.9 million downloads. It gained 911,000 more downloads than in January with a growth of approximately 31%.
Calm was followed by Headspace with 1.5 million downloads and Meditopia with 1.4 million downloads.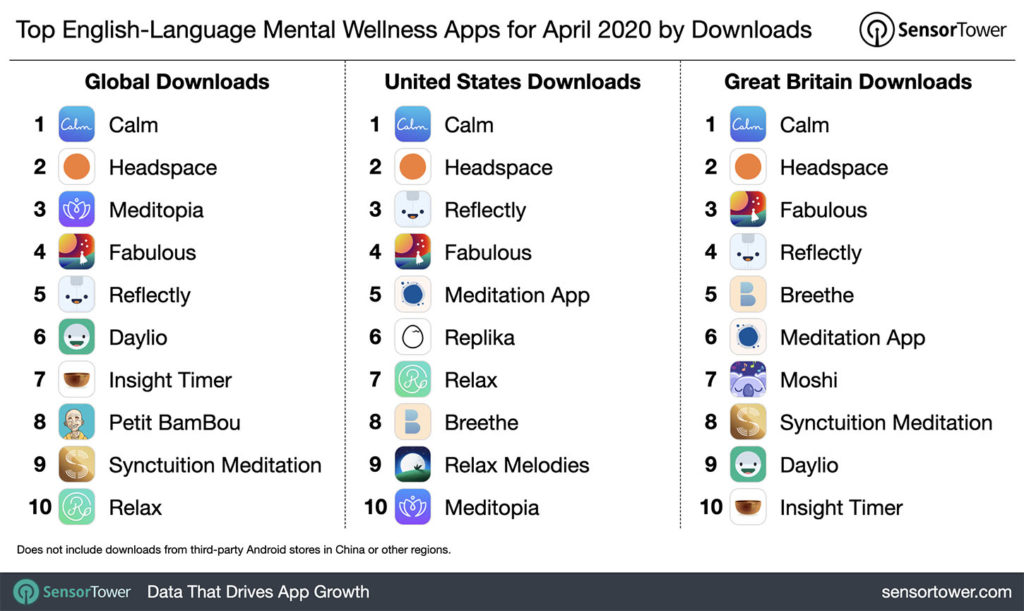 Between January and April 2020, downloads of meditation apps in the US increased by 17% and reached 4 million.
The most downloaded app was, again, Calm, with 30.7% month-over-month increase. Headspace ranked second and Reflectly ranked second.
The most rising app was Reflectly. It grew by 274% since the beginning of the year.
In the UK, a smaller growth was observed compared to the US. Downloads of Top 10 mental apps increased by 2.2% between January 2020 and April 2020, with 803,000 new installs.
Calm was the most downloaded app in the UK too. It gained 254,000 downloads while Headspace ranked second with 172,000.
The most growing meditation application in the UK was Synctuition Mediation. It grew by 39% since the beginning of 2020.