In spite of the economic slowdown, the rising travel demand in the U.S. led to a new record in travel app downloads. According to Sensor Tower's new report, travel app installs across the U.S. App Store and Play Store grew 18% year-over-year and reached 137 million in the second quarter of 2022.
After suffering a sharp decline in usage at the beginning of the pandemic, travel apps began to revive last year with the increase in vaccination rates and the easing of travel restrictions. The category saw a 123% Y/Y growth in the first half of last year and the upward trend managed to continue in 2022.
According to the report, the Long-Distance subcategory, which is home to Airline, Vacation Rental, Travel Booking and Hotel brand apps, saw the biggest growth in downloads in the second quarter of 2022.
---
Also Read: The 7 Best Hotel Booking Apps for iPhone and Android
---
While top Vacation Rental apps saw a 105% increase in installs which hit 8 million in Q2, Travel Booking apps generated 13.6 million and Airline apps generated 13.1 million downloads, with 64% and 36% Y/Y growth rates respectively.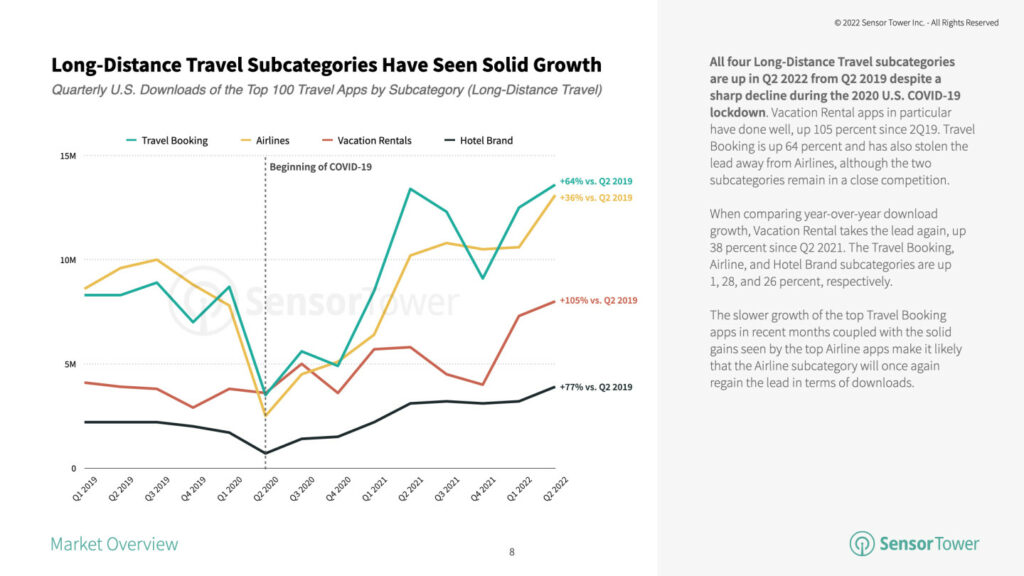 While the Long-Distance subcategory saw a remarkable spike in Q2, this wasn't the case for Short-Distance apps of which downloads are still at the pre-pandemic period. However, the rising competition resulted in major changes in the market shares of the subcategory's top apps.
In 2019, Lime ranked first among the top 6 e-bike apps, however, its share dropped from 44% to 28% in H1 2022 and the throne was handed to Bird, of which the market share rose from 35% to 37% in the same period.