European top mobile retail apps, including consumer electronics, marketplace, and clothes & fashion, are projected to reach 187 million in app downloads in the first quarter of 2022, per a new report from Sensor Tower.
According to the report, in the first three quarters of 2021, European retail app installs reached 572 million on the App Store and Google Play, while user adoption increased by 15% in the first 10 months of 2021.
Fast fashion retailer SHEIN climbed to #1 in the first half of 2021, placing itself among the top 10 retail apps. It was one of the leading advertisers in terms of total spend among other UK competitors, with new daily downloads of the app between March and November 2021 attributed to Facebook ads.
Russia is currently the market leader in terms of monthly active users, with 18 percent of Europe's top Sportswear and Footwear monthly active users in the first 10 months of 2021. Romania, Bulgaria, and Belarus were growing markets for user adoption, with Nike and Adidas being the most downloaded.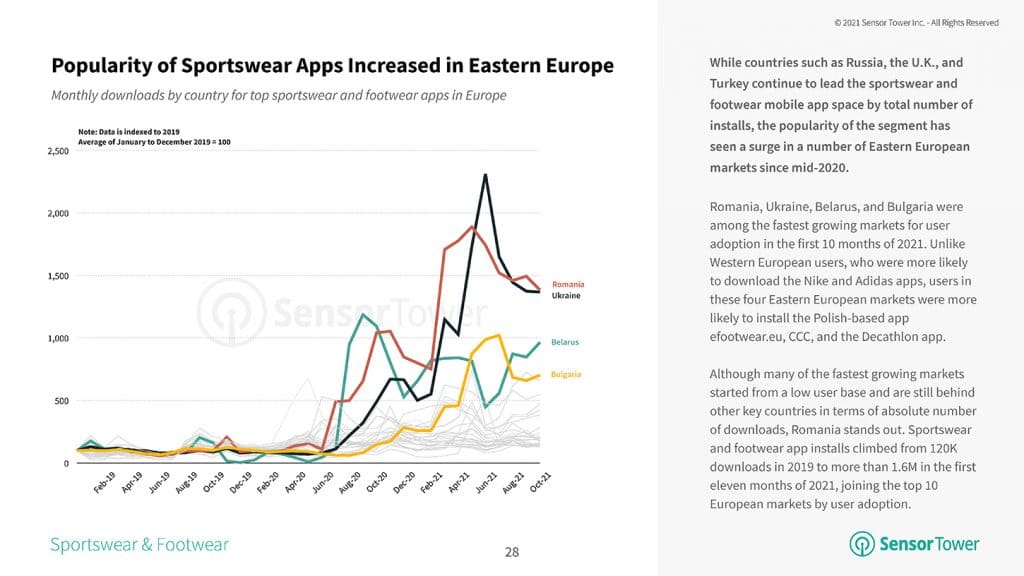 "Since we've seen solid Y/Y growth in retail app trends in Europe for the first three quarters of 2021, these apps are expected to remain above pre-pandemic levels with our forecast predicting downloads to be up by 19 percent in 1Q22." the report said.